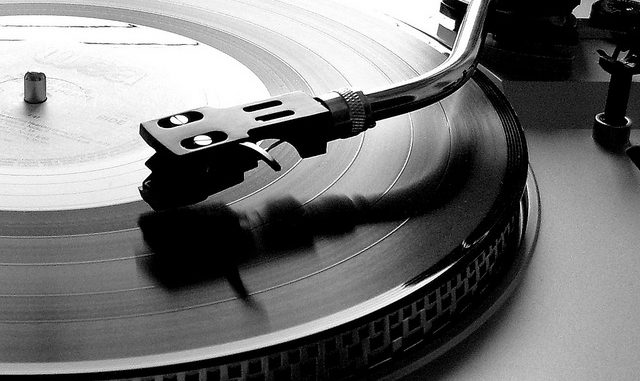 Here are some EPs from 2017 that shook the stereo, by artists who stepped into the music scene with their first release, or by some acknowledged names who decided to be fair with their output of a few really good tracks rather than releasing a filler-filled long-play. EPs are a fetish among record collectors and music dudes (and dudettes) like you and me. How many times have you thought, "Well, that record should've been an EP," or, better, "Wow, man, why didn't they make it a long-play? It rocks!"
Here's a few from 2017 for you, from us, with care!
Boy Harsher from Massachusetts released in October the new Country Girl EP. An astonishing record that shows the great progress of a cold wave duo that amazed me a lot, constantly revisiting it, and playing it out on radio and at home. Check Motion please!
There are few bands that live their myth almost at once, and Ontario's Ummagma are one of them. Fans of ethereal and new wave music, their star reached the ears of two edgy influencers in the alternative music industry: Dean Garcia (Curve, SPC ECO, KGC) and Robin Guthrie (Cocteau Twins, This Mortal Coil). The two gentlemen were invited into the studio to leave their mark on LCD, where they poured some genius ideas into the band's already quality music. Try Lama (Robin Guthrie Mix) please!
Noise Journal boss Jonathan Rose from Denver, Colorado on the phone: "Mike, check these ladies here, man–they're from Colorado Springs. If you like them give 'em some air play, it's a stunning indie shoegaze fuzzy thing." We went crazy with Spirettes, he wrote a review and I put two from their EP on radio. Listen to Old Friend!
From Canada again–this time Vancouver–Actors published the Reanimated EP in February, injecting their name into all meaningful cold-wave/post-punk conversations. When a month or so ago I saw their name in dedicated music sites from the U.S. to Europe and heard, "What, man, you never heard That Band?!" And I did, and they nailed me. Check here How Deep Is The Hole!
In August, people go to beaches and mountains, rivers and countrysides, and what a surprise when the L.A. psych-shoegaze, garage rockers Tombstones In Their Eyes published Fear, a stunning sonic blast that worked either as a "twisted" lemonade or that "damn cold beer man, today is really hot." Hot is their music, and psychedelic too, and here's the title song!
Chicago, November, and Bellwether Syndicate by William Faith (Faith and the Muse, Christian Death etc) published The Night Watch EP–an amazing, stunning, hell yeah, OMG, gimme some more, record! Post-punk on a not-very-discreet death rock orientation, and winter became fuzzier and warmer. Don't skip that, I'll go mad (LOL), The Night Watch!
It's obvious that I'm totally sick with 68 Creep: wrote an article here, played them a couple of million times on radio…friends say, "Mike, cool down man, the record is great but please listen to something else too". NO, 68 CREEP RULES and GOOD NIGHT SWEET BETTIE  is the best EP ever!!! P.S. doctor says, "Listen to Mike–he's a sensitive guy and needs all our help, press play please, and you'll understand better his condition!"
The Veldt strike back with the amazing new Thanks to The Moth and Areanna Rose, where shoegaze meets noise rock, and where indietronic hints were spiced with (a lot of) soulful melodies. What more to say about that band…pioneering the alternative rock, and here's a very good example with Black and Blue!
Californian Fearing, gothic death rockers, published two EPs last year that twisted my tortured soul for good! Imposing sound, infected melodies, wicked fuzzes, and the smell of batcave all over the record. I am absolutely thrilled with Black Sand and please, please, check Rose & Web!
American Anymen from New York published the very clever EP Flag Burner. They are among the bands that make protest/manifest music against the neoliberal fungus all over the world. The band is not punk, not hardcore, not electrogaze–nothing like that. They play anti-folk rock music or even better, folk-punk. Using Trump's figure they actually mock every puppet in authority. I am totally in with Flag Burner!
Nymphaea from Philadelphia! You may have noticed her name in the weekend playlists right here at Noise Journal, as she is a new striking electronic pixie. One woman band with a beautiful moniker playing astonishing electro music blended clearly with dark-wave and industrial elements,  she let out Shang Bronze in November, here's the title song!
Paris, Un Homme et Une Femme gave good minimal synth grooves with their first ever EP I, a record I thought was just fine, until I realized that I constantly look for it when I need that French oriented synthetic style, sexy, groovy, elegant and polished. Cosmopolis!
Paris again and Astrobal with Memories Of Stars, a fantastic French style electronic pop EP that revealed an excellent taste in pop culture's musings, offering an astonishing collaboration with ex-Stereolab singer Laetitia Sadier in Australasie, here it is!
Italy's Shad Shadows published in November the new Fix EP. It's a stunning record that includes all their dusty and sleazy cores, synth-wave-darkened enough to feel a bit numb, electronic cold-wave that comes directly from the Italian Alps, and a passion extraordinary, check in, Moon Bay!
Atlanta's Pylon Reenactment Society with Part Time Punks Session EP took all rockers to the bar and then back to the pit for one more sweat! The EP is recorded live and the band simply kicks ass, so please gather the kids, press play, and teach them what a rock gig is all about listening Loud to Feast On My Heart!
Oakland's Marbled Eye published a new self titled EP in April….spring, the sun is looking for you, birds sing, people start "grooving" with each other out of the winter's absinthe, and some alternative rockers decided it was about time to shout out loud their sonic manifesto. Alt-rock with an attitude, performed seriously and loud, ooohhh loud like here in Former!
And out of the cables and amplifiers and sweat and darkness I mess with, Lunar Twin from Hawaii reminded me in March that the summer is ahead and some quality electronic dream wave music would comfort me, and they did it with their Night Tides EP which is a very serious record with a very serious sound. So I took myself to the beach bar, threw away the beer and wine, had a cocktail and simply enjoyed the Birds of Paradise!
Dean Garcia's SPC ECO published Under My Skin in February, one of the most melodic and quite experimental records in 2017. Is it dream-pop or Pop Noir? It is quality music by a very talented father-daughter duo who blew their refreshing air into the room with a record that, though it took me a while to stick to, it became one of my secret gems, and here is the title song. Listen to Rose Berlin's voice please!
Jenn Vix from Rhode Island published the probably most new wave rock oriented and original record in 2017. Her Unlocked EP is made with all the ingredients we adore in that kind of music: Passion, perfection, simplicity and performance. She played almost all instruments, sung her lyrics, and offered an EP so honest and straight that only deaf ears would ignore. Here's the title song!
Pattern Language from Colorado let out his excellent Total Squaresville EP in June. Electronic and synthpop with a krauty temper, and a lot of other surprises too! Lovely record and groovy, I suggest Squaresville!
Atlanta again with Parsons Rocket Project and their self titled EP. Versatile in its nugaze sonicscape, with quite a bit of ambiance and a certain shoegaze performance, the band offered a psyched yet balanced record with interesting to excellent melodies. And as I always expect from the bands in these genres, they knows how to arrange a motif–check Solar Flare!
BONUS single of the year: Colorado's Cheap Perfume with the antifa anthem of 2017 in It's Okay (To Punch Nazis). It didn't get as much love nationally as it should have, but let's make it happen.
A happy new year to everyone, Mike D.