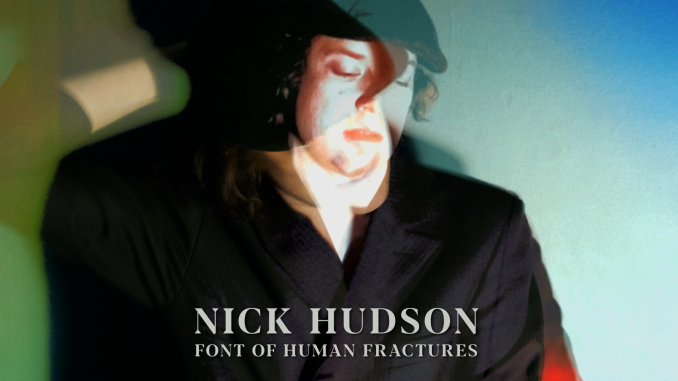 It's been a while since we've featured music from Brighton-based artist Nick Hudson here in The Noise Journal. As founder of the brilliant art-rock post-punk collective The Academy of Sun, we shared their latest album 'The Quiet Earth' just last year, but now the time has come for the ever-prolific frontman to release his new solo work. 'Font of Human Fractures', is his first solo album in five years. This collection represents a kaleidoscopic and emotionally transparent document of the search for self-worth – and ultimately love – in a thorny, unevenly-stacked world.
Scored almost entirely for piano and two violins, the new album is a ruminative melting pot from the point of view of a queer man in his late thirties. It sees him converse with younger versions of himself, negotiating himself free of toxic programming and banishing the inhibitions that can blight, dull and impotize the best of us. A neo-classical record with electronic undertones, the centerpiece is a seven-minute-long requiem for the legendary Italian homosexual Marxist filmmaker, poet and essayist Pier Paolo Pasolini – written from the perspective of the Alfa Romeo implicated in the artist's controversial murder – about whose circumstances there remain a lot unanswered. First single, Surkov's Dream, features a MIDI instrument constructed from samples made by Nick and engineer Paul Pascoe of the bass pedals of the vast church organ of St Mary's in Brighton as it narrates an oneiric monologue from the imagined subconscious of Putin's Grey Cardinal.
Other highlights include Tokyo Nights – a song originally written and performed by Nick's aunt in the eighties, with her Banshees-Esque post-punk group Room 101 (much beloved of John Peel). The album closes (prior to a literal End Credits) with a transcendent setting of the purging and hymnal Dambala, originally by Exuma, and made famous by Nina Simone. Also featured is a short instrumental salvaged from a cassette of fantasy music recorded when Nick was sixteen – a literal dialogue with Nick's teenage self. On the track Come Back When There's Nothing Left, Nick invites Toby Driver of legendary NYC avant-garde group Kayo Dot to take the lead vocal in a haunting meditation on taking responsibility for one's one spiritual housekeeping – whilst also celebrating the work of queer horror maestro Clive Barker.
Recorded and mastered at Church Road Studios by Paul Pascoe (Barry Adamson, Beat Hotel), this 10-track offering is Hudson's first solo studio LP since 'Ganymede In A State Of War' (2016). A break-up album with the deleterious aspects of oneself, it is as empowering as it is poignant, and pure and economical in its execution.
Several weeks ago, Hudson also released the 'Come Back When There's Nothing Left' EP, a 3-track collection entailing a double A-side and a unique take on Oingo Boingo's 'Not My Slave' as the B-side. The stunning video for the title track, which features vocals by Toby Driver (Kayo Dot), was directed by acclaimed Scottish novelist Ewan Morrison.

Earlier, he previewed live rendition of 'There is No Such Thing as You' and 'Surkov's Dream', a stark and melodic synth-based delight, featuring a MIDI instrument constructed from samples made of bass pedals from the vast church organ of St. Mary's Brighton as it narrates an oneiric monologue from the imagined subconscious of Putin's Grey Cardinal.
Nick Hudson is a prolific figure on the UK underground music scene and is perhaps best known as frontman of art-rock band The Academy Of Sun, who released their dystopian epic 'The Quiet Earth' last year to critical acclaim. Apart from music, Nick's vast output also encompasses painting, film, and he has just completed his first novel.
Hudson has also collaborated with Wayne Hussey (The Mission) and Matthew Seligman (Bowie, Tori Amos, Morrissey), as well as members of NYC's Kayo Dot, David Tibet (Current 93), Asvaand Canadian queercore icon GB Jones. As The Academy Of Sun, he has also collaborated with Massive Attack's Shara Nelson. Having toured 3 continents, highlights include appearances with Mogwai, Toby Driver and Keith Abrams of Kayo Dot, and Timba Harris (Mr Bungle, Amanda Palmer).
As of April 30, the 'Font of Human Fractures' album will be available on vinyl and digitally via Spotify and Apple Music. Both are also available directly from the artist via Bandcamp.
Keep up with Nick Hudson / The Academy of Sun
Facebook | Bandcamp | Twitter | Instagram | YouTube | Spotify | Apple Music | Booking | Press contact