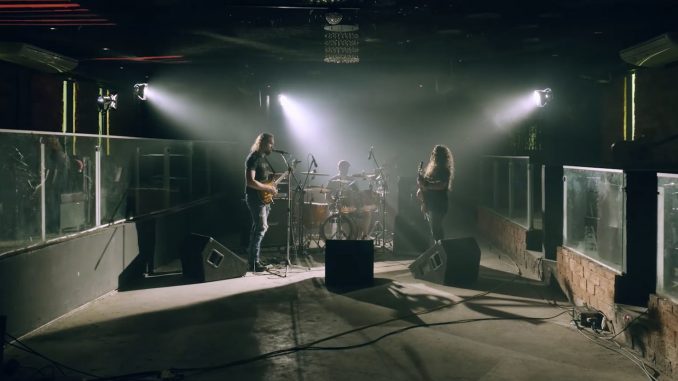 Brazilian progressive rock / metal trio Pentral have released their 'All My Wounds' single, not long after debuting 'Silent Trees', the lead track from their debut album 'What Lies Ahead of Us', which will be released in May 2021. This album is a reflection on today's society, presenting the saga of a lowly couple fighting for their lives and sanity.
For the ten tracks comprising this album, the trio worked with legendary producer Tim Palmer (David Bowie's Tin Machine, The Mission, HIM, U2, Robert Plant, Tears For Fears, Ozzy Osbourne, Goo Goo Dolls, Pearl Jam.
Hailing from Belem in the north of Brazil, Pentral is made up of Victor Lima (vocals, guitars, songwriter, lyrics), Vagner Lima (drummer) and Joe Ferri (bass guitar). Their unique take on alternative rock can be described as progressive, heavy, groovy and melodic, while the band also deliver a strong political message about what is going on in Brazil and all over the world.
"All My Wounds is a pulsating song. Drums and bass guitar are upfront together with the electric guitars. It's really more intense and way shorter and more incisive than our first single. I think that this is a high energy song – really unquiet but still melodic," says Victor Lima. "As for the lyrics, they try to draw an inner battle to overthrow feelings of loss, way beyond this ordinary material life, moved by the need to keep moving forward as our characters notice and feel that´s much more out of their sights. It brings a message of hope, like some sort of compensation for what has been taken away from you."
Directed and edited by Roger Elarrat and produced by Luana Klautau with Cezar Moraes serving as director of photography, the video accompanying this track captured the band in live performance. The preceding video for 'Silent Trees' was filmed in their native Amazon – the first of several chapters in a dedicated saga that will unfold, track by track.
The power trio deeply is influenced by their Amazon roots, their music strongly attached to many global influences while trying to honor Brazil's groove and unique harmonies, progressive rock, metal music, atmosphere and melody. This debut album sums up years of experimentation and the search for human awareness of the environment, peace and equality.
'All My Wounds' and 'Silent Trees' are now available across online music stores and streaming platforms, including Apple Music and Spotify.
Keep up with Pentral
Website | Facebook | Instagram | Twitter | Spotify | Apple Music | Press contact