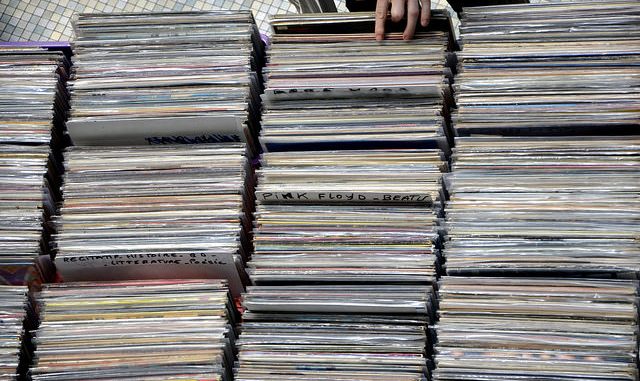 They say first love is forever, and who hasn't fall in desperate love with that small vinyl? "Daaaaad, the turntable is going mad!" "Yes [LOL] and 'switch it to 7,' Mike", hehehe that thing!!! A maxi-single was for promotional use back in the age of dinosaurs, and it was actually the first DJs-music collectors who made labels and artists consider that agent as the leading golden bullet.
And, more than this, the b-side of the single was on many occasions The Song!!! You may hide it in a pocket, in a book, and you may lose it too! Conspiracy–
"Hey, man, look here what I got!"
"Where-did-you-find-that, maaaannn?"
No reply–just that look on your face, the hero's look! In 2017, many artists let out their new maxis following the path first shaped by Motown or SUN records, offering a gracious delight to the fans, but mostly to these beloved human figures who we call Music Collectors, that species who do the underground job, who simply dig a lot and get it before you do. Here are many maxis that were printed on vinyl or published digitally last year. Grab a beer, turn it loud, do not invite your friends–maxis are for private use (LOL again), and enjoy!
Joel Gion of The Brian Jonestown Massacre fame let out his Tomorrow single on January 27: A groovy, fuzzy garage psych tune!
Right after summer, the German post-wave duo Devine Noire published Ne Pas Oublier—they sing in French and English, but live in Bielefeld!
Denver's A Shoreline Dream with the Room For The Others single in July. When we speak of shoegaze, there you go!
Ukrainian-Canadian duo Ummagma released their Winter Tale single last January with 4AD recording artist and dreampop pioneer A.R.Kane (also half of M/A/R/R/S of "Pump Up The Volume" fame). While they released another EP later in the year with two other British music legends (Dean Garcia of Curve and Robin Guthrie of Cocteau Twins), we are singling out this track. A Winter Tale for our times. Their roots clearly show through while reaching forward, outwards, and upwards always.
Kiev-based On The Wane and their Human Race makes no jokes given the current political climate in their country. This is one powerhouse track and the lead single off their new Schism album, released at the beginning of winter. As the potent lyrics clearly reveal, their pent-up frustration goes down perfectly over a mesmerizing wall of sound. This is angry, political and angular garage rock blended with quite a lot of post-punked fills and grooves.
U.S. post-punk gentlemen New Today threw Cynical Illusions in June, here it is!
New Zealand's System Corporation and Dismal Universal Hiss, published in April, is an astonishing and "airy" alternative rock single!
Lisbon's fetish darkwave post-punks She Pleasures Herself let out a handful of singles in 2017. Here's December's Disposable!
November 24 was the day for Minneapolis' Autumn to reveal the leading single The Fall off their new LP. Produced by William Faith, the musical persona from Christian Death, Faith and the Muse, Bellwether Syndicate and more, old school and totally refreshed new wave-the batcave style, sweat!
Italy's Ash Code signed in the French Synth Religion label, Hante's own label, and their first publishing there was Icy Cold single in June. Check the b-side, Winter–cold wave from the upper shelf!
Still in Italy and the city of Terni, Japan Suicide post-punks unveiled in December the video and the lead single Circle from their new Santa Sangre LP in 2018!
California's Vore Aurora are good friends with Canada's STRVNGERS, and on December 4 they published their Envenom anthem remixed by the Edmonton's duo, sheer electro, stunned!
BROADS from Norwich UK announced that their new LP will be out in February, but they released the lead single, Climbs (ft. Milly Hirst), a fantastic experimental electronic tune blended with their Celtic heritage!
Just a couple of months ago, the independent San Francisco label Turntable Kitchen released an astonishing electrogaze cover from The Cure's beloved At Night song by New York's Frankie Rose, OMG listen!
Fantastic and a striking single in October by French cold post-punks Factice Factory, Cherry Picker has a great riff on bass, a great melody on guitar and The groove!
New folk, fuzzy and dreamy by Charlotte's Jason Herring & The Mystery Plan in Autumn's The Golden Moon And Silvery Sea single, listen!
Red Mecca from Sweden let out the astonishingly groovy and a bit "wicked" Alcohol song last autumn, a post-electro addictive tune, here!
The Foreign Resort from Copenhagen published She is Lost single in April, a post-punk/new wave gem with the expected fills and grooves for dancing all night, here!
Hanover's The Colder Sea hit us with Young Love with De L'Autre Cote on flip side in November which digitally included three remixes on both songs too–dreamwave/dream-pop, so beautifully shaped!
Montreal's Void Republic offered the Strays single in November, a retro synthetic coldwave bullet that impressed many fans and dragged in few more!
American, based in Porto/Portugal, electronic musician/producer Dave Wesley let out Laranja Swadhistana67_5-EPv1, ambient electronics with a very deep perspective in all, improvisation and drone architecture in his art–Listen alone!
New Zealander now UK based singer/songwriter Bruno Merz released two singles in 2017–a smooth voice, a very good guitar player, and a Simon & Garfunkel oriented story teller. Here's Whisper Turn from last October!
Dreamwave ethereal duo The Blue Hour from Seattle let out One More Mystery single just a little before they released their new imposing Always LP in October. Fairies, perfection, new wave, new folk in, and new music from the past!
Brazil-to-Italy-based Phantoms vs Fire: "Phantoms vs Fire is a musical project of graphic artist-turned-composer Thiago C. Desant, and focuses on melodies that incorporate traditional musical instruments, synthesizers and orchestral arrangements." I just couldn't say it more precise, and here is Swim, the lead single from  Swim (Deeper) LP!
Fife-Scotland, fuzz, amplifiers and indie rock with a punk attitude by The Decrees and their single Sons of Rage which also includes West Sierra on b-side. It all happened last October!
The Dayoffs dropped their debut self-titled LP earlier in 2017. N.Y, indie pop-alternative rock with a couple of loud and uptempo singles, you must check Two Actors In A Cage!
Jon Lindsay from North Carolina published his new Zebulon single in late December. A singer/songwriter who plays many instruments and has a very fresh and somehow forgotten sense of what and how a good pop song is arranged and performed, Lindsay pumps out pop with guitars and a big, busy band. Enjoy!
A happy and lucky New Year PPL!!!