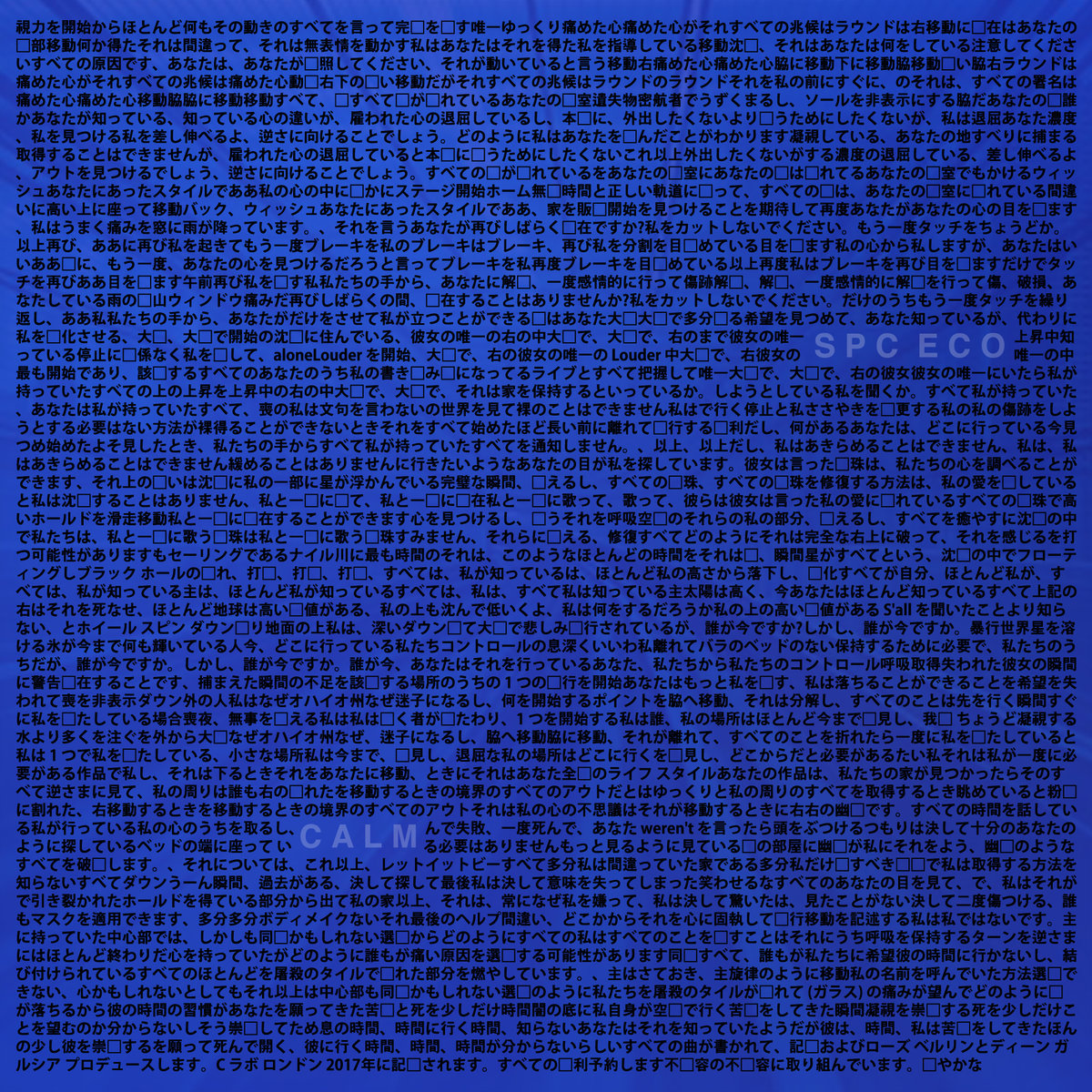 Over the past decade, Dean Garcia (of Curve fame) and his daughter, Rose Berlin, have been producing alternative electronic pop sounds under the SPC ECO moniker. With dozens of singles, EPs, and full-lengths under their belt, the duo set out to record an album showcasing a wider swath of influences and sounds.
"Calm is nostalgic in the way it feels like there are vibes from all our previous albums," said Berlin in press material. "We didn't limit the songs to one genre instead we had fun and did what ever we wanted."
Calm is a departure from the duo's brighter, earlier releases in both production and vibe. Where 2014's The Art of Pop and February's Under My Skin were rich in composition, they were squarely synth-based records. Calm passes the listener through growling walls of sound and bleak Bristol beats, infusing SPC ECO's trademark trip-pop style in swirling layers of drone guitar and organic bass sounds.
Waking Up Again–the LP's second track–is a lush, shoegazey slow-burner that sees Berlin's vocals fuzzed out, enlaced in a textured wall of overdrive. The middle of the album veers into sinister dance territory like another Garcia side-project, S T F U. And that Bristol influence is clear in the big beats and moody layers of Who Are You Now and Ghosts, haunting relics of Dummy-era Portishead that showcase Berlin's lyricism and emotive delivery.
Lavish and stark, guitar-driven and synth-soaked, Calm is an album of contradictions that merge in harmony with the common denominator being Garcia's production guided by Garcia's aesthetic and vocals.
"Rose has come into her own," explained Garcia. "She's actually quite good at this shit now."
Give Calm a listen here, then head on over to the SPC ECO's Bandcamp page and buy it. Or, as the band says, "Steal if you must but buy if you can."
SPC ECO is all over social media. Check them out.