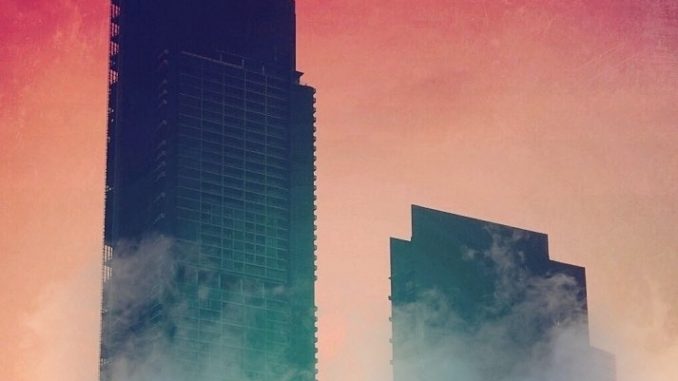 Now that's a gorgeous release with a magnificent front cover–these should be the last words in a review but, no, I'll mix my style and start all topsy-turvy.
Look [up] at the image: Gigantic constructions like amplifier-buildings under a starlit red sky in the mist. What imagery is that? Which soul "saw" that image and created it? You may think the content of the album is stoner-rock or abstract "fat" drone psychedelia electronics but no, it is experimental and avant-garde 'gaze music with an astonishing motion on the wide shoegaze.
Let's start easy now: Blurred City Lights released their Volker LP in February on eLaB Recordings, their third record after Neon Glow (2013), and Anamorphic (2014). BCL is a collaboration of two edgy (talented) pioneers (mavericks) of our times: Dean Garcia from Curve, S T F U, and SPC ECO…the man behind numerous productions and remixes, but you know his work. The other person involved in BCL is Polish protagonist and multi-instrumentalist/producer/composer Jarek Leskiewicz (Sunset Wrecks, Opollo, SPC ECO), who has worked closely with Garcia on many projects and collaborations.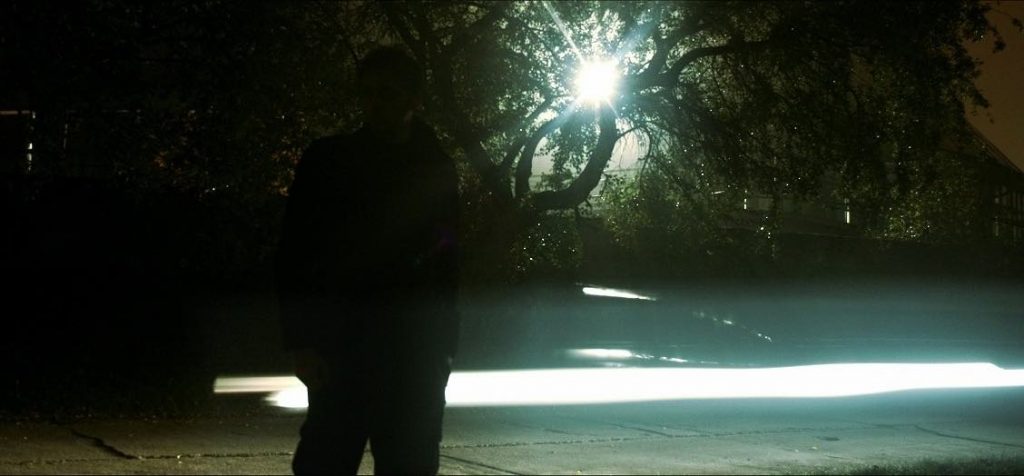 So, our musicians here recorded an album of ten songs with a blissful and euphoric effect by a band with mindful projections. The powerful provocative soundscapes these songs evoke are windswept by sound, experimentation and a very clear picture in their heads. You see all tracks are written with the plain purpose to start and end the narration, rather than leave questions and unfulfilled desires in their music. We talk about 'gaze music in the shoegaze roots which involves some dreamy-pop or ethereal vocals accompanied and provided by a handful of musicians in the recording room.
Let's listen to Don't Let Go with vocals by SPC ECO's Rose Berlin, and enjoy the strict rhythmic arrangement which cleverly leaves all the needed space to both the musician and listener for a bit of psyched-out noise, and I'll tell you more!
Volker was recorded in Cloud City Opole by Leskiewicz and mixed by Garcia at ELaB in London. The duo played and arranged all guitars, basses, drones, drums, synths, vocals, field-recordings, and then invited Berlin to put her voice and words on five of the tracks. Steve Monti (The Jesus & Mary Chain, SPC ECO) threw some glitch drum loops on four of the tracks. A couple of other guest vocalists make appearances.
This creative fellowship of talent experiments over complete musings without torturing themselves in the studio, cutting the assistant engineers a break. The production and entire sonic result is so unique–clean sound with long decays, an excellent mix in each song worked with care to uplift the soundscapes that embrace all vocals and voices. It's a masterpiece. I-am-amazed!
Argue Till We Die strikes me with its heavily processed sound and guitar-work that scrubs desert dust off the face. As for the drums–which grooved the hell out of me–and the sleazy alternative rock-style vocals, I'm speechless! An absolute shoegaze gem that will make you dance for good, wanna bet? Listen!
Scattered bleeps, vibrant soundscapes, bass drops, "chants," and "stories" in the whole of the LP, my friends, in a record that will stay for a long time in the player. That is the greatest success for all musicians, to hit repeat, and I know, "repeat" never fed anyone, so here's Volker: Listen to it, then throw some love their way.
Keep Up With Blurred City Lights
Written by Mike D.