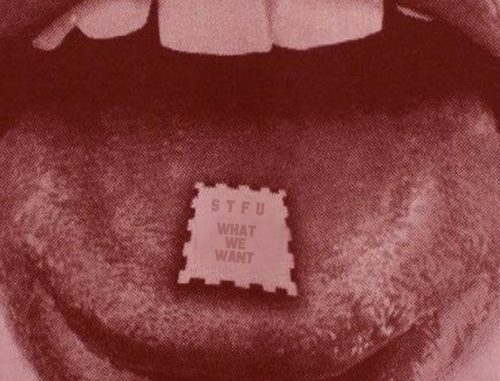 Back in the nu-metal era, when white suburban adolescent anger was being expressed by a steady stream of hip hop inspired, baggy-jeaned white dudes with weird beards and questionable mic skills, Wayne Static, the late frontman for one of nu-metal's bigger acts, Static X, coined a pretty cool term for the otherwise unexceptional genre music his band was producing: Evil Disco.
I would, if I may be so bold, like to reappropriate this label, and put it to better use in describing S T F U's freshman effort, What We Want–an album that is miles from what Wayne Static was producing in both style and substance–yet a more deserving recipient of the 'Evil Disco' title.
S T F U is an electronic duo consisting of familiar names–Dean Garcia of Curve and Preston Maddox of Bloody Knives. The two teamed up, working in separate studios (Garcia in London, Maddox in Austin), to create a sound that draws from many genres, but with a coherency that belies its eccentricity.
What We Want kicks off with a fuzzy, menacing groove in Secret, a track that lays the groundwork for an hour-long journey through the annals of morose, sinister, and frequently danceable electronic sounds.
Garcia is, after all, the man behind Curve's mind-bending synth arrangements, and his fingerprints are all over this thing. From the bright trance-inspired sounds that glisten and explode like fireworks within Do It Now to the drowning robot vibe of Promise, Maddox's raw industrial-big room aesthetic is body-moving and vibrant. And when he tones it down in tracks like the Bristol-infused A Thousand Cuts, the vibes dark and trippy, one can easily imagine Beth Gibbons guesting on a remix.
And this is a departure for Garcia, as he's tended to work with female vocalists in past projects (Curve and SPC ECO most prominently). But Maddox does good work here–adding a sense of melancholy, the sinister undercurrent of his lyrics simmering beneath his steady vocals. In tracks like Trickery, What We Want, and Dead Right, there's an almost Yorkesque quality to his stream-of-consciousness delivery.
What We Want is a dank dance party in a place without velvet ropes, but with promoters who at least had the presence of to add a chill-out room. An evil disco I'd be honored to attend.
Check S T F U out on Facebook, then give What We Want a listen below the mobdividual jump.