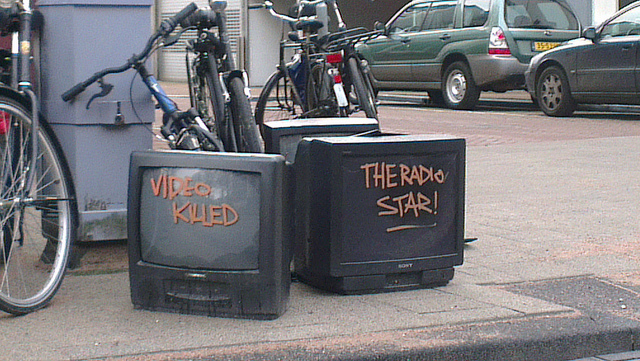 This is not another one of our usual and so sophisticated, edgy, OMG-post-everything playlists here at Noise Journal. It is actually Part I of our new Video Collection series: Showcasing the moving images we've enjoyed the most over the past weeks, and decided to share with you.
We're talking really good, alternative music with cool videos, by some of the hottest names in the alternative realms of the musical art–and some lesser so. So, bring your friends with beers, turn it loud, and please dance away the grey for a couple of hours!
UK's electropop rockets Ladytron strike back after almost a decade's absence with a gorgeous song and a wonderful video for The Animals which follows the trajectory of a group of young people on a sensory, violent and joyous trip through the underworld of megalopolis São Paulo — a snapshot of Brazil's dark contemporary moment.
Liverpool's The Room In The Wood with Magical Thinking: The first single from their new EP out last month (and featured here), the new band features Paul Cavanagh and Dave Jackson, and this is their first collaboration since 1985 when the legendary post-punk pioneers The Room split. Welcome back, gentlemen!
L.A.'s own contemporary artist Ari Mason who dwells in the most alternative-pop music streams with Just For Tonight–written, produced, mixed, recorded, and sung by that glorious talent who also made the videography too, what else…pure art here!
Nova Flares (Jason Wagers) from Kentucky with Krokodil Tears. His second single ever published on May 4 and here we have a striking guitar player in the likes of Syd Barret and the rest of these giants, with a dream-pop, neo-psych, shoe/surf/gaze attitude and approach, with a fantastic sound on the guitar, and a wonderful video!
London's Black Doldrums is an onslaught of fuzzed-out psych-gaze, sleazy, damn groovy with blazing reverb-drenched guitars and heavy drums, and I-am-stunned!!! Here is Those With A Rope Around Their Neck (Don't Always Hang)!
Kristin Hersh, our beloved alternative rock icon (Throwing Muses, 50FootWave), here as a solo artist with Wonderland taken from Wyatt At The Coyote Palace album. A gorgeous little sonic anthem in her styles we adore the most, so cool, and with a very nice animated story here!
UK's indie-pop chameleons SPRAY and their spiky, cynical, wordy new-wave synthpop Anthologised By Cherry Red published last March. We talk about a stadium-sounded masterpiece, mostly suitable for everyday and in every way that you like, guarantee!
Our dear friends The Noise Figures from Athens GR with their soaked in fuzz and psyched out noise rock tornado Out Of Touch which simply takes no prisoners…no one, really, here!
"Dangerous" and "funny" Moonshine Booze from Italy filmed their Happy scenario of desert rock/blues and a bit of cabaret music too, they published it on March 25, and now I want some more to watch from them (note: their Desert Road LP is A-Killer)!
Seattle based ELXYR and Kurt Harland Larson from legendary synth band Information Society teamed up to present their collaborative single Strange Stubborn Proud, and unlike some of the dreamier earlier ELYXR singles, this one channels a bit of the early InSoc "Running" electro sound!
Take Me Into Your Skin is the opening track on Trentemøller's groundbreaking debut album The Last Resort which is now also available on a triple-vinyl gatefold edition, and here it appears with the original visuals made for the first Trentemøller Live in Concert tour back in 2007 by the photographer, author and music video director Karim Ghahwagi.
Rodney Cromwell from London let out the official video for Comrades single on April 1st, musically it is a refined and classy synthpop to electro-disco tune with warm and full analog sound while the video has a critical and retro-like view…and it rocks!
Vancouver's glorious cold wave-post punks ACTORS let out on March 2nd Face Meets Glass taken from their new album which is simply a must-listen, totally!
Brooklyn, loudness, alternative rock, no it is punk, well it is both, fast and furious with amplifiers torn and a naughty taste all over their albums, who? CUP with their new Jitter Visions taken from the s/t record on May 4, dare!
London's electronic moniker Rival Consoles, electronic and new contemporary music in Hidden with loads of grooves and uptempo flashes all the way, I bet you'll replay it!
Still in electronics with B R O A D S from Norwich UK and their magnetizing and pretty intriguing sonic adventure Climbs (feat. Milly Hirst) which was published on March 9. Intelligent music here with a wonderful animation too, lovely!
Claudio Conti with Blazing Lair, a very nice and a catchy song almost from the past and in the likes of the West Coast psychedelic pop music roots that keenly refuses to fade away in time, and we love that!
And last, Brooklyn's post-punk neoromantics Safe Hex with Watched Us Fade, published about a month ago and it stayed on repeat by then, check it out it is a beautiful tune!
That's all folks, stay tuned for more music soon, Mike D.