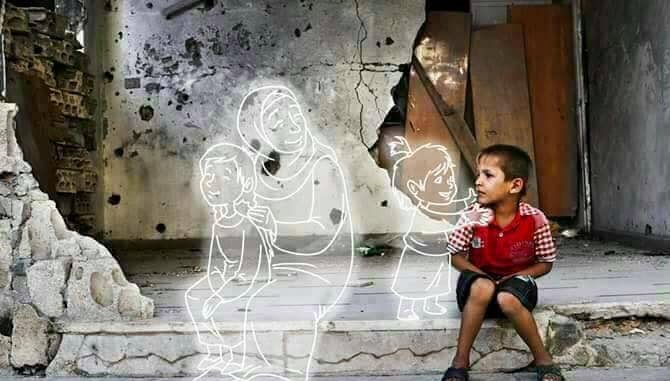 Earth 2018 A.D. Afrin, Syria…the image breaks all bones and the soul stays wordless–what are we doing? Humans killing humans? Our infinite sadness and damnation on our course to pitch-darkness. The song from Manic Street Preachers says, "If you tolerate this, then your children will be next."
Stephen–in Alpha Centauri now–warned us for decades, and we don't seem to understand at all unless that image shows our own families…but it will be too late to mourn then, and the shock will be heavy like a death spell's breath. Deranged leaders command, and the herd follows insanely for the noble purposes of slaughter. Yet it seems that we haven't reached the bottom's end…political analysts who focus on warfare simply quote, "In Afrin we started witnessing the end of the world," and the media simply bypasses the terrible truth. And if that boy in the image, in a couple of months or years, explodes in a public street looking for the killers of his family, which god would we blame as the most-evil?
And all I see on news is just war, war, war–neckties smiling on camera–trends and bionic athletes who promote that food which made them Thors!…..Let's change the game and stop children from becoming fundamentalists, and I repeat: That son could be yours or mine. Do you strongly believe that this would never happen to you? Now put that image on the wall, let it "kill" you for good, and listen loud please to the boy!
p.s. Thousands of refugees and hundreds of children dead…hundreds of children dead…hundreds of children dead…
Berlin's Liste Noire with their new single, For What It's Worth: Striking as always, released on synthetic dreams in the mist of neoromanticism's waves, brilliant!
Ritual Veil from Portland published their new Wolf In The Night album a few days ago. Time Again will show you why they are considered among the most talented and promising post-punks globally, and I only add, with a gorgeous dark-wave scent all over!
Montreal's synthwave/noir-disco duo Gold Zebra just unveiled one well-kept gem from their past. From press material: "Leaving The City was originally recorded in 2011 and was meant to appear on our first album, we rediscovered the song lately and decided to complete it. We may consider putting it on the new album and we're happy to finally share the song with you." And it is simply an astonishing track!
Marva von Theo Athens GR synthwave/electropop duo introduced themselves with their notable and embraced debut album at the rise of 2018. Talent and sound are obvious in this band, and here's Reaching The Stars!
FM Attack from Vancouver remixes the lead track, Baby Sounds, from California's Vandal Moon and their new album slated to release on April 20. The original tune is a synth-pop bliss and the remix is mounted on inspired engines that blast the song onto new wave/post-punk!
Stafford's UK industrial act Flesh Eating Foundation releases a new album in May, the leading track We Are Fucked says it all. No rest for the wicked!
San Antonio's …And We All Die is based on the idea of fusing post-punk with electronic industrialism. Their gift is a 13-track release of remixes via the Modern Day Privateers single that dropped on March 23, and here is the song's remix by Daniel Ash!
The prolific CUP from Brooklyn, who after they published their last album in November, announced a few days ago the new one on April 27. Cosmic Brain is the leading track and it rocks, and bites!
Sydney furious and fresh death-rockers DEN in the flesh with their Into The Ether single. You won't believe the band's sonic power!
Sacramento's new golden deposit in the shoegaze universe, Soft Science with the b-side I don't Know Why I Love You, a cover of the beloved House of Love tune which releases in April and, I bet, will be widely discussed.
New Zealand's DateMonthYear with Numbers–they create a blend of alternative/indie melodies with rock dynamics, and they are just so good in it!
Tokyo's unique krautrockers Minami Deutsch and Tangled Yarn from their upcoming release–a very serious band with an astonishing album in their hands!
London's synthpop/electronic agent Rodney Cromwell again with Comrades, now with the extended remix by Vieon: Groovy and sparkling!
Seattle's ELYXR with The Last Day of Summer (ft Color Theory), perfection on electronics with a serious glimpse over synthpop music!
Marseille's Philippe Petit & Friends with Black Dog from their May album. Indie rock on a stream to no-wave music. Listen!
Paul Littlewood from Sheffield: Glorious Brit-indie rock music on high performance here with Television which is slated for an April release. You're gonna love that tune!
"It's time to be Nu-romanticized and Synthesized by the sounds of NOUVELLE CULTURE" from Marseille. Here is The Night Is Coming – instrumental demo version, and I just can't stop loving that act and the striking musings they constantly offer!
Our friend Nostalgist from Seattle publishes his new LP in few days, one of the most striking post-punk releases of the year, and check again Pendulums, it is totally imposing!
Napoli's shining post-punks Geometric Vision and Fire!Fire!Fire! from their upcoming album in April. It is allegro, groovy, and grey!
Last, Utrecht's Bragolin new cold-wave bullet I Saw Nothing Good…slated for a May release. Clever and groovily hypnotizing!
A nice week to everybody, Mike D.