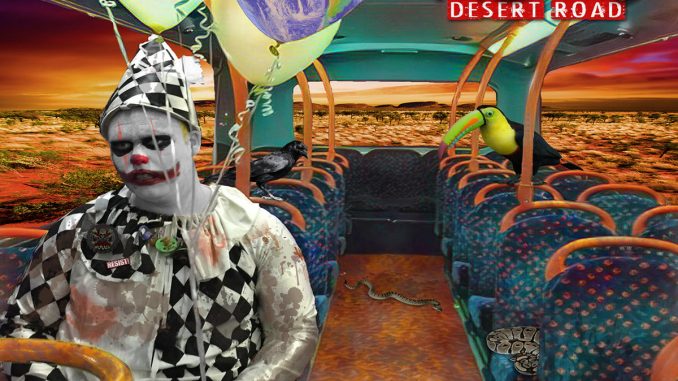 Welcome to one of the most entertaining and loud rock'n'roll albums of the year: Moonshine Booze just released their debut, Desert Road, via Seahorse Recordings!
The band hails from the Italian region of Teramo, and are here to play damn-really-loud-drop-dead rock that will then resurrect you after an endless, reckless night with pure sleaze! Everything about the album is grotesque and curious and is pretty much like threatening every day's morning order. Look at the picture on the front cover to get a clue about their real and "cruel" intentions, please: One "undead" and hungover clown on a bus winding his way through the desert, perhaps aiming to provoke the peaceful and boring life there, accompanied by his pals, the Crow (just in case), and the toucan who's there for the sexy ladies–yes,precisely like that!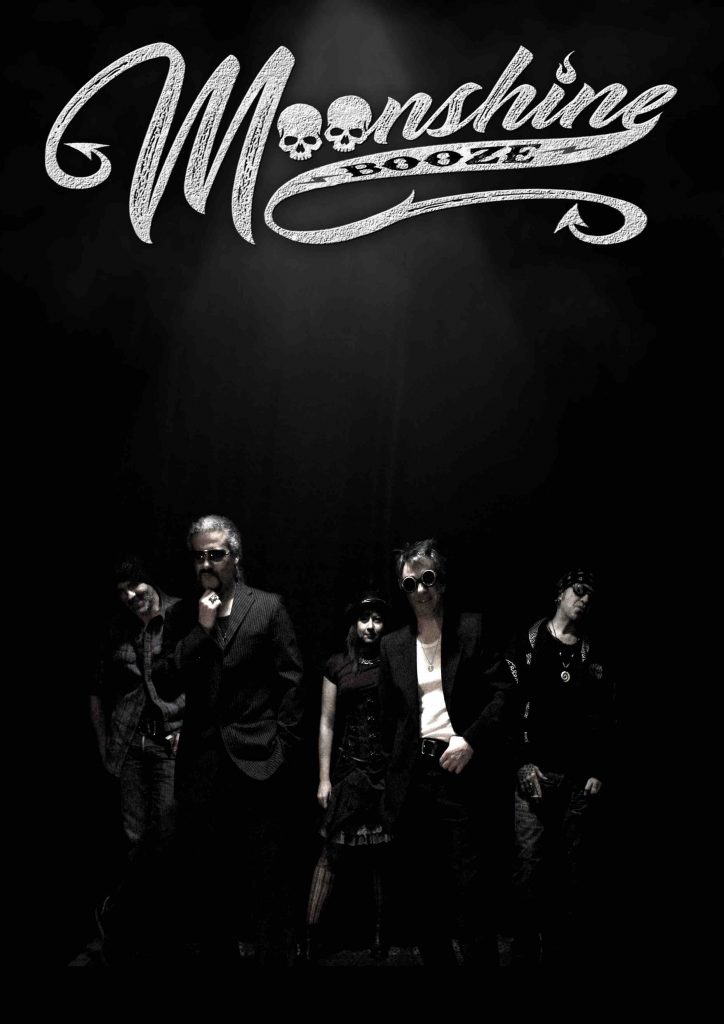 MB's album is sexy and social and doesn't hide its purposes to play dirty, play straight, and entertain and chafe at all creation. In a sense, Desert Road is only rock'n'roll, babe, but let me whistle to you a couple of things first: The three weird passengers on the bus are Andrea Manila (vocals), Emiliano Zapata (guitar), and Fabio Manchos (drums)–all active on the scene for about twenty years in various bands in Italy and the U.S. These creatures have gathered to merge ideas and experiences from different genres to good use.
Well, they started by jamming and performing a series of classic covers from Johnny Cash to Robert Johnson and Muddy Waters, and when they saw that their sound was more rude and crude, and realized that they had developed their own unique sound–which is a bit apart from the standard fare in rock music–they launched Moonshine Booze, producing 14 tracks integrating what the band had collectively gained from their previous musical experiences, including Marilu (bass) and Lorenzo Di Antonio (guitars and vocals) in their company. No Mas is probably the most gentle and polite song on the album, a sleazy tune (of course) with a very good video and character!
Within those 14 tracks, the band unveils various styles they adore–from a folksy punk manifesto to a grit blues rock shot like in Rambling, and some pretty Cinecittà-oriented spooks in Death Melody. Then more '90s alternative rock Terrorvision-style hooks with loud amps and funky horns as it is in Henry Mancini. The album is laced with inside jokes and funny music quotes because, after all, they are skilled and make something like sonic comedy, and comedy is a serious art to achieve.
The Place is the leading song from the album with a video that was filmed a long while ago, and it is the most representative "sample" if I can say that!
Here are the lads from Italy with some links that you may check them and get the album too, cheers and take seriously life's funny stories!
Written by Mike D.