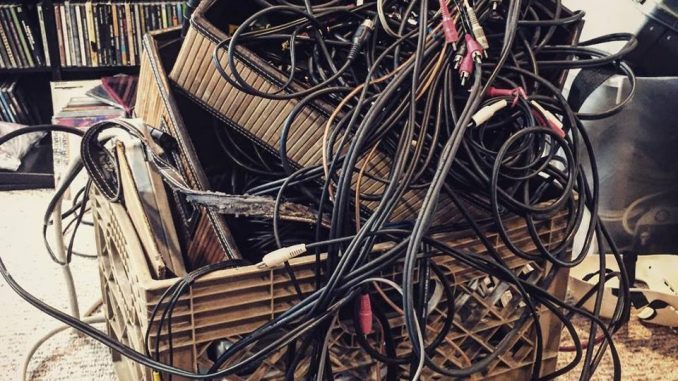 This is the first of the two playlists welcoming 2019 with grooves and shakes! Noise Journal's staff wishes you an amazing and brave new year! Let's go loud into the storm now!!!
UK's legendary singer-songwriter Lene Lovich released on January 4 the brand new single Savages II. She's one of the leading figures of the new-wave music scene since 1979, constantly swinging between new wave, post-punk, punk, and occasionally trying some no wave fruits too. Here we go!!!
This is a collector's item! Sonic Youth's guitarist Thurston Moore published last November the Klangfarbenmelodie… And The Colorist Strikes Primitiv LP. Originally released in 1995 on CD exclusively in New Zealand, this is the first time these recordings will be available on 180-gram vinyl via Glass Modern Records. Here, Moore paired with free-jazz drummer Tom Surgal for a blistering noise set, recorded in 1994. It is all experimental avant-garde music. Here it is!!!
Last November also, Burning House from Southampton, UK, released their new Mirror Song single. Post-punk with shoegaze and grunge elements too, creating joy for the ears and trouble for the speakers. It is a killer tune, don't say I didn't warn you!!!
Stockholm's indie, post-punk rockers Isolated Youth releases their debut Warfare LP on February 2. Safety is the lead single and check why they are considered as the next most promising outfit in the European post-punk scene!!!
Last December, Ghostland darkwave/ post-punk outfit from Athens, GR, published their debut Dances on Walls LP. An amazing album that  iconic French label Manic Depression Records published literally out of the blue. Lifeblood is the first single, let's watch and applaud this glorious effort by a band that sounds like veterans!!!
I am A Rocketship from Atlanta, Georgia, releases their second album Mind Grafitti on February 21. Face Off is the first single by the Swedish-American duo which has put a really good album in our hands! They write, record, and create art and videos without other contributors, layering dark lyricism and fuzz guitars over pop grooves. A notably attractive hybrid sound!!!
Asheville's indie post-punkers Crooked Ghost unveiled on January 14 the official video for the second single Roadkill from Skeleton House LP which is a must listen!!!
Best known as an innovative avant-pop saxophonist and through his collaboration with The Residents, NYC-based artist Norman Salant released his brand new Alway All Around You LP last December. Nice and catchy indie music in all, let's listen to Feels Like Rain!!!
Dublin's rockers Fontaines D.C. revealed the official video for Too Real last November. A red ale and cheers with joy!!!
Liverpool-based rock outfit Big Tide let out the first single Hide Me In Your Spaceship from forthcoming in April 2019 debut album Sync Or Swim. Jangle British indies!!!
Swedish glorious post-punkers Then Comes Silence showed their love and respect to Gary Numan by covering the classic My Name Is Ruin which was included in the tribute compilation We Are Electric: Gary Numan Revisited, published last December!!!
Back to Liverpool again for The Room In The Wood, who released their new The Mars E.P. last November. Mars Won't Save Us is a must listen, must watch, and louder than usual please!!!
Lovely brand new video and music by London's outfit Yak, published on January 14. The House has No Living Room ft. Spaceman will be included in the band's new album out on February 8!!!
Headless Nameless doomgaze, gothic blues, psychedelic outfit from Ottawa, Canada, published their first ever single Wild Fire on January 26. It is an absolutely must-listen!!!
Sweden's alternative electronic outfit ShapeShiftingAliens presented their brand new video for Fade Away single last November, a captivating dark futuristic video with impressive effects. The song is included in their new S/T album out later on February!!!
From Sweden also this cold wave electronic moniker DROWN., published its first I E.P. last December. INKASSO is a wicked and a so addictive tune!!!
Duels is the leading track of the brand new S/T EP from Denver's electrogaze outfit Brim Liski. Marvelous band, stunning new record, please wait a bit more until it releases on March 22!!!
Chasms, electrogaze duo from L.A., publishes new LP on February 22. Every Heaven In Between is the leading track of the The Mirage LP, with a brilliant  video too!!!
This is the new video from London's trip-hop shoegazers Archive! Remains Of Nothing is included in the new 25 LP out on May 10, yes!!!
British act Cabinet Of Millionaires is an uncompromising project with a ballsy soulful political message and infectious grooves. Theresa is the brand new single and it came out on Januiary 25. Resplendent punchy beats, sci fi loony tune hooks, dub basslines and gospel tinged soul-rock vocals from Pat Fulgoni!!!
Melbourne's garage boogie little monsters King Gizzard & The Lizard Wizard presented on January 31 their brand new video for Cyboogie tune which is included in the brand new Cyboogie LP. Grooves and Shakes!!!
That's all folks, for now, stay tuned on Noise Journal. More sonic cookies are on the way…very soon!!!
Mike D.