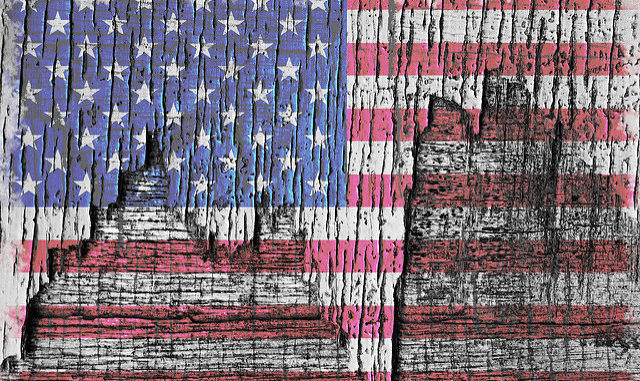 Nine days ago many Americans woke up in a country they no longer recognize–a nation in which bigotry, misogyny, xenophobia, and all of the bitter human traits a civil society does its best to tame and atone for were revealed to be a winning electoral platform. A nation that enthusiastically ushered in a brand to avoid a dynasty. A nation that, under the guise of disgust for corruption and pay-to-play politics, installed a would-be kleptocrat encircled by corrupt counsel.
It felt like we lost our nation. Perhaps we did. And for that we still grieve.
Grief doesn't go away–it's something you learn to live with, or do your best to push out of that part of your brain that's focusing on the day-to-day. Do your best to forget about. And boy is there some day-to-day going on right now. In the chaotic whirlwind that is Trump's White House staffing incompetence, the man is managing to land racists, crooks, and gross mismanagers into key positions. By all appearances, the "establishment" Republican congressional majority which would supposedly act as some sort of check on Trump's worst impulses is falling into line. The Democrats, the soon-to-be loyal opposition, are in disarray. A current nationwide hate-crime wave is said to be more intense and intensive than the horrible things we heard about happening to Muslim Americans in the months after 9/11. The motherfucking KKK endorsed our next president.
And you have a life too. Our jobs still suck, relationships are ending, loved ones fall ill, interpersonal conflicts flare up. Yeah, there's a lot of day-to-day shit going on that you could use to bury that grief.
Don't.
We need it. We must remember exactly where we are right now and how we felt when we got here. Be angry, deny it, bargain all you want. But never accept it.
Yes, I took some liberties with the term "post-rock" here. You'll see acts you'd expect to, like Explosions in the Sky and This Will Destroy You (and even they bristle at being labeled, as all true artists do), but I expanded to artists with an unmistakably similar dynamic and aesthetic. Eluvium, who has worked with Explosions in the Sky, is an example of a more experimental classical style that some may wish to squabble with, or Arms and Sleepers more known for their ambient electronic sound. But all of these tracks explore the depths and complexity of the emotions we can't help but feel when something beautiful is lost.
For maximum convenience, as you've noticed, there's a YouTube and Spotify playlist. All of the artist's Apple Music links are below in the tracklist. Give them your money.
Playlist:
The Evpatoria Report – Taijin Kyofusho
This Will Destroy You – There Are Some Remedies Worse Than The Disease
Ólafur Arnalds – Öldurót ft. SinfoniaNord, Atli Örvarsson
Explosions in the Sky – It's Natural to be Afraid
Mobdividual – Birdbath II – reprise Bandcamp
Eluvium – Radio Ballet
Half – Mind Laps
Arms and Sleepers – Lisbon
Collapse Under the Empire – In The Cold
This Patch of Sky – The Immortal, The Invisible
The Seven Fields of Aphelion – Pale Prophecy
I/O – Bait & Switch Bandcamp
Godspeed You! Black Emperor – BBF3