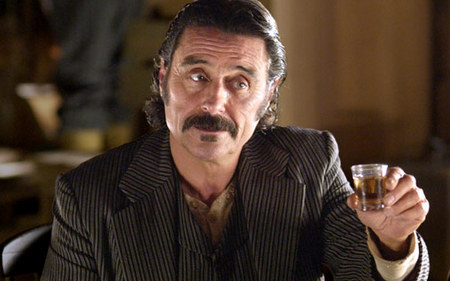 HBO's gritty western Deadwood may be long gone, but its legacy lives on in Donald Trump's White House, according to Esquire writer-at-large and political pundit Charlie Pierce.
During his MSNBC program, All In, Chris Hayes asked Pierce if he had ever seen anything like the profanity-laced rant White House Communications Director Anthony Scaramucci gifted to New Yorker reporter Ryan Lizza on Thursday.
Pierce brought up the violent, foul-mouthed pimp of the Emmy winning David Milch series in response:
"Well, you know, Chris, constitutional democracy's had a good run here in America. You know, it's done a lot of good, produced a lot of good music. Maybe it's time to switch over to Deadwood or something because we've got Al Swearengen running the White House communications job all of a sudden."
Scaramucci, or "The Mooch," as he's affectionately(?) called by those who talk about him, was apparently very upset by a leak tweeted by Lizza that revealed Trump was having a dinner with FOX News sycophant Sean Hannity, and called the reporter to vent.
Scoop: Trump is dining tonight w/Sean Hannnity, Bill Shine (former Fox News executive), & Anthony Scaramucci, per to 2 knowledgeable sources

— Ryan Lizza (@RyanLizza) July 26, 2017
Here are a few of the choice quotes from that charming conversation:
"I'm not Steve Bannon, I'm not trying to suck my own cock. I'm not trying to build my own brand off the fucking strength of the President. I'm here to serve the country."
"I fired one guy the other day. I have three to four people I'll fire tomorrow [Editor's note: It's now "tomorrow" and no word yet on any firings]. I'll get to the person who leaked that to you. Reince Priebus—if you want to leak something—he'll be asked to resign very shortly."
"What I want to do is I want to fucking kill all the leakers and I want to get the President's agenda on track so we can succeed for the American people."
And here's one of Al Swearengen's greatest hits: