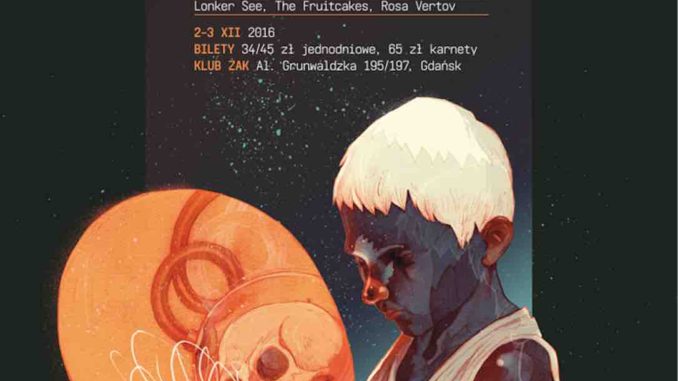 In less than a month, Gdańsk will again become the "intergalactic capital of Poland," as some of the greatest innovators in noise converge upon the Baltic coast for Spacefest! to do what they do best: Create intriguing, moving psychedelic sounds.
The lineup is fantastic, featuring Camera, The Third Sound, MDME SPKR, Rosa Vertov, and DJ sets from Ola's Kool Kitchen and DJ Pomponette.
Anton Newcombe of The Brian Jonestown Massacre will head up this year's incarnation of Pure Phase Ensemble, a rotating collective of musicians who collaborate in workshops to produce exclusive improvised tracks that act as a soundtrack for Spacefest!
"It is my hope I can have a quick chat with everyone involved and get on the same page about how important silence can be," said Newcombe. "From there we can make everyone deaf… but I'm not interested in throwing everything at something then trying to remove everything in its own way. I would rather build wonderful beds of ideas, rythm, melody and work on Polish and English vocals when we can… I plan to switch between my keys and my guitars using one in open tunings if I can, and one standard… and get weirder… be heavy. and dreamy. but not pointless."
Members and previous members of Ride, Placebo, and Spiritualized have participated in Pure Phase Ensemble in the past. This year will see a focus on native Polish acts like Polpo Motel, Jesień, Oslo Kill City, and Judy's Funeral.
SpaceFest! is organised by the Nasiono Association in cooperation with the Łaźnia Centre for Contemporary Art and Żak Club. The festival is co-financed by the City of Gdańsk. Tickets are available from Soundrive Tickets and Żak Club (Grunwaldzka 195/197, Gdańsk).
Day tickets are basically $10 USD — PLN 35 (preorder) and PLN 45 (on the door) / Weekend tickets are $15 — PLN 65 (preorder only).
For more information on the festival, visit www.spacefest.pl.
Here's the lineup:
2 December 2016 | doors 7 p.m.
Rosa Vertov (PL)
Be Forest (IT)
Wild Books (PL)
Camera (DE)
The Third Sound (IS/DE)
+
Snowid DJ set (PL)
Ola's Kool Kitchen DJ set (UK)
3 December 2016 | doors 7 p.m.
The Fruitcakes (PL)
Lonker See (PL)
DIV I DED (CZ)
MDME SPKR (UK/FR)
Pure Phase Ensemble ft. Anton Newcombe (The Brian Jonestown Massacre) & Emil Nikolaisen (Serena Maneesh) (US/PL/NOR)
+
Snowid DJ Set (PL)
DJ Pomponette (UK/FR)
Ola's Cool Kitchen DJ set (UK)