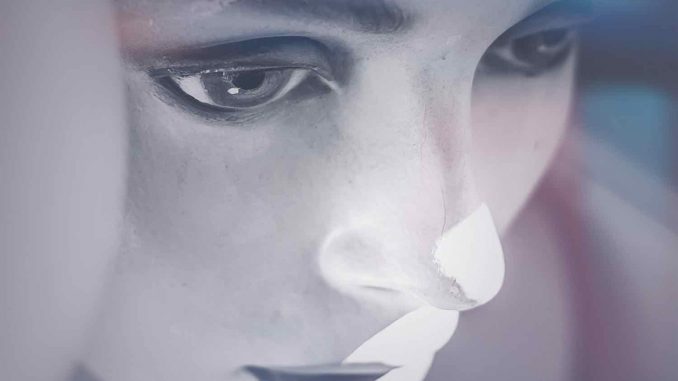 After a seven-year break between albums, the British super-duo Noctorum has returned with a gorgeous new and highly anticipated new LP. Called The Afterlife, this is foreshadowed by the single A Girl With No Love. This was released at the end of October, followed by the second single Piccadilly Circus in The Rain a month later. The Afterlife will be released exclusively on CD and gatefold vinyl in February 2019 via Schoolkids Records. Already copies have gone out to those who supported the album's manufacture via a PledgeMusic that ended in November, but the rest of us will have to wait patiently. Now let's backtrack to explain who this duo is and why they are so super. And here we start with our story: the band was named for the village Noctorum, which is located near to their childhood homes on The Wirral (near Liverpool). Google the name please and translate it from Latin to English, and tell me if you wouldn't like that name for a place where you grew up!
Here are some thrilling facts about the band members: Marty Willson-Piper has been writing and performing internationally for over 35 years. He is best known as a long-time member of Australian psychedelic rock band The Church, who he was with from its inception through to 2013. He joined All About Eve in the '90s, releasing two studio albums and several live albums with them. He is also lead singer and lyricist with Swedish band MOAT and a touring member of Swedish Prog legends Anekdoten. Since the mid-1980s, Willson-Piper has maintained a steady solo output, releasing six solo studio albums and three live solo albums to date. He has also co-written music with many artists, including Grace Slick, Aimee Mann, Susannah Hoffs, and Linda Perry. He is both the lead singer and lead guitar player of Noctorum. His partner in sound Dare Mason has worked as a house engineer at London's Townhouse Studios (come on!!!) with such huge names as Prince, Paul McCartney, Boy George, Tina Turner, Ravi Shankar, and Soul II Soul, among others. Now based in Cornwall, where he set up his VIP Lounge studio and today is mainly known as a mixing engineer for the likes of Brix Smith (ex-The Fall), Cinerama and Tommy Tokyo. Before that he also produced albums for The Grid, The Church, Placebo and AC Acoustics, working in London, New York, Sydney, and Stockholm. He is also a composer, songwriter, and accomplished guitarist, singer and dabbler in keyboards, usually contributing musically to the artists he produces. He plays rhythm guitar, harmonica, and backing vocals in Noctorum.
As I was listening very carefully to A Girl With No Love, I think that I grasped their influences, stemming from a love affair with their musings with the music they love the most, ranging from Krautrock, Spacerock, Prog, Art Rock, New Wave, to Alternative Rock in British universal styles, and beyond. It is outstanding how that busy song runs easily like a river and how within 4 minutes 30 seconds, they manage to unveil a glorious performance, which also includes Georgia Dulcie on vocals and Eddie John on drums. This is a totally groovy alternative rock, with a bit of old-school crafted guitar leads. The arrangement is so imposing that you don't expect to find a collage of styles to put them all in, but once you hear the song, you'll understand at once that Noctorum plays across a very wide spectrum of rock and roll music. I've got no more words – sometimes talking too much is like trying to fit in someone else's glory. Now listen to both tracks and bliss out!
Also check out this documentary on the making of The Afterlife and go order the album at Schoolkids Records.

Keep Up With Noctorum / Marty Willson-Piper
Written by Mike D.