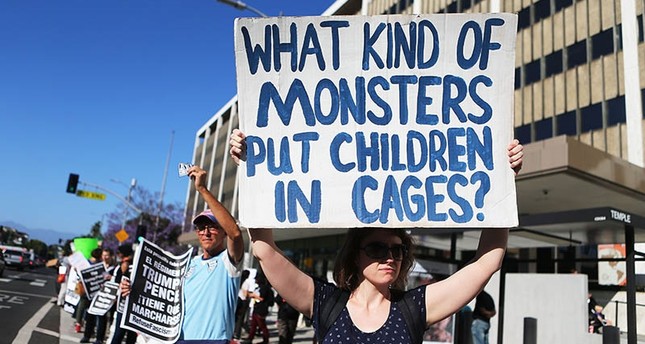 What evil and a damned soul decides to put children in cages? What an obscene decision to separate almost 2300 kids from their parents? What Satan is an authority which blackmails people like that? Mexican, Guatemalan, Nicaraguan refugees must suffer that torment of some real evil dirty minds who, by the way, Satan, they have children themselves…the poor fellow children of white supremacists-who are by all means deranged to their core. Like our "specialists" here in Europe who simply behave like refugees of war are some kind of inferior humans…people who flew away from their homes to survive and offer to their kids a less dangerous life, merchants, doctors, teachers with their families that some morbid authority decided to blame them for their own wicked plans, like people are a commodity in their hands to deal with and blackmail the parents and totally destroy young people's souls. What kind of monsters are they who terrorize kids? What-The-Fuck-Is-Going-On???
A political horror short, a Noise Journal production new video for Imaginary Lines by mrscientificterms is an exploration of the "imaginary lines" between entertainment and governance in the United States. The birth of television spawned an ugly landscape fertile for a Trump presidency. In chronicling violence, white supremacy, and the objectification of women, it acts as a catalyst for their propagation.
London's duo Black Doldrums are renowned for delivering multiple layers of echo-drenched guitar and heavy relentless drums, creating their transient and euphoric dark-psych, shoegaze sonic wall, Those With A Rope Around Their Neck (Don't Always Hang).
Manchester trio The Mu-Tones are a noisy garage rock band forged of three talents and a desire for direct communication with loudness, distortions, overdrives, with a spicy debut single to sweat with, Slap City Records.
Stockholm's deathrockers Unwashed Masses first demo with the striking tune Grave Dancer, if I didn't mention their city wouldn't you bet they are original Californian batcavers? Supreme!
First single from the Night Swimming album forthcoming July 20 for the New Jersey buzz band Dentist and the Corked single , forthcoming via Cleoaptra Records. Also a massive countrywide US tour announced. More info at their website!
New collaboration between Jarek Leskiewicz (Naked On My Own) & Martin Anderson (Dopedrone) in Sunset Wrecks' new album out on June 23. We talk about some very serious stuff on doomgaze, a heavy industrial nail here in Scycap!
New single (video coming soon too) from Stereolab's celebrated keyboardist Morgane Lhote. Now based in Los Angeles, far from her native France, she continues to produce music and collaborate with other artists through remixes. The full album Between The Funk and The Fear can be ordered digitally or on vinyl at https://hologramteen.bandcamp.com. Try Bleecker Street! Chase Me!
Metal Disco electroclash project featuring renowned singer Keren Batok (Isotropia, Red Sol, Ψ/Psi, Stockhaussen etc.) new video Vade Mecum! Caution: Addictive!
Fred Abong with Rattler! Releases June 29, currently on tour with Kristin Hersh, with whom he was a member of Throwing Muses during their 'The Real Ramona' album. He later joined her sister Tanya Donelly when Throwing Muses was on hiatus due to Kristin Hersh's new baby, to form Belly. Most recently he's been wearing a different hat entirely as professor and professional astrologer, so this is a special 're-emergence' for Fred Abong onto the musical stage. Get tickets for the current Kristin Hersh/ Fred Abong tour at goo.gl/2mWgrW
This rough mix of Breathe In is from Kristin Hersh forthcoming album Possible Dust Clouds. Bass by Fred Abong, drums by Kristin's son, Wyatt True. True Americana Alternative Rock, and we also love the album's title, come on!
From the city of Evreux en France comes the gorgeous Metro Verlaine who play pop-sauvage? indie rock? new modern wave? Cut-Up album was released last March and Hate is enough to make you start looking for them!
Los Angeles' own totally alternative contemporary electronic pop music from the upper shelf by Ari Mason again, Vodka Rocks. A bit sour, nostalgic yet euphoric, and a song which stayed on repeat for a week probably!
I Like The Way You Talk from Thanks to the Moth and Areanna Rose EP, the latest release from pioneering shoegaze-alternative soul outfit The Veldt. Hailing from Raleigh, NC, they were produced by Cocteau Twins' Robin Guthrie and many others in their early years, and count A.R.Kane as an influence. So it comes as a particular treat here that A.R.Kane puts their own spin on this original track by The Veldt. The band's meeting in London several years ago has led to a fruitful cooperation, with Rudy Tambala already contributing to the track And It's You on The Veldt's previous The Shocking Fuzz of Your Electric Fur.
WarMech is the all brand new album by Vancouver's Bill Leeb veteran industrial EBM arsenal Front Line Assembly who is joined by Jared Slingerland, Sasha Keevill, Craig Johnsen, and the late-great Jeremy Inkel on a tour de force 12-track release. Molotov!
Now how can we mention A.R.Kane here and not mention their new incarnation as Jübl. Due to an issue involving the use of the A.R.Kane name, founder Rudy Tambala has opted to make a new start with Jübl, involving the same band lineup (with Maggie Tambala and Andy Taylor) he's been heading for the past few years, ever since A.R.Kane re-emerged on the music scene. The Thinking Sweet EP is his first offering under this new name. To celebrate both the '69' anniversary and new release, Rudy Tambala is gifting a mint condition, original, signed, vinyl of sixty nine. The LP comes from Rudy's private collection and has been lovingly stored for three decades, as well as an extremely limited edition Thinking Sweet USB box (just 20 made). Numerous free downloads of the new EP will also be  presented. For your chance to win, follow/Like the Jübl page on Facebook!
Los Angeles post-punks Echolust self released their brand new Loomer LP on June 15 and it is a true marvel, here is the leading track The Last Tide where the band shoegazes it a bit too, listen to it loud please!
Nashville's Palm Ghosts brand new Architecture LP released on June 8. A really very nice 9 track offering which swings between dream pop, indie rock and new wave with an eye on shoegaze too, all performed and arranged by that band who knows exactly where to take it in each track. Try A Lover's Quarrel as a starter!
A pure darkwave soul hides in Budapest's synth pop-noir moniker of Black Nail Cabaret who released their new Bete Noire EP on June 19, and we must definitely dance and shake with the title song because besides its stunning musical beauty it also rocks so-damn-much!
Russian Spleen XXX released the new 7-track curse Poems of Charles Baudelaire last April at the dawn of spring, discover yourselves please what is it all about in The Possessed……personally I loved it though it clenched my heart, the whole LP is very imposing!
Last but not least, from Vermont we have the Sun In Your Eyes by Triumphant Race who plays gorgeous "synthpop for the disillusioned"…adorable moniker with adorable musings!
That's all folks!!! Stay tuned cause some many more tunes are coming, and don't forget: RefuseResistDisobey the unjust and the human snakes of the world!
Mike D.