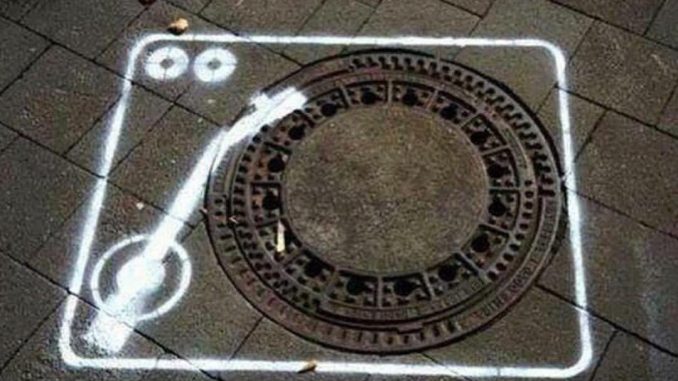 Here is that Mike D again with tons of great, cool, nice, wicked, extravagant, ideal, stunning, and at the end, awesome musings in his quiver. Let's go!!!
Hailing from my hometown Athens, GR, Anima Triste recently released their second album 'Humanity'. When you are in the mood for an old school post-punk shot, with the expected true passion and raw courtesy, turn this loud, please. 'OUY'!!!
Same old school post-punk style with a different DNA though, Trouble Fait from Paris play for batcaves avec du vin rouge dans les veines faibles…superb band from the mid-80s, and here is their latest official video of 'Regeneracy', you will dance to it!!!
copy – paste from Bandcamp, "'INSHROUDSS' marks the first Bestial Mouths release entirely written and conceived by Lynette Cerezo, vocalist and frontwoman since the project's roots in 2006″. Always stunning, always striking, the outfit from (now) Berlin constantly offers thunders of avant-garde darkwave music. 'The Bleed' takes it a step ahead, dare it!!!
Detroit's one and only Ritual Howls published the brand new official video of 'A Safe Haven From The Sun' on October 31. This song is taken from the 'Rendered Armor' album sessions, released in May. Nevermind what music they play, Ritual Howls is among these few other American bands which narrate so well the terrors and the whole numbness of our times. Yeah, they are post-punks in a rather peculiar coldwave vein, listen (and watch)!!!
Chicago's post-punk/ retrowave moniker REPLICANT published new single 'Pale Blue' on October 25 and-it-rocks! Both the song and its official video is another specimen of the band's quality and their song-crafting skills! REPLICANT are important!!!  
Post-punk icons The Membranes released their last double album 'What Nature Gives… Nature Takes Away', last June. Only a week ago though, DJ KITTY LECTRO remixed the track 'Nocturnal' which initially appeared on that album. The result is fabulous on a a pretty difficult song but KITTY LECTRO has won her medals and great respect on her work in remixing names like Andi Sex Gang, The March Violets, Kommunity FK, Still Patient, Lestat, ANKST, etc. Want more? No, let's go!!!
Echoberyl is a French-Italian coldwave/ darkwave duo based in Paris. On October 30 they let out the official video of 'Apparition' from their debut homonym album. An album which will be easily included in many best-of choices of 2019 when the time comes. Noise Journal too has that album on high rank, and please…please…listen how a delicate voice mixes with some  mesmerizing composition and watch that video, please!!!
We'll stay in Belfast for a while as Tonn Recordings releases some pretty serious and edgy records from the wider analog-oriented synthesized genre. The label is a gem for record collectors and a glade where someone may discover outstanding releases. First, I discovered over there MADMOIZEL from France, a performer mixing electronic stations with synthesizers. Watch her work at The MAC Belfast in March 2019!!!
Then, I discovered Crystalline Stricture, who provides colder edge electronic music using MIDIS, analog synths and a series of his own inventions, yeah! 'Traum Undercurrent' can be found in his latest 'Technique' album via the aforementioned label, released last July!!!
Watch Clark from Seattle premiered his new album 'Couch' here in NJ. Paul Furio couldn't be out of this playlist as his last record is on repeat in our loudspeakers, yes! Here is the leading track 'Misery' with the official video too, synthpop electro for the masses!!!
'Fading Bodies' is the new album by Washington D.C.'s electro duo of SYZYGYX, and it is a stunner! Blending industrial electronics with some pretty serious and quite artistic new wave electro bliss, that band offered about a month ago a record so unique. "We've kept the lyrics minimal, as we believe in the beauty of sound and the power of it to make you feel.We want you to feel, we want you to dance, we want to make it your own, in your own body and soul. Give it the meaning your being desires." And here is the second official video off the album, 'Dangerous Creature'. One very  addictive tune!!!
Sierra and Bianca Casady are CocoRosie and they are back with the new album 'Put The Shine On' slated for release March 6, 2020. According to what I listened and saw on their first official video 'Smash My Head' off that album, I simply cannot wait until March! Is there any genre that can be titled as freak-folk indie electronica?!?!?!
Here are The Do Not's from the city of Thessaloniki in GR! A new band in the pitch that seemingly cannot wait at all, yes! The have released only 6 singles so far and all in 2019, yes! I believe that they are like "Is it ready folks, cool, print it", yes! The case with The Do Not's is that they play angular indie rock fused with garage rock and circumstantial shoegaze escapades. They are good, they have a trademark character and sound, and they have style in all. Check their latest song 'In Equilibrium' released last week!!!
You like Bad Brains, you'll like The 1865 for sure! Groundbreaking NYC-based nouveau-punk collective present their fascinating new video for 'John Brown's Gat' which can be found on their debut album 'Don't Tread On We!' Founder of the band Sacha Jenkins explains, "John Brown was a white man who believed that African Americans should not be enslaved; he was willing to bust his gun (aka his "Gat") to contribute to the emancipation/liberation effort. The kids today would simply describe him as an "ally". He was willing to put his life on the line and eventually he lost his life on behalf of his Nubian brothers and sisters. We crafted a tune to honor the man. RIP my brother. You were on the right side of history. Donald Trump is a chump." !!!
Texas, Rosegarden Funeral Party fired it all out with their fantastic new sigle 'Mirror's Image' on October 31! Loud song in the tradition of punk mostly by a band which swings between goth and alternative rock and the shoegaze noise too! Brilliant, just brilliant work, turn it loud!!!
Shoegaze pioneer Dean Garcia (Curve, KGC, Headcase, etc) with Rose Berlin in SPC ECO, made a very nice Halloween present to the public. 'Work It Out' single was published November 1,  presenting a darker pop shade on an obvious trip-hop wing. The result is as expected to be, another great release by SPC ECO!!!
One of Scotland's most iconic rock bands, Goodbye Mr MacKenzie  re-reissued their debut album 'Good Deeds and Dirty Rags' via Neon Tetra Records, November 2! This album is the original 10-track release as it was initially published on vinyl and cassette by Capitol Records back in 1988, plus three more demos with very good sound like 'Open Your Arms'. In the official video you may see young Shirley Manson of Garbage before her huge success!!!

Ummagma from Ontario released their first album in seven years 'Compass' LP, in 2019! Ummagma's music has always presented an exhilarating positive vision, showcasing their ability to wander diverse musical pathways. Blending dream pop/ indies with electronica and shoegaze, their latest album is the listener's joy! Here, the band loaded most of their dreams and efforts and they unveiled a complete record in all! 'Caravan' is only a hint of their abilities!!!
Pioneering shoegazers The Veldt have announced East Coast tour dates, including a mini-tour with legendary UK electronic gaze outfit Seefeel for their debut North American tour. The Veldt is identical twins Daniel Chavis (vocals, guitar) and Danny Chavis (guitar), along with Hayato Nakao (bass), Marvin Levi (drums) and Alex Cox (guitar). Together they produce a heady and sensual blend of shoegaze and progressive soul, dreamy soundscapes and infectious grooves. You may check the remaining dates here, and you may get a taste in the following video from the Oak City Session 2019!!!
This is the debut album release from L'ÉPÉE , the band are Emmanuelle Seigner (Ultra Orange & Emmanuelle), Anton Newcombe (The Brian Jonestown Massacre) with Lionel & Marie Liminana (The Liminanas) . It is very rarely that a musical project lives up to the billing of being a 'supergroup'. However, the exception to this rule comes in the shape of L'Epee. Watch, 'Lou'!!!
'Solasta' is the new album by Scotsmen post-punk/ shoegaze outfit Cherry Wave. The band plays nice and loud and 'Ostara Dawn' is highly recommended, yeah!!!

And after that last playlist for 2019, I must inform you that Noise Journal will not create another one for December because we shall give you instead of the magazine's top-faves of the year. Stay tuned for more music, reviews, news, tributes, interviews, you know us. The last one for today comes from Luis Mojica as the best closing track! This confessional singer-songwriter  released his new single 'City Friends' earlier in October. Mojica's music and sound esthetic is inspired by Leonard Cohen, Tori Amos, Patti Smith, Joanna Newsom and Kate Bush. See ya all soon, now let's listen to that nice song!!!
Mike D.