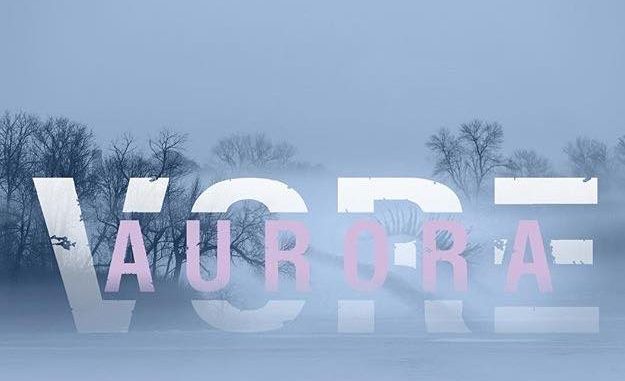 This week we introduce the Alameda, California-based electronic duo Vore Aurora. The band published their debut, Eidolon, last month, but they store a string of maxis in their quiver, and a striking album of 18 electronic/dark-wave remixes in Null Plus Void Remix War.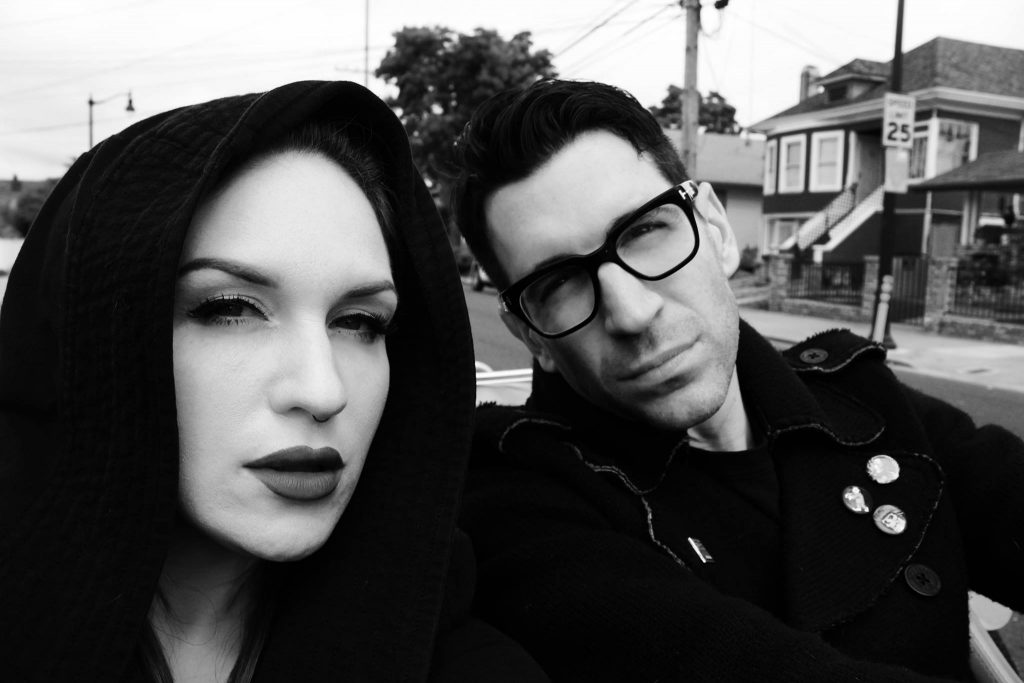 VA embarked on their cautiously-approached course back in 2016 with their first single, Carmine, an astonishing intro to their sonic constellation. But it was a month later (April) when I accidentally crushed on the Envenom single, a song which took me by storm with its perfection, passion, and motion. And certainly, I wasn't the only one: You see, Envenom got sincere praise from their audience, and was mounted on radio playlists without any second thoughts (yes, my Loud Cities Radio Show was among the first programs to broadcast it). Hear why, and let it guide you into its raging mist…into its dark-wave/electro scenery!
…and that was only their third single! I mentioned that A'lizzabeth Barrett and Jonah Philips cautiously approach their releases and always look for complete songs to display. Yes, perfection is the major player in their music and it couldn't be different than that, I guess, because these talents wouldn't bother to publish a song that doesn't blast their artistic neurons, songs that are equal to their skills.
Songs, yes, not just tracks. VA work on busy and compact sounds that are presented in arrangements highlighting the music and, after all this, the band's fame. Very modern and incisive electronic riffs that emerge from electro, hidden-techno, sometimes minimal, sometimes epic, veiled and unveiled dark-wave colors which all form a vessel with strong engines capable of carrying A'lizzabeth's vocals. She is a singer with warmth and an intense voice–a skilled vocalist who sings her lyrics with passion in every song…In Out and Thru!
Eidolon is a masterful album of 13 tracks, including In Out and Thru, Null Plus Void, Envenom, and another eight brand new songs (including a fantastic cover on Placebo's classic Meds), and two more remixes by Mr. Kitty and SOLVE. I was thrilled–as I honestly expected in its storms and tunnels. It's a striking album (especially for a debut) which hides and simultaneously enhances all elements in the band's DNA. Strong songs (some of these are anthemic as you'll see), fantastic and solid production that seems to emerge from the mixing desk, channeled through the head and hands of the engineer, p-e-r-f-o-r-m-a-n-c-e, and a unique perspective on modern EBM music which they blend with their synth-pop/synthwave likes, and this time carefully confessing some minimal elements too that they hide like the rabbit in the hat, surprising us and putting that smile on our faces. Hollow Point is the leading track of the LP–a pounding synthpop-blended song, check it!
...Meds?!?!?!
Listen to Eidolon in its entirety right here after the interview…
In the middle of recording, a surprise knocked on VA's door, as they are a band of character and a certain quality: When Swedish electro-pop pioneers KITE played in California, they chose VA to share the stage with them, and later came the confirmed April dates to share the stage with one of the most important and edgy names ever in electronic music, Covenant. Yes, it seems that our friends are ready to blast into the genre's stratosphere, but why not let them tell us about their band? Here's our chat with A'lizzabeth and Jonah!
Hello Vore Aurora, you finally published your long-awaited debut LP Eidolon with 13 masterful tracks. Excellent sound, astonishing performances by both of you, with a gorgeous front cover that the fans are gonna love. What is Eidolon LP to you? Confess, please…
A.B. To me, the album represents a sonic form of processing past emotions, events, and beings. Eidolon, as a word, is an apropos way to sum up the phantoms people leave behind after they or the experiences are gone. And importantly, the ghost of ourselves we leave behind with them, real or imagined. I thought that was captured so beautifully by John Rose in the album cover photograph. How I could be seen and remembered through the eyes of someone who truly knows me felt appropriate for the title. Songs like Scratched Surface bring forth this power of transforming through painful experiences, while being able to only control your own reality and coming out stronger (making a xylophone of broken teeth). Hollow Point combines horror and sexual themes with nods to classic literature, modern pop culture, and historical unsolved crimes. The dichotomy of victim and vigilante has always captured my attention. Lunar Distance is my secret ode to losing a friend, and Slate was the final song that encompassed all my fears at the time about the future of my current relationship. Every song is a snapshot of a moment real or imagined with so many loose strings to pull and unravel if someone were to take the time…
J.P. I feel like life has many chapters, some flow evenly from one to the next, and others have an abrupt ending. In the few years since A'Lizzabeth and I started Vore Aurora, it feels like we've lived a few lifetimes, had some real challenges, and have grown up quite a bit. Inadvertently I think that is reflected in the music in terms of how older songs progressed into the newer material. Also, we figured out how to work best together, and how to manage the production side of things better as time went on.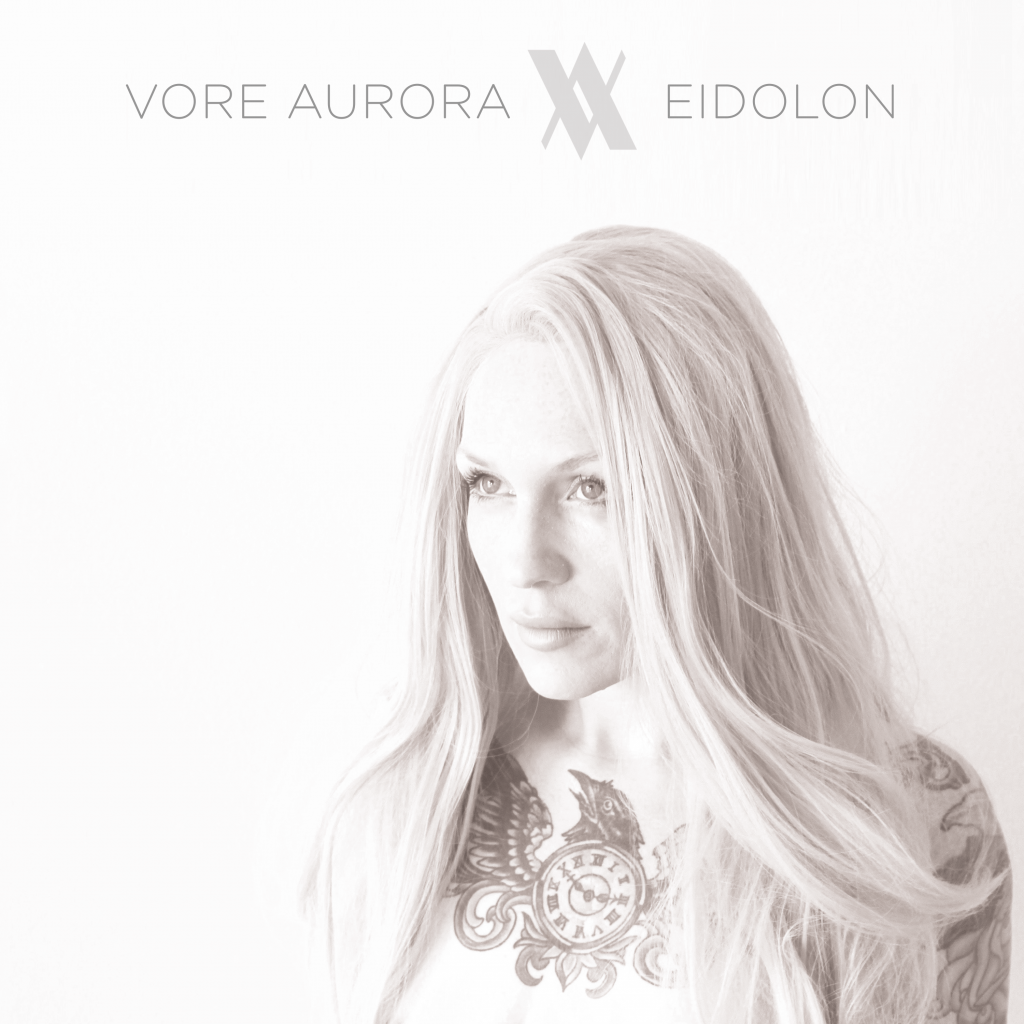 From 2016's initial single Carmine to 2018's leading track Hollow Point, and it looks like you love blending your music style with various elements away from the sheer electro styles and sounds. The question is, what guides you through a song's sonic profile, Envenom i.e is an anthemic EBM oriented bullet for the dancefloors while In Out and Thru flirts with some trance/techno likes, when in Eidolon we listen to some other elements too (synthwave to minimal occasionally). Do you choose a path for a song or the song tells you where it goes?
A.B. I'm very proud of our indescribable lush minimal hazy crisp style. I think what you have musically is two people making what they like with better taste than talent. The old cliche also applies of the total being more than the sum of it's parts. Jonah and I both listen to the tracks and can't imagine having the ability to make them yet here they are. I don't think we had a plan of what the album would be but as we sank further into the sound of VA the songs had a natural progression all their own. We did attempt to use lower BPMs and major chords at different times but they immediately didn't feel right. Though Jonah is incredibly humble, he has the best ear of any musician I've ever worked with. We are both natural producers only he has the skills to make the frame and I somehow find the small edits and vocals to drive it home. Sometimes the music made us and not the other way around.
J.P. I agree with A'Lizzabeth on the more taste than talent angle. Honestly half the time I don't know what scale I'm in. She used to tease me for not knowing the difference between a verse and a chorus when we started. And honestly I didn't really know the difference. I approach music from a design perspective and not with classically trained chops. I know what sounds good and what doesn't, so I just play and tweak things until something sounds right, then refine it, and then refine it further. I'll spend hours just working on a synth patch until I can't find a way to improve it anymore. I'll stumble through progressions until they click. At the end of the day I just love playing with synths and technology and use my ear to tread through the many things I don't fully understand, and somehow it all comes together.
While we were waiting on your debut LP you suddenly let out, in February 2017, a stunning 18-track record of remixes by friends in only one of your songs, Null Plus Void, how come and why did you choose that specific track?
A.B. Our friend Nabil from Gentleman Junkie commented that he'd like a remix kit for the song and then Nick from Fractured Transmission followed, and the list grew of so many talented friends asking to be involved. My dear friend Ariel just happened to have "Null" and "Void" tattooed on her knuckles so the cover art is literally a picture of her hands while we were getting drinks at an Austra show in San Francisco. The only person I asked to do a remix was Jason Alacrity and his Symmetry mix has become the club favorite. I think all in all, we learned more about mixing and music making in general by doing this remix album so I'm very grateful for it.
…and in Eidolon we listen to a fantastic cover on Placebo's classic Meds. I know that you love that band but your new fans may think, ok with Meds but why Vore Aurora covered an alternative rock band instead of an electronic act, what pushed them up there?
A.B. I have always adored covers, especially Placebo's cover of Johnny and Mary, though my favorite Placebo song is The Bitter End. I have a belief about covers. You must either do it better or completely different. There's no way we could compete with the original of Meds but I knew we could take this guitar driven song out of it's element into new territory for people to interpret in a new light. Jonah was trepidatious to say the least, but I think it turned into his finest music writing and it sounds more VA than any other song. Whenever we played it live, no one would recognize it until part way through the chorus.
J.P. I wasn't happy when A'Lizzabeth brought up doing a Placebo cover. Mostly because I didn't know their music, and had never done a cover before. The crotchety old man in me had a million plus one excuses not to do it. After a few listens though, the song really grew on me, and after building out the instrumental I was in love with the way the song was originally written. It checks all the right boxes in terms of being short, sweet and memorable. And now I'm a big Placebo fan.
I believe that it is very intriguing and a flattering circumstance for young and talented bands like you to share the stage with acknowledged names like Kite last year, and with monumental artists like Covenant this April. Please share your thoughts with us and give us the details on the upcoming gig!
A.B. In August of 2016, I was headed to LA to see Kite and at the last minute, Jonah ended up driving us which turned out to be our first road trip together. The show was one of the best I'd ever seen and we stood there together in awe and he whispered, "Someday we'll play with Kite". Little did we know that six months later, they would be coming to San Francisco. I told our local promoter I'd cut off my right arm to open for them. He laughed and said, of course, you can. Covenant has been my favorite band since I was sixteen and Eskil is one of my main musical influences and favorite people. About a year ago I heard a blip about a spring 2018 US tour and about once a week, I told that same promoter that we'd be playing with them. As it got closer, we found out our friend Erik Gustafson from Adoration Destroyed would be part of the Grendel tour and they were merging the shows. My intention was only to open but with some shifting of acts on the tour, Vore Aurora will actually be third in the five band line up. We're so very honored to be included.
J.P. I'm pretty sure that life isn't real, and this is all a computer simulation played out on future technology. The 'What is The Matrix' moment for me was getting to play with BOAN. I've loved their music for a long time, since back in the Medio Mutante days. Some of my happiest moments were cruising in my car back in 2012, listening to them on repeat. Getting to share a stage with them was definitely a memorable moment for me. It made me feel like I was finally contributing back to the scene that has carried me through some crazy times…
What are your plans for promoting Eidolon? Live shows booked? Any trips to promote it outside The US maybe? A video on the way?
A.B. We have three local shows planned for Northern California and will be planning an LA show shortly. We'd love to tour the rest of US and internationally but that comes down to promoters reaching out. Hopefully, the love we have been receiving will lead to more requests and bookings. If you are interested in booking us, please get in touch. We are blown away by the amount of views on our video for Envenom. We plan to put out another shortly and you'll be one of the firsts to know about it.
A'Lizzabeth and Jonah, thank you very much for your time and last, I'd like to ask what Vore Aurora is currently listening at home or in the car? 
A.B. My current loves right now are ionnalee, Marnie, Schwefelgelb, Arca, MUNA, and Ki:Theory. I'm also really excited for the new TR/ST album.
J.P. Boy Harsher is really doing it for me right now. It's stripped back and minimal, but carries a punch. And I can't speak highly enough about the new Bézier and John Maus albums.
Listen to the full album here, then head on over to Bandcamp and show Vore Aurora some love:
Keep Up With Vore Aurora
Written by Mike D.