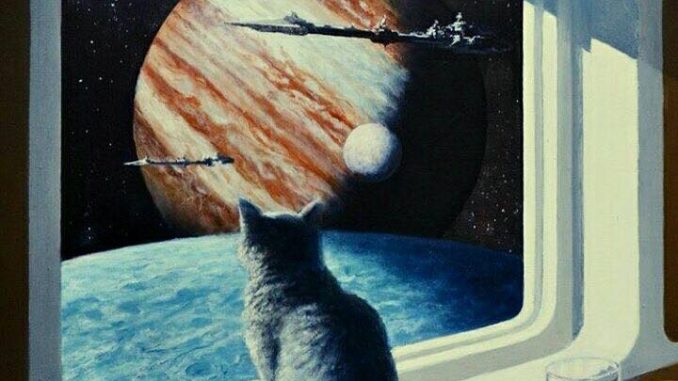 Meow! I see the August Fleet coming alongside to dock on the urban platforms and I'm very curious about your stories, and your discoveries! Once you are reset in your homes, put a snack on (like me in the photo), pour something red in your glasses (like me in the photo), and tell me all about your August! Here's my welcome gift to you because I know you missed Me much, meow + purr and press play!
Arkansas' 5-piece band White Mansion published on August 22 their brand new Scarred single, a post-punk/romantic darkwave gem, very imposing and so perfectly performed!
Philadelphia's indie-rock experimental duo Tulipomania unveiled brand new video on July 24, which has been chosen as an Official Selection at the BAFTA qualifying Aesthetica Short Film Festival in York-UK, for their new maxi-single Off The Map!
Habitants from Nijmegen-Holland offered on June 28 a sensual specimen off their debut One Self LP. Post-rock to shoegaze, with a certain keen on indies and doompop too. Here's the title lead single!
PILES from Avignon and Nancy en France published on August 14 the official video for the leading track Drones and Piles off the Una Volta LP (out September 21 via Aagoo Records/REV.Lab Records). We talk about experimental, kraut, jazzy music, presented by three drummers in a knock-out album. Keep the name because we're gonna tell you more about that peculiar project, soon!
Our beloved duo from Alameda-CAL Vore Aurora published on July 27 new video off their latest Eidolon LP. This is Blush Response, a darkwave artistry where synthpop meets minimal techno, by a band with very serious skills!
David J! Yes, David J from Bauhaus, Tones On Tail, Love and Rockets, releases reissued solo LP Crocodiles Tears and The Velvet Cosh on September 7. Also, David J announced a 40-year Bauhaus anniversary tour with Peter Murphy across the UK, Europe, Australia and New Zealand, for which they will play their full debut LP In The Flat Field. More info soon, but for now here's Stop This City!
South Italy's post-punk gothics Fading Rain let out the brand new video for Collapse on August 21, off their latest Let Silence Begin LP (on May 7). Great song with a fantastic video too!
Austin-TX sanguine indie pop artist Clark Twain published on July 18 his debut single Fly High (Like Richard Branson), a fun and upbeat song that is infectious with high positivity and has a glorious video too!
London's indie dream-pop duo Still Corners published on August 13 the official video for The Message off their latest Slow Air LP (August 17). A beauty in all!
Introducing London Based Irish-born singer-songstress Linda Em who announced new EP London Irish on September 21. This is the leading track Wild Fire by that gorgeous folk & blues artist, and something tells me that we are about to hear more from her soon!
Munich's dreamgaze romantics Blue Haze let out the official video for Bloodmagic on August 7 off their new Nightdive EP (August 24). Wavy true melancholy by a duo which seems that they will offer many more chills in the future!
Atlanta's singer-songwriter K Michelle DuBois unveiled on August 15 the lead single Wild Weed from Harness LP (out October 12). Gorgeous voice, serious musician, a great lead single here, and oh my…it's all in the likes of Divinyls, Liz Phair, The Breeders…just listen to her!
Sylvaine from Oslo-Norway published the first official video for Abeyance on August 8, off her upcoming new album Atoms Aligned, Coming Undone (November 2). A very imposing talent in post-rock and doomgaze music. A hint: If you ever see that she plays live near you don't miss her, we went numb by her live performance last year in Athens-GR!
Newport-Rhode Island's The Pull of Autumn publishes their debut self-titled album on August 24. Comprised of members of pioneering 1970-80s British new wave band Fashion, Rhode Island's Johanna's House of Glamour, and Fred Abong from Throwing Muses and Belly, that band is sort of a super-group. Here is the leading track Laurasong, an ethereal indie tune of the band's quality!
August 1st and the mysterious band The Ninth Heaven from (probably) Washington D.C. published their new digital single Infernal Prosperina. They are New Wave, progressive, and gothic to die for!
NYC, Walter Lure was the punk guitarist with both his own band The Waldos, and also the 70's punk-rock legends The Heartbreakers. After 25 years Walter Lure & The Waldos released their new Wacka Lacka Boom Bop A Loom Bam Boo LP (on Cleopatra Records, August 17), and it feels exactly like time has stopped around then. Here's the official video for Crazy Kids which is also featured in the film Thunders-Romm 37. Punks-Not-Dead!
Brooklyn's surf and psyched punk-rockers The Vandelles published on July 6 their new Techromancer digital single. Listen loud, get a beer, and repeat!
Still in NYC, introducing Evan Jewett who releases his new Don't Feel To Work LP on September 14. Aagoo Records is previewing the lead single Pink Grout, and I feel that I must tell you that we'll focus on that record thoroughly, soon. Indie folk, indie alternative in all!
This is the official video for The Rover off the new Marauder LP (out August 24) by the legendary Interpol!
Portland's The Mutineers shall publish their new sonic storm Threshold EP on September 14. We are about to enjoy their winds, rivers, loud guitars, louder drums, and let me tell you that we're going to present it here in NJ for you. Here is the video for Drug for That to start with!
A big Meow to all, this collection of excellent artists and prime bands was curated by Mike D.