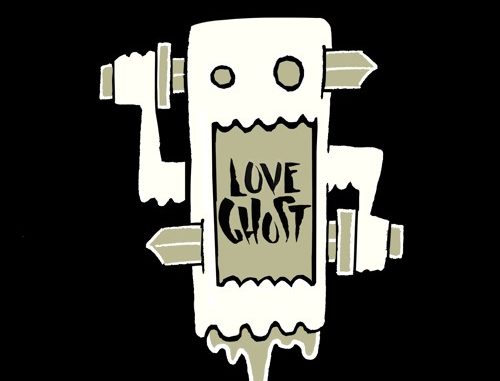 They say youth is wasted on the young, but the four teenagers who make up Los Angeles indie rock outfit Love Ghost aren't into squandering their prime. They're too busy mining the 90s musical landscape, channeling the voices of the slacker generation for the new millennium.
Their debut EP, Love Ghost Vol. 1, is a journey through the sounds of the indie rock subcultures that blossomed during the decade of Nirvana, Smashing Pumpkins, Sunny Day Real Estate, and the early emo movement. The direct result, one could imagine, of some serious exploration by a group of talented kids too young to remember when Lollapalooza was a novel concept and late-adopters (i.e. the entire country in 1991) had to scour record stores for Nirvana's Bleach on cassette.
The rock sounds of the 90s were, of course, not homogeneous. In fact, many of the folks whose early years were defined by grunge turned their noses up to the emo sounds later in the decade. But there's aesthetic value to both and Love Ghost recognizes this, snatching up the bits and pieces of sounds that worked and lovingly amalgamating them in a captivating fashion.
The band's first single, Friday Afternoon, was inspired by The Smashing Pumpkins, and the incorporation of Mya Greene's viola into the orchestration harks back to Siamese Dream, as does the big Micro Synth guitar sound used liberally by 15-year-old frontman Finnegan Bell. But the layered vocal melodies and truly contagious hooks are reminiscent of bands like Saves the Day and Juliana Theory.
Mystery Box–the band's latest single–in both sound and title begs comparisons to Nirvana circa In Utero. From the bendy guitar picking that morphs into monster distortion to the gravelly angst of Bell's vocals, Cobain's spirit lives on. There are no cries of Rape Me, but there's more than a little Heart Shaped Box in there.
Love Ghost is still formulating a coherent sound, but what they lack in consistency they more than make up for in ambition, talent, and quality songwriting. Seriously, try not to sing along the second time around.
Keep an eye on these kids–they're already doing great things. What were you doing when you were 15?
Find Love Ghost on Facebook and Twitter, then give Love Ghost Vol. 1 a listen below the guest review jump.