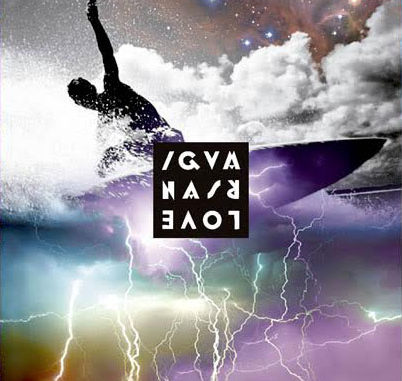 With nearly 30 years under their belt, Argentinian psych-rock pioneers Iguana Lovers are out with a new surf-infused fuzz beast in Surfing Caos, the band's fourteenth studio album since 1991–a year during which many of our readers were merely glints in their parents' eyes, if that.
A breezy 33 minute fusion of punk, surf rock, and shoegaze, Surfing Caos was mixed by Ride's Mark Gardener and features members of legendary alternative rock acts Inspiral Carpets and Supergrass. Its release coincides nicely with the premiere of Ride's first new album since 1996.
As part of the album's official release, we asked Iguana Lovers some questions–and founding member Ariel Soriano got back to us–touching on their influences (then and now), the current vinyl revolution, how Noel Gallagher of Oasis got a copy of their first album, and technology's impact on the world–musically and otherwise. It's a funny, insightful interview with rare YouTube clips and photos embedded throughout. Check it out, then listen to the official premiere of their album right here at Noise Journal.
Note: This interview has been edited for length and clarity.
So you guys have been doing this since 1990. A lot's changed in the past 30 years, but sometimes it seems that musical trends have gone full circle. What would you say are the biggest positive changes in music since you released your first album?
There have been a lot of changes, but we haven't noticed if they are positive. We recorded our first album, Universo, in 1990 and released it on cassette in 1991 without really having a plan at all. It sounded awful and spread from person to person, becoming a success in our hometown of Buenos Aires. Many have compared it to the style of Oasis, some with Brian Jonestown Massacre, I understand that these bands did not exist back in 1990. Thanks to the new technologies now you can access to watch this video of Iguana Lovers live:
That's positive! We were 20 years old! Now we're going to digitize and remaster it so that more people can know it all over the world.
During the last 30 years, the advance of technology has generated a lot of changes in the lives of people, in their work, their families, and in an endless areas. Music has not been ignored by technology and has undergone changes. The most evident is in the way of storing and reproducing music, moving from turntables and vinyl to the digitization of music.
Now there is a tendency to reissue music on vinyl. I consider that listening to a vinyl pressed from a digital master tape 16 bit 44.1 hz is a scam–I only like the cover art. The positive thing is that now you can transport the music; you can take it everywhere and send it over the internet. Another important change is the way musicians record their compositions. The positive thing about this aspect is that technology gives musicians more resources to record. However, the human part of the music is being lost on the recordings and in some cases the quality is being degraded, especially if we talk about rock. Another important change is the way of making music. Computers and digital tools work in music as one more instrument.
"Our manifesto is…'Don't believe the man.'"
We'd describe your sound as "psychedelic surf rock." Beyond the obvious shoegaze influences listed in your bio, who else has inspired you?
Thank you! That is a good description for this album, Surfing Caos. It has been inspired by ourselves, in our beginnings, some unfinished things to which we have decided to give a closure. Also inspiring us are some garage bands like The Magic Mushrooms. We recorded four LPs and ten EPs The creative process was different for each one. Each album has a different concept and style within the Iguana Lovers sound. We have gone through the post-punk, electronica, rock and roll, blues, dub, psychedelia, electro-clash, and Madchester.
We have been inspired by Link Wray, Suicide, The Stooges, T. Rex, Spacemen 3, The Chameleons, Blondie, Stones Roses, Joy Division, The Smiths, The Clash, Television, The Jam, Sonic Youth, Echo and the Bunnymen, Beach Boys, The Ramones, Ultra Vivid Scene, Jesus and Mary Chain, The Pastels, Gary Numan, Kraftwerk, Leftfield, Pil, The Who, MC5, Happy Mondays, Inspiral Carpets, Wire, The Velvet Underground, The Doors, Syd Barrett, The Kinks, The Cramps, among many others.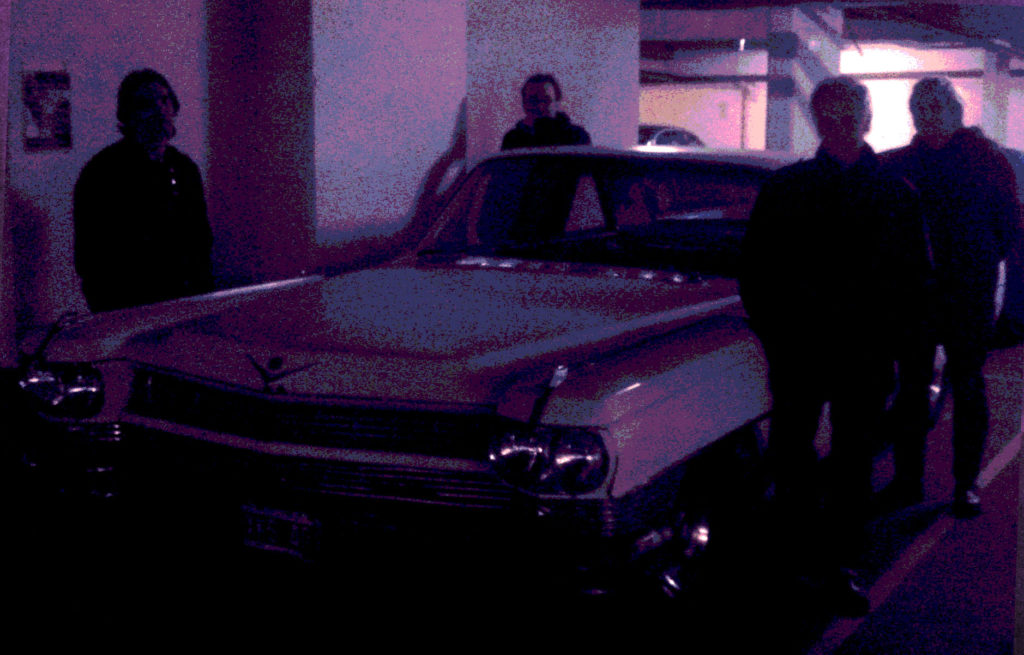 In Argentina there is a tradition of Rock and Roll in Spanish since 1960 marked by Elvis Presley. Towards the end of the '60s, some Argentine rock albums that have influenced us were recorded, bands strongly influenced by The Beatles, Hendrix, Rolling Stones, Traffic, Neil Young, and the blues. They are called Los Gatos, Almendra, Pescado Rabioso, Manal, Vox Dei, Billy Bond, Pappos Blues. These are bands that sounded like stoner rock nowadays, although more enriched and almost 50 years before.
Can you tell us a little about the Argentinian "Sonic Movement" you were so influential in?
At the beginning of the '90s in Buenos Aires, some specialized media began to call [sonic] certain bands that shared a scene, new bands that experimented in their creations with the sound both live and in the recording studio. In 1991 one of the publications chose us as the strongest sonic independent band of the year. That made us stand as precursors of the movement. A little later in the scene Soda Stereo, a band that was in a multinational company, recorded its album Dynamo, inspired by the sonic movement of Buenos Aires. This was the most popular mainstream band In Argentina and almost all Latin America. It was thanks to them that the movement became popular, they filled stadiums. For us, it was their best album.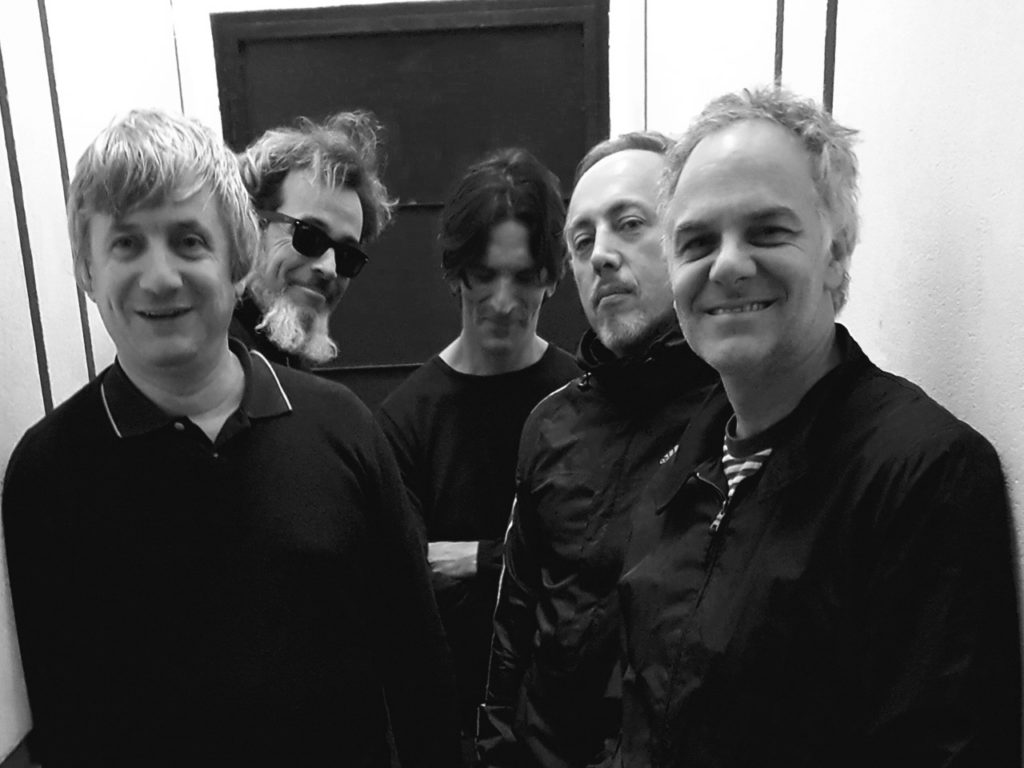 You've toured with a lot of great acts, and have probably seen some interesting things. Tell us about your craziest concert experience.
I have a story that ended at a concert. In 1991 Inspiral Carpets played at the River Plate stadium in Buenos Aires. We were some of the very few in the stadium that liked the band–the rest of the crowd was there to see Paul Simon. They gave a devastating concert, what a band! We waited until they finished playing to give them our first cassette. They sent a roadie to deal with us and we gave him the Universo LP cassette. Later we learned that this was Noel Gallagher, he himself told this story live in 2009 with Oasis when they played at the River Plate Stadium before playing Don't Look Back in Anger. When Inspiral Carpets reunited in 2011, they came to Buenos Aires and, following this story, they invited us to celebrate our 20th anniversary by playing with them at a Madchester party. Clint Boon, his keyboardist, stated that Iguana Lovers was the most Madchester band outside Manchester.
How was it working with Mark Gardener? Ride's much anticipated new album is set to drop this week. Did he give you a sneak peek into their new sound?
I've known Mark Gardener for a long time. He was at my house in Buenos Aires in the summer of 2007, along with my family. We played together in Buenos Aires too, and we said we were going to work together on an album. He's our friend. Then Loz Colbert [of Ride] came in 2008 as a drummer for The Jesus and Mary Chain, and we also played with him as a drummer in our band, andsaid that we should record some songs and we did that, finally we did what we agreed on previously.
Mark Gardener is a very talented guy who's worked with the best producers in the world. We have learned a lot from him. Neither Mark nor Loz had plans to reunite as far as we know. They only did it for our album in 2014 in Oxford. I think it's the only record in which there are two Ride members together before they got back together.
Regarding his new album, I never heard of his new sound before it came out. I listened and loved it. I really like that sound and that concept. It's Ride 2017. In my opinion, it seems like Brian Eno would have produced it. Cali is my favorite song. When they launched Charm Assault it hit me. It is the album of the year along with Damage and Destroy by The Jesus and Mary Chain. Many songs off Surfing Caos were presented live when we played with The Jesus and Mary Chain in Buenos Aires. Alan McGee was there and took some demo copies of our future album.
And what about your lyrics–what is your "manifesto?"
Our lyrics speak about personal experiences and dreams. Our manifesto is, "Do it yourself, be yourself. The true change is within you, do not try to change others. Don't believe the man."
Are you going on stage this summer to promote Surfing Caos? Any festivals maybe?
I'd really like it. Maybe it's late to get a promoter this year but you never know. We have a nice schedule of shows until the end of the year in Argentina and South America. We hope to do it in 2018.
If you could create the dream gig line-up–including you–what would it look like?
Iggy Pop, Ride, The Jesus and Mary Chain, Stone Roses, Echo and The Bunnymen, The Chameleons, The Charlatans, Happy Mondays, Iguana Lovers.
Future plans?
We are in the making of a new album, we are going to reissue our first album, we are sketching a documentary film about Iguana Lovers and we want to play in UK and Europe in 2018.
What are you listening to? Can you give us few bands' names that you are fond of this summer?
I am listening and discovering many new bands (for me) like: Singapore Sling, Black Marble, Sleaford Mods, Diiv, Wild Nothing, Fufanu, Rancho Relaxo, The cult of free love, Underground youth, Telstar Sound Drone, Fujiya and Miyagi, Les Big Byrd, The Kvb, Warpaint, Public Service Broadcasting, The Oscillation.
Find Iguana Lovers on Facebook, Twitter, and Surfing Caos on iTunes and Spotify. Listen to the whole album right here:
Mike Dimitriou contributed to this article.