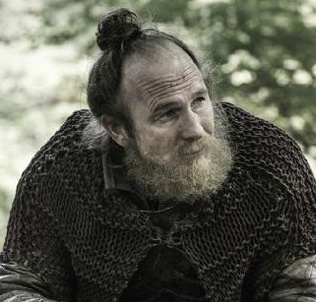 Scroll down for video.
It takes a lot to shock the average Game of Thrones viewer. The acclaimed HBO fantasy series is, after all, known for its decorum-busting violence, gore, nudity, sex, rape and out and out vulgarity, contained though it is in a gorgeously shot, glossily produced package–all tied together with a compelling narrative and topped with a medieval bow.
This week, however, the highly anticipated Season 7 premiere went after a new victim: The man bun. And the internet went a little crazy.
The man bun has found it's way to Game of Thrones. The world is ending …

— Kevin Cassidy | Kazz (@TheOriginalKazz) July 17, 2017
Yes, the series–that some argue resurrected the bad hair trend–threw major shade at the hairstyle America loves to rock and hate at the same time. Here's how it went down:
The scene finds Sandor Clegane AKA The Hound having joined forces with the dudes of the Lord of Light, heading north and scouting for shelter from that horrible winter they keep talking about. As they approach an abandoned house, Clegane expresses his reservations, finding himself in a bit of a dick-measuring contest with the balding yet man-bunned red priest Thoros.
"I don't like the look of it," says The Hound.
"For a big hard man you scare easy," Thoros retorts.
"I'll tell you what doesn't scare me: Bald cocksuckers like you. You think you're fooling anyone with that 'top knot?' Bald cunt."
It doesn't help matters that pop star Ed Sheeran made a clumsy and awkward cameo during the series premiere.
The Hound roasting Thoros' man bun was better than Ed Sheeran's cameo imo #GameofThrones

— alr (@cliffordxal) July 17, 2017
Here's the video:
So while everybody was excited about John Snow's new man bun around this time last year, it seems everybody's getting a bigger kick out of making fun of the hairstyle today.
Good episode, though.