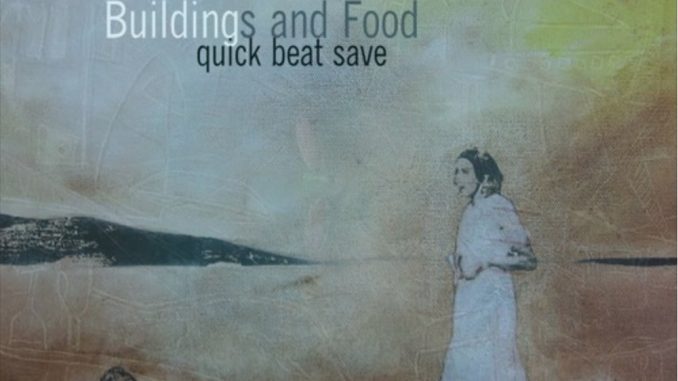 Hailing from Toronto, Buildings and Food, the musical persona of Jen K. Wilson, published the debut Quick Beat Save LP via Number F Records last November. Trained in classical piano and visual arts, Jen spent many years playing guitar and drums in various indie bands before embarking on a career as a visual artist. She has recently returned to music, getting her hands dirty with her DAW and finally playing keyboards. She's a talented musician who is mostly engaged in indie pop electronica and she blends her music with some pretty interesting elements that make her songs a little more adventurous. Her musical studies also are helping her to create actual electronic songs, not just tracks, with her influences ranging from Brian Eno and Kraftwerk to Stereolab and Ladytron. I listened to sophisticated electronic indie pop music in the whole album, sometimes surprising me with her ideas that are all placed not to impress but to help the whole narrative of each song. It is a quality album in all and that concerns also the excellent sound and the balanced mix. The leading track Slow To Reverse is the appropriate song to start getting to know her music, let's listen!
Rewind The Dog is another very cool tune, more groovy and colorful, an uptempo glitch-oriented adventure!
1979 Pennies and Pluto on the other hand is the real indie pop electronic music song, joyful, very bright, and Daft Punkish!
When I got this album in my hands and listened to it a couple of times, I realized that it is a spontaneously created record suitable for radio too. It contains the kind of music that can easily spin through the whole 24/7 program of a station. It has the songs which can bridge two others when the same song can be appropriate to introduce the album on air. In my ears, after all, Quick Beat Save LP is an artistically successful record which is obviously created with cheer and great-great care.
"This release marks a return to music-making for me, after a long tenure as a visual artist. While working on these recordings, I was greatly inspired by the early demos of Glenn Tilbrook and early Squeeze recordings, A.C. Newman, Jimmy Tamborello/Dntel, Daft Punk, and The Rural Alberta Advantage," says Jen K Wilson, adding "I enjoyed mixing in analog sounds to the primarily digital tracks I created for these recordings, building loops and using found sounds, then adding guitars, percussion and sometimes vocals."
Keep Up With Buildings and Food
Written by Mike D.