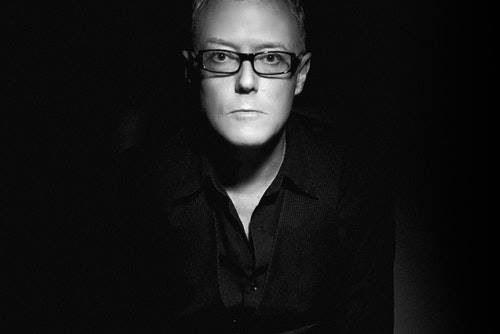 The iconic bassist 
David J
 of
 Bauhaus 
and later 
The Jazz Butcher 
and 
Love and Rockets
 seem to be very busy these past few years. In 2014, he published the book "
Who Killed Mister Moonlight? Bauhaus, Black Magick, and Benediction
" 
on his days in the monumental band. The same year, he released solo album 
An Eclipse of Ships LP 
and, in 2017, he presented the album 
Vagabond Songs
.
Once again, he has some great news for us. London-based label Glass Modern Records has just re-issued a remastered edition of his second solo album (following Bauhaus' disbanding) 
Crocodile Tears and The Velvet Cosh
, considered as a classic album by David J, including 13 edgy and outstanding songs. The 
Bauhaus 
tribe may find it on 
Glass Modern's Bandcamp page 
and record collectors can now order it on 180-gram heavyweight clear vinyl with an inner bag featuring all the lyrics, plus new sleeve-notes by David Barker from Glass Records.
This album was recorded at Beck Studios, like many other Bauhaus and David J releases and he says that "This is a personal pastoral favorite and the album that really set the tone for all of my future solo endeavors". This is true indeed. You'll listen to many elements that later on shaped and were among Love and Rockets sounds with all that totally-alternative approach. The album also offers some classics worthy of great applause, not to mention continuous airplay on the global radio. The most notable song in this department is Stop This City, a notable experiment with new wave and no-wave elements, also giving birth to a "strange" pop approach. Let's go!
Indeed, this album is what we call a "warm" record, using this word specifically to describe its sound and its whole production, which will sound in its crowning glory on vinyl. Also, listen to Too Clever By Half, Light and Shade and The Ballad of Cain, where you may realize that, despite his excellent songwriting skills, he's also a very good singer, who is both sensual and somewhat theatrical.
On this album, David J departs from Bauhaus' electrocutions and all that. This new work is also groundbreaking and outstanding, from light and even greyish to the dark narrations of Bauhaus. He offers an album completely different from his recordings with his original Northampton band and certainly, there is no need for comparison. I love this record very much and I also totally love Bauhaus albums. David J has proven himself to be a multi-talented figure in the world of rock 'n' roll with unique taste and serious artistic offerings made throughout his career. In other amazing news: David J is joining Peter Murphy on a world tour. Bauhaus' singer and bassist are joining forces to perform the entire In The Flat Field – like a living monument, plus an extended encore of Bauhaus classics, oh-my-god!!! Since original Bauhaus members, Daniel Ash and Kevin Haskins (now performing as Poptone) are missing here, the band appears on stage with Mark Gemini Thwaite (of The Mission, GMT, etc.) on guitar and Marc Slutsky on drums. As difficult as it may be for any musician to easily fill Ash's and Haskins' shoes, both new members have years of experience playing with Murphy and are very skilled to perform these songs. The stage kills you if you don't have it, the stage may blast you to the stars or simply swallow and bury you, and they are not talking for just a handful of shows but a world tour, so, I trust that we'll see a very serious performance by all four musicians. On December 14, I myself plan on leaving my bones in downtown Athens (Greece) to check their concert and seize this moment in a big way. Here is the poster!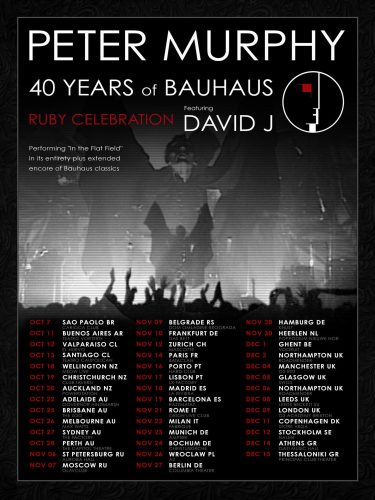 The whole tour will continue in 2019 and so far 3 more new dates have announced, all in San Francisco and I foresee more shows in California for a full-fledged residency. The latest news is that Peter Murphy's U.S. visa was finally approved, after many attempts (and postponements in this residency). Fortunate Californians, get your tickets now. As for the rest of us, let's hope they announce new North American dates in the near future.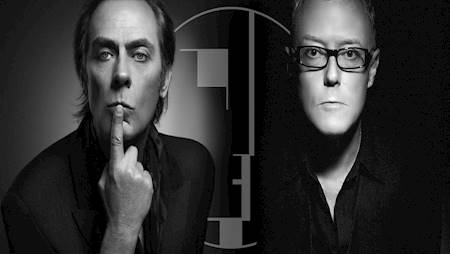 Keep Up With David J
Written By Mike D.