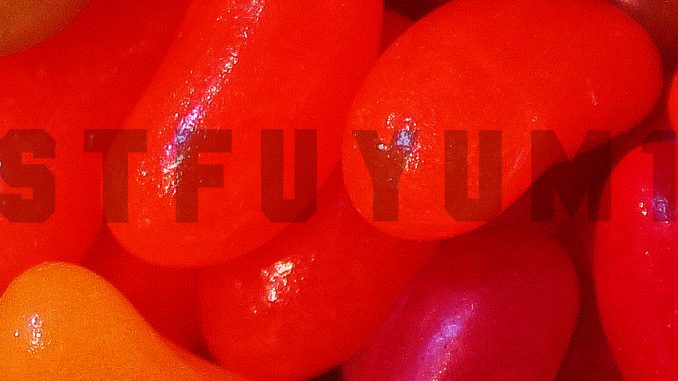 I'll try to be as fair as I can with this record, which literally blew me away! Technical stuff first. Several years ago, Dean Garcia from Curve, SPC ECO, Blurred City Lights, and several other edgy projects got together with Preston Maddox from Bloody Knives and Crying Vessel to form S T F U. They've just released their second full-length album, following up 2016's What We Want LP. This is a double album put out via eLaB Recordings. The 10-track YUM 1 was released on the same date as YUM 2, which is comprised of 10 remixes from tracks on YUM 1. I got really deep into this and am so amazed by YUM 1, which was recorded in London and Texas by Garcia and Maddox. They share all instruments too – guitars, bass, keys, programming, vocals and text by Maddox, drums by Garcia. What we have here is what these two probably don't even know – easily among the top-10 albums of 2018, a record of the utmost quality. This is an edgy work that pushes a step ahead the whole 'gaze musical theory. Yes, it is a brilliant sonic piece of darkgaze (not thick at all though) and a bit darkcore with shoegaze crafted chords, rather mounted on electronic processing (programming). It also offers some pretty intriguing keyboard layers and melodies, psychedelic oriented vocals, and class-A production with excellent mix-down and very busy production. It was a very clever choice to open the album with Infection, a song which warns a bit of what's coming next, a song that starts and ends in your face.
I lost my mind with the tubular gaze of that spacious The Same Way and I wondered "where is this record leading me???". We see a new chapter on Vanishing, which I couldn't help but pump up the volume to let the sonic effect nail me on the wall!
The Liar adds more color to the audition with its psychedelic grooves and bridges, while Am I Wrong blew me gently into its mid-tempo dark musical matter, a smooth yet intense trip in that song where keyboards rule. A fantastic song! Choloro turned my head to the acid-like, trip-hop wise and by all means gazey delights it is comprised of, with colors and chapters changing easily and fast on this marvelous record, I am speechless… Blind is a dangerous track, it comes with a charge to electrocute everything, while Garcia and Maddox masterfully intertwine a kaleidoscope of "neon" chords and melodies all over it.
Shadow calms it all down a bit, the easiest song for those not so accustomed to 'gaze sonic fields. This is still another wonderful great specimen of S T F U 's character and skills, as we can also say for Nails! The astonishing trip ends with Tied in Pieces, the perfect epilogue to the album. This gazey ambient electronic landed the ship on safe ground with a perfect touch-down. In a nutshell, this is an astonishing record my friends, hiding numerous surprises, emotions and delights! Thanks to Shameless Promotion PR for bringing us yet another great album to review
S T F U's music is only available on Bandcamp. Also, follow the band via the following:
Written by Mike D.