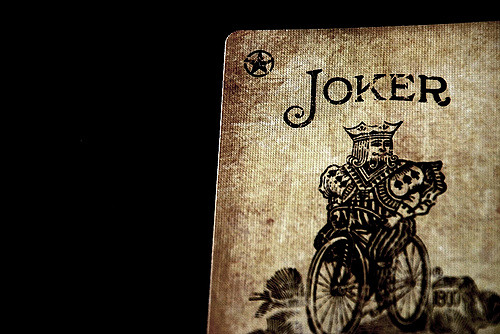 "'There must be some kind of way outta here,' said the joker to the thief," wrote Bob Dylan a few decades ago. Seems as if those words were written today, and it appears that urban anxiety and the battle between the "bosses" and the people knows no eras, no civilizations–only "the game."
From Pharaohs to Ancient Greece (the old-time NATO dudes), Persians and Romans, from the salad dish of the early European snakes to the glorious renaissance when those snakes were getting fatter through looting and slaying souls in other continents for Christ.
Then came the age of colonies, in-the-name-of-God, and then came the revolutions to the Christian throne when people stole back their future and decided to live or die. These people never got out of the box; they became oppressors themselves, like they were actually jealous of power, not freedom.
Then came the industrial revolution, and the rest is all well known. On history's clock, 1700 AD is only an hour ago. Who are you with–the joker, or the thief? Who's the joker, who's the thief? I'll put on some music, babe, while you draw the map of our first battle on the window. Do I love you, or just need you? Am I a joker or a thief?  Why do I think you read my mind behind your back? Are You the Joker, are You the Thief? Are we allies or partners?
_____________________
It's coming on March 9: Calgary's Miesha & The Spanks plays loud garage-punk with love. Motorin' was released just months ago and you may find it on their new upcoming album!
French Wallack knows very well how to grunge the stoner rock. They are studied persons and groove like hell. White Noise is a 5 minutes boiling lava tune!
One more experimental and astonishing project by Dean Garcia (Curve, SPC ECO) with Jarek Leskiewicz (SPC ECO, Sunset Wrecks). Fantastic and maverick 'gaze music of high quality by Blurred City Lights. The album was released a few weeks ago and here is Don't Let Go, the music on the front cover is the picture in their songs!
Washington's Tag Cloud let out a must have noise-ambient album last December, where music actually is stronger than drones. Measured Mile is only the beginning of the trip, have a taste please!
Mexico's coldwave and edgy post-punk moniker Frequence Noir let out Blood and Fire just a couple of days ago, fast, groovy, grey and dusty music, the sign of our times!
Vandal Moon from Santa Cruz are releasing their Wild Insane album later on April, but we have a gift for you. Baby Sounds leading track is a f-a-n-t-a-s-t-i-c bullet for all electronicpostpunkswithsynthpopsoul, got it? Alright, now dance please!
Montreal's Police de Moeurs, that precious synthetic secret from Canada with their brand fresh Incertitude et Demission. Where groove meets coolness over synth-waves!
More electronics for the masses please! Comrades, the new single by London's Rodney Cromwell, a stunning synthpop gem where moogs play the role of vocals, here it is!
I found that astonishing dark and analog electro tune by Abstract Diety, and I found nothing more. I suppose it comes from central/latin America but who knows. The fact is that Cosmos will nail you on repeat with its uptempo menace, I am thrilled!
Mexican Edwin Hernandez aka SheUsedToBeHuman let out a few days ago Untitled, a striking, instrumental, electropunk bullet which blows speakers, here!
Melodic, psych and a so frenetic fuzz rock shot by The Noise Figures from Athens GR. These dudes play seriously and damn loud, here's their evidence with their brand new and dirty Out Of Touch!
Helsinki's striking psych-fuzz rockers Black Lizard released their new album on February 23 and it's a serious killer! Man, here's I Can't Be Found, speakers are in danger again!
From Tartu city in Estonia comes Eoins, a pretty busy-arranged and experimental indie rock band which knows much music, and they know how to perform it too. Their new album releases on March 19 and here is What The Fututre Holds from it. it's weird, and it's good!
"No tears for the creatures of the night, no tears," lyrics that were casted upon the world's clubs some 40 years ago. I bet you and I and us together have melted our shoes dancing on Tuxedomoon's anthemic tune, how many memories here? On February 18 Paradox Obscur published their point of minimal wave views on the song and their effort is ubelievable, No Tears!
New Neon from Austin, Texas plays high energy synthetic electro-disco, with a clear purpose, to occupy the world, simple as that. Some days ago they unleashed Jagged Line which is written and performed for total and kinky war on the dancefloors, no kidding, listen!
New Yorkers Spirits of Leo are releasing new music on March 23, a very skilled band to the modern new wave/indie music. I stopped on their Legacy leading track, and I hope it brings the same chills to you dear all!
Maybe we've listened again to Actors from Vancouver, the most promising post-punks from Canada in my opinion. Their new album releases on March 9 and I chose one very tricky tune from it to get your inerest, the band is so versitile and Face Meets Glass is just a hint!
Still in Canada with CHILLER–this is just punk to anarcho/punk breeze. Power chord and furious music with all beloved "decadent" melodies in. Here's Heretic!
Portland's Ten Million Lights blend of post-punk/alternative rock with a bit of shoegaze in. Fuzz friends, fuzz and fuzz to win the day, here's Smother published on February 23, fresh magma!
Pretty heartfelt in all The Room Without Sun from Berlin. Post-punk oriented, actually new (romantic) wave music wonderfully approached with a really good singer and many glorious hints in the new album, let's listen to Lie To Me!
Have a wonderful weekend PPL, Refuse/Resist and don't forget to Disobey. Love, Mike D.