No one can safely tag David J's music, it is all up to us (the music journalists) who try to specify the genre of an album like tricking ourselves most of the times. I won't play this game with the new record by our man David J because (since years now) he is beyond genres and useless tags. 
So,  David J (Bauhaus, Love and Rockets) will be releasing his long-awaited double album 'Missive to an Angel from the Halls of Infamy and Allure' on October 18 on double vinyl, CD and digitally, via London's Glass Modern Records. This is a highly ambitious and intensely personal, self deprecating, confessional song cycle, which details a period of profound transition. A culmination of everything David J has created in the past 36 years of solo and collaborative work.
16 songs which simultaneously gather and include the artist's ripe glance all the way through 1983's (Etiquette of Violence LP) up to 2019's new record. The whole album is a brilliance of creativity and emotions and I could just start writing something like "it all started back in 1979 with Bauhaus…..and today David J…", but it would carry on as a usual and a tiring epic. But let me give you first all the info that shaped the new double-album.
It features contributions from Anton Newcombe (Brian Jonestown Massacre), Toby Dammit (Nick Cave And The Bad Seeds), Paul Wallfisch (Swans), Sean Eden (Luna), Rose McGowan, Asia Argento, Emily Jane White, Annabel (lee) and the great Czech violinist Karel Holas, amongst others. It was recorded in Prague, Berlin and Los Angeles, as well as Beck Studios in Wellingborough, England, where Bauhaus cut their seminal 'Bela Lugosi's Dead' back in 1979. This is a 'coming home' of sorts as Glass Modern Records is essentially the reactivated Glass Records, the label that released David J's earliest critically acclaimed solo works. 
All these facts advocate on a superb release with great performances by all guests and by him. There is nothing in this album that could be deemed unnecessary, and there is nothing crammed into it that would seem unfitting. The whole album is running like the river, steady, with great confidence by all these wolves who know the path, their own path where they create their own art.   
'Baudelaire' is the only song up for the public, check it out and I have more to say and give you!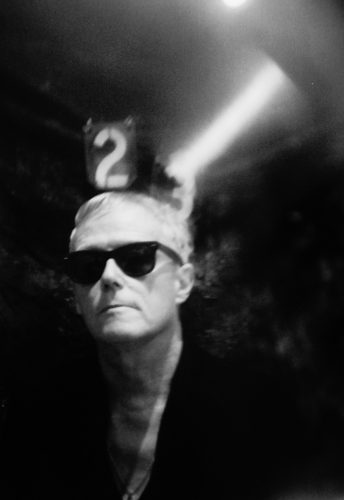 Keep these titles that I carefully recommend for when the whole record goes public. Focus on (I Don't Want To Destroy) Our Beautiful Thing, the first song which blew me away with its coolness and its lyrics. Lovelorn, with its gorgeous steady groove and its tricksy guitar riff. Clandestine Valentine, which took me back to the glory days of the alternative new wave music, and a song with these lyrics that touched me. Pre-Existing Condition, which gave me these punksy chills though it is not a punk tune alone. I somehow listened in that specific tune a punk undercurrent in its basal and primary riffing. Best Western Blues, because I really love the British style with the guitars and the strings and a piano aside. Many are trying to do this yet there are only a few who have the real heart for it. I Hear Only Silence Now, a new version of the song that was first on David J's 1983 solo debut 'Etiquette Of Violence'. Here, the song talks directly to the old-school fans who are always looking for that calm and 'dangerous' song that is drowned in a pretty serious reverb. More than this and besides that it is a striking song, it is also the last song of the album, the best song to close the album I mean!  
And, the first single which appeared from the album, was The Auteur/ Redux (Starlet's Cut) with an official video last April, featuring  actress, activist and writer Rose McGowan!
August 3rd, and the second official video was Migena And The Frozen Roses featuring actress Asia Argento and the Brian Jonestown Massacre frontman Anton Newcombe!    
David J will be supporting this album with a European and UK tour. David recently completed a massive world tour for Bauhaus' Ruby anniversary, joining former bandmate Peter Murphy. Sold out venues around the world proved once again that Bauhaus' music is as vital now as it was 40 years ago. Bauhaus will also be playing several reunion shows at LA's Palladium on November 3, 4 and December 1. The latter show was added due to the first two selling out within minutes. Ahead of this, David J will be bringing his distinct charm and sonic swagger to audiences in Germany, Italy, Portugal, Spain, France and the UK. David's trio features the great Karel Holas on violin for most dates. Karel played on the album, which was recorded at his First Floor studio in Prague. Fiona Brice (John Cale, Placebo, Elbow, John Grant, Simply Red) will play violin for Lisbon, Leira, Porto, Barcelona, Madrid and Paris shows. Robert Vasicek, who also contributed to David's album, will play piano.
The tour kicks off of October 12 in Prague, winding up later that month in David J's native Britain. His two Spanish appearances (in Barcelona and Madrid) will be particularly special with David J supporting 80s new wave legends The Psychedelic Furs. David has also just announced that his special guest for London and Manchester shows will be Pat Fish (a.k.a. The Jazz Butcher).
The dates!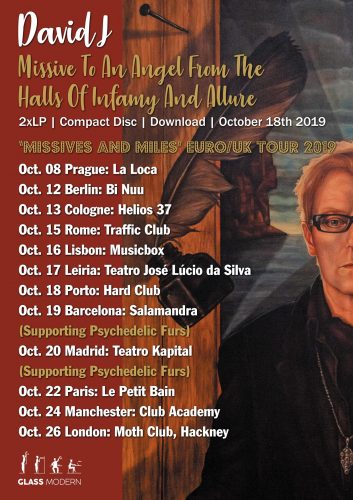 …and the link to Missive To An Angel From The Halls Of Infamy And Allure LP!
Keep up with David J 
Written by Mike D.