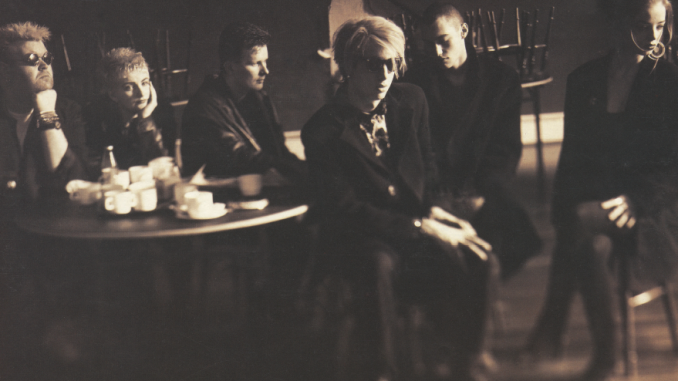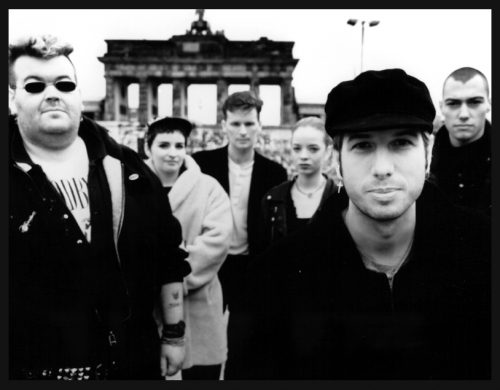 You do recognize young Shirley Manson in the center of the photo at the Brandenburg Gate in Berlin, don't you?!!! This photo was taken in the very late 80s by Martin Becker for promo use only, and now let me start with the story! 
One of Scotland's most iconic rock bands, Goodbye Mr MacKenzie will be re-reissuing their debut album 'Good Deeds and Dirty Rags' via Neon Tetra Records, November 2! This album is the original 10-track release as it was initially published on vinyl and cassette by Capitol Records back in 1988, plus three more demos with very good sound of 'Open Your Arms – 1987', 'Diamonds – 1987', 'You Generous Thing – 1987'. 
Manson's first release with the Mackenzies was a YTS release of 'Death of a Salesman' in 1984. The group signed a major-label record deal with Capitol Records in 1987, and they released their first album 'Good Deeds and Dirty Rags'. The whole album is an indie rock opus from the streams of Scotland's rock and roll heritage as it was presented by names such as  the MacKenzies, Texas or GUN. The band's keyline-up consisted of Martin Metcalfe on vocals, John Duncan on guitar (previously of The Exploited), Fin Wilson on bass guitar, Shirley Manson and Rona Scobie on keyboards and backing vocals, and Derek Kelly on drums.
Yes, dancing alternative rock music with great melodies and fabulous refrains all the time. The kind of music we were listening to on the alternative radio stations before going out on Saturdays, and the same songs we later at night were dancing to in the clubs as the late '80s were actually the dawn of our twilight, the 90's! The album opens with 'Open Your Arms' and I found its video too! Teenage immortality and a glorious track to start the album, let's dance!
In the album I also found the band's only UK top-40 entry which was 'The Rattler'. How couldn't that song reach the top-40? It was made to climb high as it has a unique impetus and the originality which was required to park it up there!  
Then, I found the album also has 'Goodbye Mr. MacKenzie' and I was a bit moved as I suddenly recalled that I had that song in one of these epic cassette-compilations that we shared with each other back in the day, yeah! 
'Good Deeds and Dirty Rags' LP entered the UK charts at No.16 and the band quickly attracted a large, loyal support north of the border. Incredible live shows further cemented a fond place in many hearts. A colourful and varied career followed, involving releases of 2 more albums through major labels, further UK singles chart positions, working and recording with members of Talking Heads, and touring and playing with bands like Blondie, Ramones, B.A.D., Afghan Whigs, Aztec Camera and the late great Vic Chesnutt, amongst others.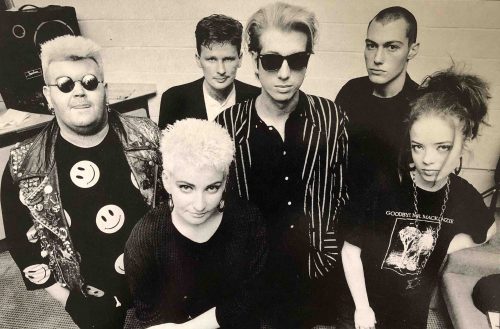 And it is not these 3 songs only which left their indelible mark on the album. You must also check 'His Masters Voice', 'Goodwill City', and 'Good Deeds' too if you want to catch the whole indie vibe of the era which was somehow printed on the groove and in the ochestration of these specific songs. And then, try 'Candlestick Park' to catch another breeze…
Goodbye Mr Mackenzie played their final live show at the end of 1995 and Shirley Manson went on to enjoy huge success with Garbage, while Martin Metcalfe, Derek Kelly and Fin Wilson returned to Scotland to form Isa and The Filthy Tongues. It is now just The Filthy Tongues, a trio that still thrives today. Big John Duncan became a backline and guitar technician for Nirvana and played guitar with them during their 1993 concert in Roseland Ballroom, NYC, also having worked with Twisted Sister, the Foo Fighters and Ministry.  
After a series of sold-out recent shows, Goodbye Mr MacKenzie will be playing more gigs later this year in Scotland and England! Here are the remainig dates so far!
Nov. 02 Middlesbrough, England – Westgarth
Nov. 08 London, England – Dingwalls (with The Cesarians, Seil Lein)
Nov. 09 Corby, Northamptonshire, England – The Raven
Dec. 13 Dunfermline – PJ Molloys
Dec. 14 Cumbernauld – Submarine Club
Dec. 15 Dundee – Beat Generator
Dec. 20 Glasgow, Scotland – Barrowlands SOLD OUT
and two more which came out from the press room!
Dec. 29 Edinburgh – Liquid Rooms (with The Filthy Tongues)
Mar. 21 Dundee, Scotland – Church (as The Filthy Tongues)
Here is the poster!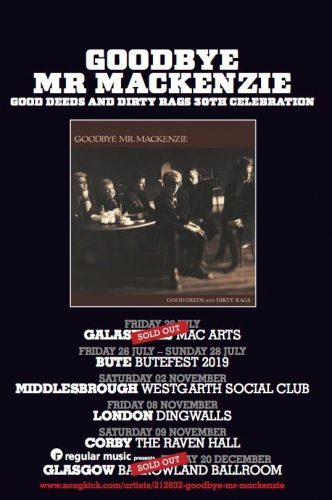 Last, I have to tell you that some of the tracks off the original release are streamable on Spotify and that the new extended and remastered version is available exclusively from the band's store, here!
Keep Up With Goodbye Mr MacKenzie
Written by Mike D.