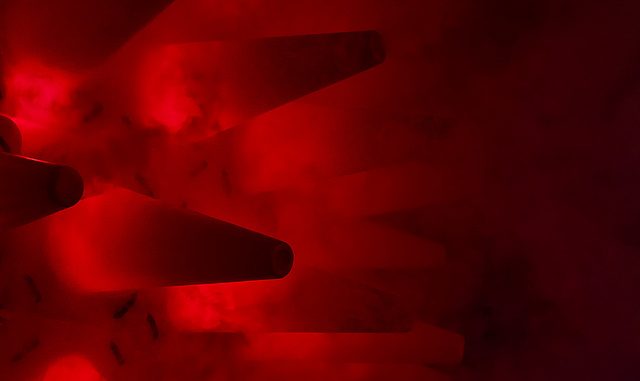 PROLOGUE:
2018 AD, Planet Earth: "Dear Earthlings, Dear Earth: Have you ever wondered what would happen if all of the geniuses, the artists, the scientists–the smartest, the most creative and most talented people in the world decided to actually change it? Set it free from politics, bureaucracy, distractions, and greed?"
Alien M-19774 aka Mike D, would only replace the term "most" in the sentence with "all." People with a vision of a world that would have space for all lives with the most mutual respect and cleverness, to people that wouldn't look up to any elite in order to decide which chains are the best for them, but participate equally in the decisions regarding the living–not just surviving…A world away from skin colors, a no-border world, a world that respects all religious beliefs without any single church on it.
That creature M-19774 has experienced this Utopia on the black-and-red planet from which he was hatched, and he–along with the other invaders on Earth–rings bells: "Please wake up–you are heading toward extinction long before your planet dies." Your mother will outlive you, despite neglect. Unlike her, you are not permanent.
Invaders live among us and they look beautiful like you and your beloved ones; you may reach them easily in their spaces, just look for their black-and-red "banners" marked ALPHA. Ask them how they organize their social structures, and don't be afraid to ask them for help. They'll give it to you. Ask them how a world without local, national, global "bosses" works, and start wondering in 2018 how that Utopia could benefit all. Discuss, disagree, respect each other and put aside the "leaders." Get involved.
– end of transmission ::: play music ::: and start enjoying the living aspect of life rather than surviving –
Santiago de Chile, a striking electronic anthem by Satis with Planetarivm, unleashed on January 19, start grooving!
Seattle's native experimental electronic producer Gel-Sol (aka Andrew Reichel) with Earth Melt—prog/experimental lesson!
Stockholm's ShapeShiftingAliens with Showing My Face, a perfect example of how electronic pop should be: Elegant and musically wide, perfect!
Trieste, Italy, Emerald Dreams with Megacorp Blues, a sparkling, up-tempo electrosynthetic pop gem on January by a talented woman, dance a lot!
Kraut electronica from Portugal's Dreamweapon and Monte da Virgem, releases in February, music for artistic expansions, stunning!
Michigan's Milliken Chamber (formerly known as Prudence) offers sheer and pounding electro with Forgotten, in the darksynth style!!!
Santiago de Chile again, let's meet the very promising band Maff who releases their new album in April. Desfile is the leading track and here we have a fantastic psych'rock into shoegaze fields song!
Fresh and gorgeous indie music by Athenians (GR) Tango With Lions last January, here's the so laid-back and grooovy What You've Become!
Montreal's MIEN came along with Black Habit which is off their new album in April, a bit psych' krautrock that shines in a distance!
Your attention please. We at Noise Journal went crazy for Seattle's Nostalgist whose new album drops in March. Post-punk blended with shoegaze on a quite darkgaze plain, OMG–one of the most striking releases in 2018 for sure, here's Past: Tense!
Le Mans, France…..morbid, sparkling and astonishing album by death rock post-punks La Peste, try their title track, here it is!
Sacramento desert, sun, scorpions, snakes, thrills, venoms, beauty, danger, more beauty, EX-HEIR with darkwave in the face, Stranger oh myyy…!!!
Gothenburg, Sweden: Anna von Hausswolff, The singer, The musician, organ player, and chanting on The Mysterious Vanishing of Electra. Proggressing the darkwave beyond its mist, beyond the marbles…..dare the video too!
King Woman from San Francisco plays with no jokes in desert heavy rock for experienced ears, and here they covered the athemic by The Stone Roses, I wanna Be Adored heavily, I mean damn heavy, listen!
Nova Flares from Kentucky who plays neo-psychedelic shoegaze rock and we ecpect his new EP later in 2018, here's Gut Splinter to enjoy some guitar beauty and it also has a nice trippy video too!
New Jersey's Primitive Lips with their excellent blend of alternative rock and new wave music, Into Nothing, is just brilliant reminding these glorious days back in the 90's, check it out!
ANNEX from Texas, a band that plays punk/post-punk loud and clear and fresh and great! Here's Modern Age from their latest that released in October, get a beer and dance!
They say love never dies, and my love for Kyiv's noir-garage rock band On The Wane is original and true, a bird whistled that Drop Bombs is their next single that will include some b-sides so, turn it loud and read the lyrics, please!
Italy's Japan Suicide play their own post-punk which is simply stunning, so melodic and raw, so groovy and emotional! Here's Dealer from their new LP which releases in a few days!
Springfield Missouri's synthetic post-punk duo Kudzu are releasing their new LP on March 2, a great record and here's their credentials with Defeated, the title song!
Last, and out of that sonic storm we need some calm in our ears. Eraldo Bernocchi (composer, producer, guitarist) and Japanese ambient sound artist and guitar player Chihei Hatakeyama let out their Solitary Universe LP on February 2. Introspective and pretty narrative ambient music, here's Those Glorious Days!
I hope you enjoyed our weekend's playlist and remember…think out of the box, kisses, Mike D.