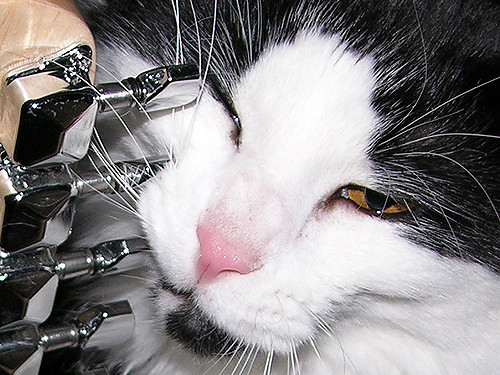 Cat class and cat style on this week's playlist. Cats are weird machines: Strong, clever, naughty, social, antisocial, divine when needed, and so humble we think.
"Humility is for you, not me," says cat, "Black and orange stray cat sittin' on a fence–I ain't got enough dough to pay the rent. I'm flat broke, but I don't care, I strut right by with my tail in the air." Simple and wise meows by these creatures on microphones, guitars, basses and drums (don't mess with the drummer). As for the rest of the gangs, well, cats know how to behave and respect the electronic cat and the pitch black mass on synths too yup, communion. Some other creatures which have bigger and more abstruse needs tried to convince the cosmos that they are the primal, the chosen, the most intelligent of all, yeah I see…yeah…the intelligent! Be the cat in life!
Short Tales Of Winter is the new release from Turkish violinist Damla Bozkurt, who works under the moniker DMLLL. The winds of Bosporus in that neoclassical-experimental album, which releases next week, here's Not As It Seems!
Lyon, France, and Venin Carmin with last week's Its Gonna Be Wild. Electro darkly synthetic wave-pop–simply astonishing!
Seattle-based artist ELYXR and Kurt Harland Larson from legendary synth band Information Society have teamed up to present their collaborative single, Strange Stubborn Proud. It releases in March and here we have a fantastic synth-pop achievement!
LOBBY from the city of Bordeaux en France with Collapse, unveiled on Friday. So perfect, so groovy and so airy post-punk!
Montreal's Young Galaxy with Elusive Dream single, an ethereal and trippy electronic-pop piece of art, excellent!
Athens GR, Vanila Swing with The Rose! Swing rockabillesque on high performance and a passionate groove!
Brownsville Texas, Twin Tribes and Shadows, a new wave oriented post-punk shinning bullet!
Louisianna's Stonerpop with their super-groovy, electro-pop gem Headglow which comes out in March. Dance!
Norwich UK and BROADS with their anthemic dream-electronics in Let Me Take it Form Here, releases February 16, so nice!
Do you believe in industrial swing? Here's Mary And The Ram from UK with last January's The Cross single, fantastic!
On February 6, the German moniker Krotkaya released the new I Turned Away single, neo-romantic music, coldwave!
Last January, Sacramento's shoegazers All About Rockets let out their new EP and Back To You is the perfect garage psyched tune, here!
Japan, Kyoto; Nurse plays very interesting and inspired shoegaze for trained ears, here's Rollercoaster from their last EP in February!
Lovely alternative-indie rock music by New Zealand's Date Month Year and March single in January: Fresh, and a great song!
New romanticism by Milan's Starcontrol and their new LP last January, which is post-punk actually with obvious talent, and here we go with Humans!
Brussels and Luminance with last year's, extraordinary and so cool synthwave music, cover to OMD's Of All The Things We've Made!
Italy-based Brasilian Phantoms Vs Fire with Nightmares And Dreams, cream electronica on a wide range. January's Swim LP is a must-listen!
Berlin's synthpop musician and singer Sally Didge with last year's This Life, fantastic in all!
Slovenia's electro synth-pop artist Torul with his latest Explain single in February, here remixed by Beborn Beton. Joy to the dancefloor!
Insane and beautiful minimal electro by Geneva's EYE, who released last week Tu Anima. You will stick to it, oh yes you will!
That's All Folks!!! Have a great week! –Mike D.