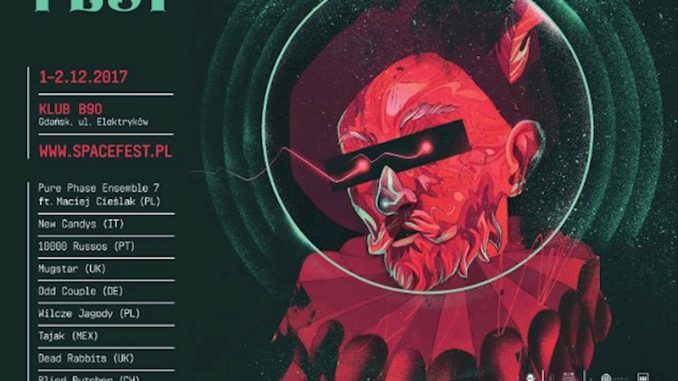 Here's an event for all you space-cases, space cadets and space cowboys: The seventh SpaceFest is hitting Gdańsk like that big ass ship in Alien: Covenant, with psychedelic sounds that will blast through your chest like the beasts that inhabit it. It happens this weekend (Dec. 1-2)
Acts like New Candys, Mugstar, Blind Butcher and Dead Rabbits are headlining the event, held at Klub B90–a new venue for the mini-festival. And that's just scratching the planetary surface.
There will be a chill-out style room with visuals and film screenings, and organizers promise a gonzo DJ set both evenings (they call it "eclectic" and with "absurd visuals").
There's also the iconic Pure Phase Ensemble, which is basically a psych-rock experiment, pulling together disparate musicians to merge their creative energies and channel them into a finished ethereal product. The organizers describe the act as "ephemeral," which it is. The end product, though, is anything but. The act performs as a sort of festival climax on the second day. Past curators have been Anton Newcombe of The Brian Jonestown Massacre and Mark Gardener of Ride. This year it's Ścianka's Maciej Cieślak running the show. Here's what it looked like last year with Newcombe heading things up:
So if it's realistic for you, grab some tickets. If it's not, don't despair–it's 2017 and you know they'll be pumping out some videos for you. Here's a short documentary that shows you how last year's event went down. Check it out either way, because, really, whether you're into space or just out of space, there's some fucking intergalactic spaced-out shit for you at SpaceFest.
Here's the full lineup:
DECEMBER 1
New Candys (IT)
10 000 Russos (PT)
Wilcze Jagody (PL)
Dead Rabbits (UK)
Blind Butcher (CH)
DECEMBER 2
Mugstar (UK)
Pure Phase Ensemble 7 ft. Maciej Cieślak (PL/UK)
Odd Couple (DE)
Tajak (MEX)
30 kilo słońca (PL)
Dr. Switchoff (RU)