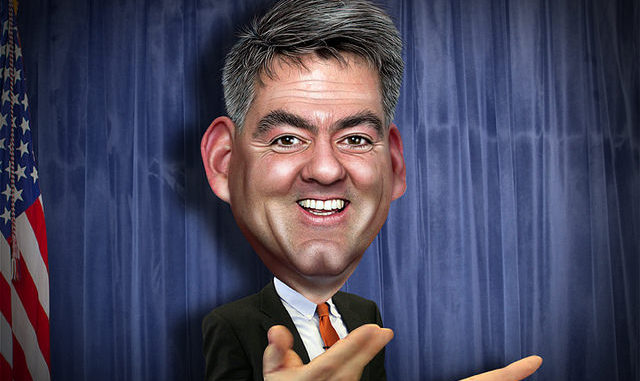 After spending his recess week avoiding voters, devoting his time instead to corporate interests like MillerCoors and the National Association of Manufacturers, Colorado Republican Senator Cory Gardner held a "telephone town hall meeting" this morning in an effort to placate the actual people who have been showing up in droves to demand his attention.
He gave them 40 minutes of his time.
The conference call comes barely a week after more than a thousand constituents showed up at Denver's Byers Middle School for a town hall organized by the progressive group Indivisible. Named "With or Without You" in anticipation of Gardner not showing up to face his constituents (an expectation he met), the event saw about 1,500 concerned citizens address a cardboard cut-out of the senator in lieu of the actual man.
The call was originally scheduled at 10:00 this morning, but a late email notified participants that the call would be held at 9:30. Gardner explained that this was due to a last minute meeting at the White House.
While there was no mention of the number of people who dialed in, more than 14,000 people had signed a petition asking Gardner to hold an in-person town hall.
Gardner only answered a handful of questions before bailing at the 41 minute mark. His answers were straight out of his press releases, and provided no new information to the callers who expressed concern about the repeal of the Affordable Care Act and Russia's involvement in the 2016 presidential election.
We reached out to Gardner's office to see if they will be releasing a transcript or recording of the call and will update this post if it responds.