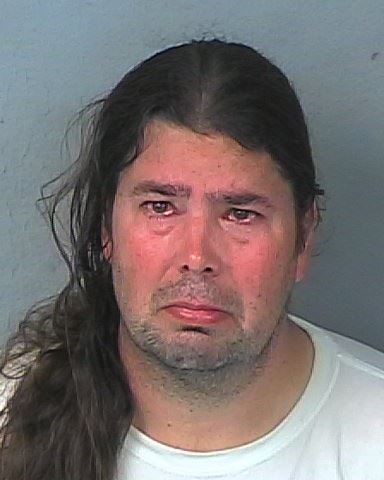 So there's this article going viral right now about a Florida metal dude named Geoff Gaylord who took a lot of drugs and then turned himself into the Jacksonville Sheriff's Office asking for the death penalty. In his mugshot, watermarked with a convincing "© Jacksonville Sheriff's Office," the alleged perp can be seen crying crocodile tears. Maybe you've seen it. A website called Moron published it yesterday in an unsourced piece that was immediately picked up by a ton of other blogs looking for quick clickbait. Mandatory, and even Inquisitr ran with it. It contains the elements of a great Florida-news story: White trash, drugs, imaginary murder, and a crazed confession to the cops:

Geoff Gaylord walked into a Jacksonville Sheriff's Office and confessed to his crime: he had repeatedly stabbed his friend "Mr. Happy" with a kitchen knife, cut up Mr. Happy with a hatchet, and buried him in his backyard. Let me remind you again that this occurred in Florida, so perhaps it should come as a surprise to no one.

Gaylord and Mr. Happy were friends for seven years but, according to Gaylord, he killed him for a few reasons:

"He left his empty vodka bottles all over the kitchen… never picked up his empty cocaine baggies…He messed up my apartment to the point where I just couldn't get it clean…Before Hap started doing drugs and acting weird he was my BFF…We'd go dancing, play on the children's park equipment, both huge fans of doom metal – listened to it for hours with the lights turned off."
The thing, though? Yeah it's totally fake. A Snopes page went up pretty quickly and iDigitalTimes came out with a piece a couple hours ago titled Story Of Florida Man Killing Imaginary Friend May Be Hilarious But It's All A Hoax. Well duh. But where's the proof? iDigitalTimes simply presents the story as Moron "reported" it, then quotes a Pittsburgh radio station as saying "fake Florida stories are becoming a bit of a "thing" right now, and this tale of Mr. Happy's unfortunate end is just one of many examples" as its proof of a hoax. Snopes goes a bit further by pointing you to a Tampa TV news station's 2011 "Crying Mug" gallery in which the man in the photo is revealed not to be Mr. Gaylord, but one Billy Southern.
Google reverse image search is an amazing tool.
Who is this Billy Southern? Well, according to openpasts.com he's a 6′ 140 lb male resident of Brooksville, FL who "was taken into custody on 6/11/2011 in Hernando County, Florida and charged with failure to appear, written promise to appear." Not, as Moron states, a 37 year old Jacksonville resident with a geeked-out imaginary friend. Brooksville, which belongs to Hernando County, is about 165 miles away from Jacksonville.
Just to be on the safe side, we reached out to the Jacksonville Sheriff's Office who assured us that the story is completely false and that they "don't have anybody by that name." That name, of course, being Geoff Gaylord.
Takeaways from all of this?
1. Don't believe every Florida headline you read just because we see a ton of amazing stories coming out of the Sunshine State.
2. Don't ever believe (or source) a story written by a "news site" with the name Moron.