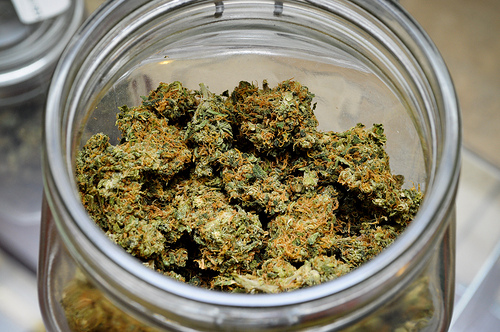 The contrarian minds at Slate have launched a series by University of Denver law professor Sam Kamin and Colorado writer Joel Warner that focuses on the technical side of launching an industry never before seen in the world: The legalization, distribution, and marketing of recreational pot. It is called Altered State: Inside Colorado's Marijuana Economy, and is definitely worth checking out.
The first piece dealt with the complications of establishing a regulatory framework with zero precedent, followed by an analysis of the "seed to sale" tracking required by Colorado legislators. They threw up this interesting map showing that Amendment 64, the constitutional amendment legalizing recreational pot, was actually twice as popular as Obama at the ballot in some of the more libertarian-leaning counties. Then yesterday this article in which they discuss the future of Colorado as a weed tourism destination.
The series is meant to last about two months, and is an enlightening and accessible read. Highly recommended.
-Alibi Pierce