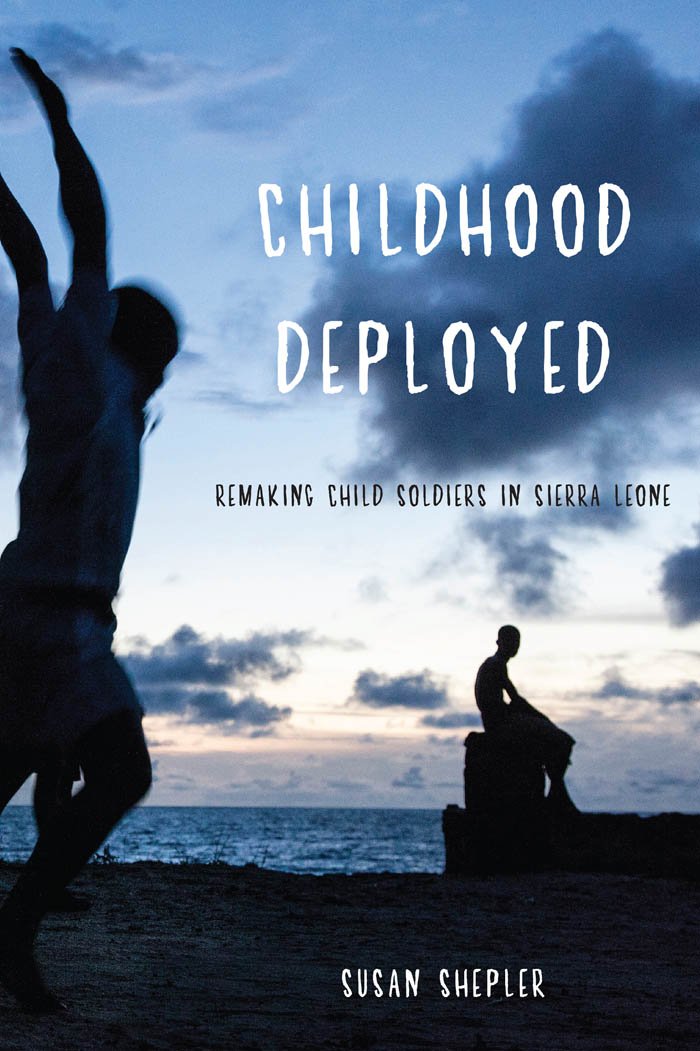 Childhood Deployed: Remaking Child Soldiers in Sierra Leone, examines the difficult reintegration of former child soldiers in Sierra Leone. Sierra Leone's devastating civil war lasted from 1991-2002, leaving more than 50,000 dead and over two million displaced as refugees. UNICEF estimates 10,000 children were involved in the hostilities.

Shepler was a Peace Corps volunteer in Sierra Leone in the 1980s, where she worked as a teacher. She returned ten years later, while the war was ongoing and again after the war was over, to study the process of former child soldiers' reintegration into their communities. She conducted ethnographic research in Interim Care Centres for demobilized child soldiers. She followed the children in their everyday lives, in the centres, in school, in the community, and at play. Shepler jokingly referred to participant observation as "deep hanging out" and this description seemed especially apropos in her interaction with the children, which allowed her to gain a view accessible to her as a member of their community rather than an outsider.
The Paris Principles define a child soldier as any child associated with an armed force or group, regardless of whether she/he was involved in actual combat. All the factions in Sierra Leone's war recruited children (boys and girls) from all parts of the country. The children carried guns, commanded battle, and worked as porters, spies, cooks, or "wives." Some of the children were abducted and some joined willingly. Shepler's book brings up the fact that the Western view of a child is actually quite different from the Sierra Leonean—this is relevant in the sense that child labor and child agency are much more heavily emphasized there than they would be in the West.
Shepler's work examines how the "standard narrative" of the child soldier: "I was abducted; it was not my wish, and now all I want is to continue my education," is something that was not universally told by the children. Children had different ways of talking about the experience, depending on who they talked to. In other words, it is not as though that narrative was not authentic, but rather that "child soldier" as an identity is created in social practice across a range of settings. In a sense, the process of using that term and applying that term is intensely political and we must examine what is lost and gained by deploying ideas of modern childhood.
"Reintegration works best when it works with local culture," she said. Child fosterage, for example, would have been a preferable alternative to institutionalization in interim care centres. Apprenticeship, which is an integral part of the child-rearing experience in Sierra Leone, would have been better than the "skills training" provided in the centres.
Shepler advocated for the need to develop better models that capture the complexity behind the term "youth." She also suggested that policy makers be cognizant of the political consequences of their distinction making. She advocated for the design of programs for benefit all war-affected youth and not just those children who were deemed to fall under the "child soldier" category.
Associate Professor Susan Shepler's research is a powerful testament to why ethnography matters and why anthropologists have a lot to share with international development organizations.