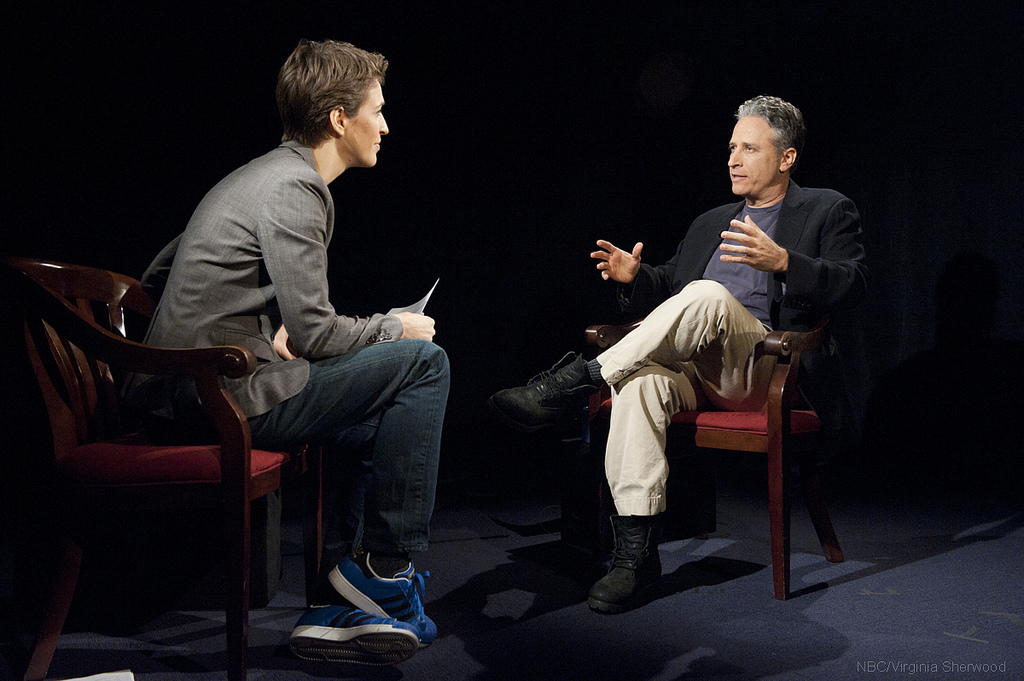 Scroll down for video.
Your Moment of Zen is probably the best and most loved long-running segment on Comedy Central's The Daily Show, even if it is only a brief 5-10 seconds at the end of each episode. Typically a completely awkward and/or embarrassing televised moment in a public figure's life, or a painful quote from one of cable news' many gaffe-prone anchors, the writers have no shortage of material to use.

Well, tonight Rachel Maddow gave Jon Stewart and his team a little more to work with. The two have a mutual respect and genuine rapport, as can be seen in her multiple appearances on his show as well as the full episode she devoted to interviewing him back in 2010. And, when she mentions his commentary and shows his clips on MSNBC, she is always giddy with typical Maddow nerd-glee.
So when she teased her last segment tonight as a tribute to Jon Stewart and his Moment of Zen, we knew it would be a good watch. The segment opened with Maddow stating, "This is my plagiarism, my affectionate plagiarism of Mr. Stewart." She then described–in typical wonky fashion, with plenty of context–the story of Medal of Honor recipient and Army Staff Sergeant Ryan Pitts accidentally breaking the gavel during the the New York Stock Exchange's closing ceremony today.
It was cute. You can watch it below.
And now Jon Stewart must act. Jon! If you're reading this, you must act! Tonight's Maddow segment is just begging for some returned love and there's a perfect Zen-moment right at about 1:14 in the video as Maddow explains, "The man does not know his own strength; nor could he be expected to. I realize it's not quite zen, but it was a moment of something…"
The Stoner's Journal proposes the clip as this week's closing Moment of Zen.