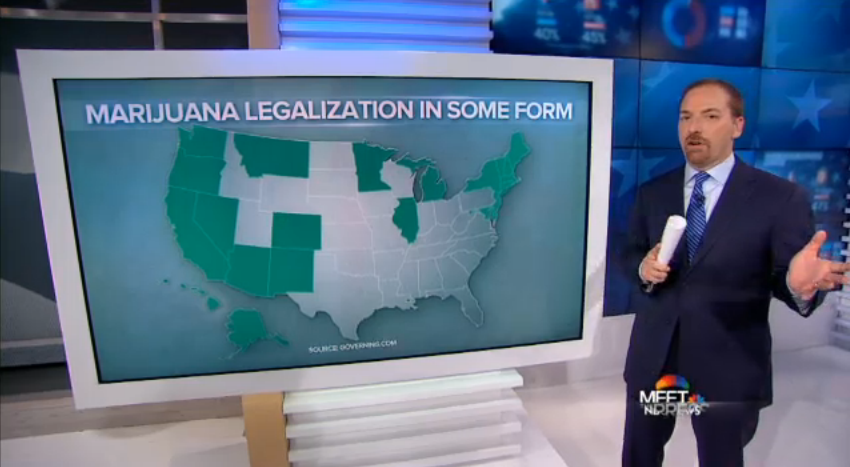 In honor of the 420 holiday, NBC's Meet the Press devoted its "Nerdscreen" segment to the marijuana vote, or, more specifically, how "the rules regarding those green plants are strongly colored by the red/blue divide in Colorado." The two minute segment gave a quick breakdown on how Colorado's marijuana rules work, clarifying that local municipalities can determine whether or not to allow the sale of marijuana–medicinal or recreational–within their borders. Host Chuck Todd then explained that there is a perhaps unsurprising division in the state, with counties that "went blue" in 2012 overwhelmingly dominating the legal weed business in the state. Here's how the accompanying NBC News piece describes it:
Only 21 of the state's 64 counties currently allow new vendors to open up shop and sell marijuana recreationally. Others have banned such sales entirely, established temporary moratoriums or are allowing only medical marijuana dispensaries to sell, according to data from the state of Colorado website.

And when you compare that map to the 2012 election results a clear pattern emerges. Of the 21 counties allowing recreational sales, 18 voted for President Barack Obama.
This has contributed to an interesting cycle in Colorado, in which anti-legalization advocates–often living in areas that do not allow the sale of recreational cannabis, largely due to their own lobbying against it–complain about lower-than-expected state tax revenue that is probably a direct result of the fact that their counties are not contributing to the coffers because they don't allow the sale of recreational cannabis. Got it? Phew!
Meet the Press addresses this concern without speaking to the apparent double standard:
Opponents have seized on one easily quantifiable measure as a sign of the law's problems: lower-than expected tax revenues. And the numbers suggest they may have a point.

In February of 2014, Colorado Gov. John Hickenlooper's, D, office estimated that overall marijuana tax and fee revenues would come in at more than $130 million in the law's first fiscal year. The actual figures were far below that, with tax revenues of about $30 million. But even a concrete measure like dollars is fuzzy when it comes to Colorado's new law.

The recreational marijuana game is just getting going in the state and future tax estimates show that figure growing quickly to more than $94 million in 2016. In fact, comparing figures from February 2014 and February 2015, Colorado's marijuana taxes, licenses and fees were up more than 122% – from just over $4 million in 2014 to more than $9 million in 2015.
Interestingly, this red-blue divide isn't limited to Colorado; it applies at the national level as well. Currently 23 states plus the District of Columbia have legalized some form of marijuana. For example, while voters in Colorado, Oregon, Washington, Alaska, and the District of Columbia have authorized the legal possession and recreational use of the plant, California, Nevada, Arizona, and most of New England only allow some form of medical use. Each of these states imposes different restrictions on the amount of "usable" marijuana and plants one can possess at any given time. And then you have states like Minnesota, which permits medical marijuana use, but only in "non-smokable preparations."
It's hard to keep up
The one thing nearly all of these states have in common? They voted for Barack Obama in 2012. Out of the 24 states/districts that allow at least some form of marijuana use, 21 of them went blue in the last presidential election. That's more than 87%. No wonder both Democrats and legalization activists are looking so forward to the 2016 election.