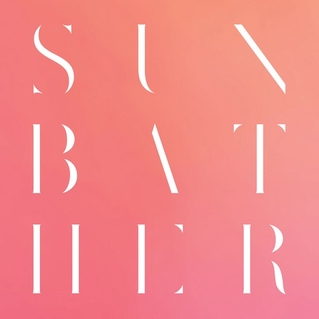 two different friends on a social media website posted about this particular band.. i had seen the name around but knowing the tastes of these two, i figured id scope it out.
hitting play now..
i immediately liked the timbre of the distortion… as well as the wall of-it, then the zach hill-ish drums, then the screamo… two-minutes-in this was already a great sonic achievement.. one i'd been waiting for, hoping now they wouldn't screw it up and really hoping it wouldn't happen by song three.. frankly, yes I am cynical about music and it's enjoyment.. a lifetime of – then that half-time guitar descent was just a wonderful detail – being disappointed, hearing ppl tell me 'this is this and that and all of this wonderful imagery of music descriptions' and I'm usually like, "meh, this is nothing new or its all the same or just plain boring" – ahh and that quiet part to loud part – just wonderful, minimalist guitar solo…
this is a very confident record in-that these musicians are certain of what they are going for (whether they realize they are this confident or not) and they are striving to communicate a unique vision for rock music. it's a mishmash of influences, like most debut albums (they have an earlier ep which is just as glorious and i still need to listen to the demo). the piano epilogue to the first piece is nice..
as of this writing I do not know this bands' influences nor their process nor exact numbers of members that made this album. I do enjoy the rounds they make of the 'post-rock' genre, cos just about everything is represented; from godspeed, to the aforementioned hum, mogwai, my bloody valentine, the chicago post-rock sound :beginning of vertigo: metally guitar solo, varieties of hardcore/emo/screamo from 96-02… in very overt, obvious ways but not in cliche, trope ways.. and that's what's so impressive; how seamlessly these play out over 60mins – acoustic guitar, almost random but makes perfect sense – they have a wonderful instinct for pushing your emotions and releasing the push, there is no sonic-schtick. Really, for me, as a huge collector of music, the desire for a band that 'throat screams, hella drums, deftones/hum guitar & post-rock-mathy; it almost ceases to be music for me these days if there isn't some 'math' somewhere somehow or at least a couple of moments of wtf? – with sunbather I'm just like 'yes!'
they will be in denver feb someshit somefuck place and I will be there and I hope they have 12″s with them.
– oskar
– hell, I feel like i had to wait 10yrs for hella, I was like 'man, there should be a band with mathy-wailing drums and mathy-guitar no vocals and that's it, constantly; then a friend turned me onto hold your horse is.