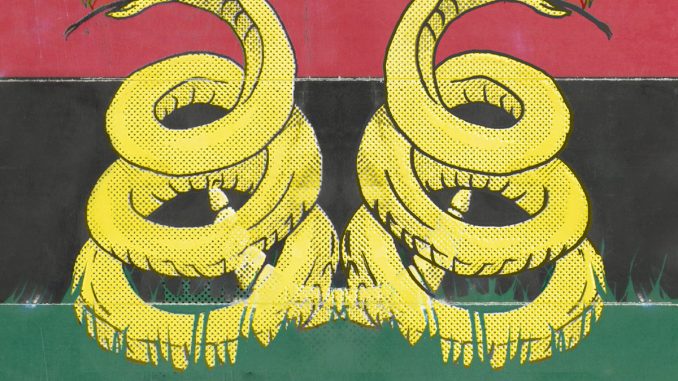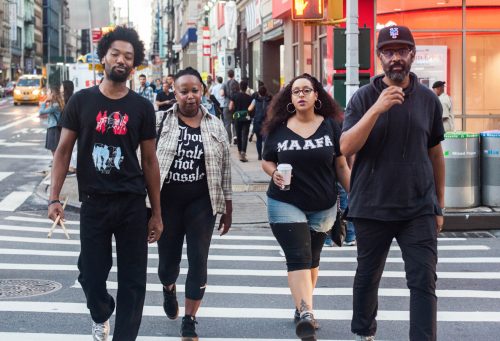 These are The 1865 from New York who recently presented their debut 'Don't Tread On We!' album via Mass Appeal Records! The band was formed in 2017 by musician/filmmaker Sacha Jenkins (The White Mandingos, The Wilding Incident), who also directed the new Wu-Tang docu-series acquired by Showtime. The band came to life when joined by Carolyn "Honeychild" Coleman (Apollo Heights / The Veldt, Badawi) on lead vocals/baritone guitar and famed session musician proskateboarder Chuck Treece on drums. The band later added Afro-Brazilian bassist Flora Lucini (Maafa) and drummer Jason "Biz" Lucas (Dragonz of Zynth) to the mix.
The 1865 plays punk music applying it with post-hardore actions and influences while their album is a must-listen. Do not expect to find in there any college-rock punky sweetness and rapidness. You'll listen to an album that is utterly socially and politically charged with a purpose to educate the young and to remind that Freedom and Respect are not finite terms but the ongoing and the never ending struggle toward societal balance and the Liberty.
In their disarming coolness, The 1865 offer a very loud record in style where each of the 13 tracks is a manifest alone. No old-school punk rock fury and anger too, but a pretty sophisticated approach with really heavy sounding and the unexpected breakdowns as the post-hardcore manual requires. 
See what I mean?! Skilled players with an attitude so winning and explosive. Everything The 1865 include the soaring need to expose not only the inequitable but also racism as mankind's lowest level of abjection and nastiness. Ride The Wave, Slavery Is Good Bussines They Say… 
And here we come to the main dish. The 1865 chose their name as to signify that the more things change, the more they stay the same. On 'Don't Tread On We!', the band takes inspiration from 1865 America, post  the Emancipation. Each song from the LP features different explorations of life in 1865 America, a land living in the shadows of the fallen Confederacy. That year, the Civil War came to an end, thus igniting what was known as America's Reconstruction era. And while newly freed slaves were slowly adapting to a post-Confederate society, the battle had truly just begun.
'John Browns Gat' is another carefully constructed history lesson and Sacha Jenkins explains, "John Brown was a white man who believed that African Americans should not be enslaved; he was willing to bust his gun (aka his "Gat") to contribute to the emancipation/liberation effort. The kids today would simply describe him as an "ally". He was willing to put his life on the line and eventually he lost his life on behalf of his Nubian brothers and sisters. We crafted a tune to honor the man. RIP my brother. You were on the right side of history. Donald Trump is a chump."
If you think that all of this is none of your business you are on the wrong side of the track. The rest of us in multi-colored souls and views shall fight you until your bitter end and leave you drown in your own venom. So, my tribe of freedom fighters, take this album and show to this N.Y. collective your love.  
Tour Dates:
Nov. 14, 2019 New York – Max Fish (with Rebelmatic, MAAFA, Fear is Dead, Frank Knight, DJ Eddiee Nocentelli) – 21+ event / $5 Door
Dec. 07, 2019 New York – The Kingsland (with H.R. and Human Rights, MAAFA, The Screws, Rebelmatic, Universe Ignore Her, Foxtails) – 18+ event
Jan. 09, 2020 New York – Max Fish (with Rebelmatic)
Jan. 18, 2010 New York – Brooklyn Academy of Music BAM Cafe ||| Black Rock Coalition Celebrates MLK (with Major Taylor) – All Ages / Free and Open To The Public
Keep up with The 1865
Written by Mike D.