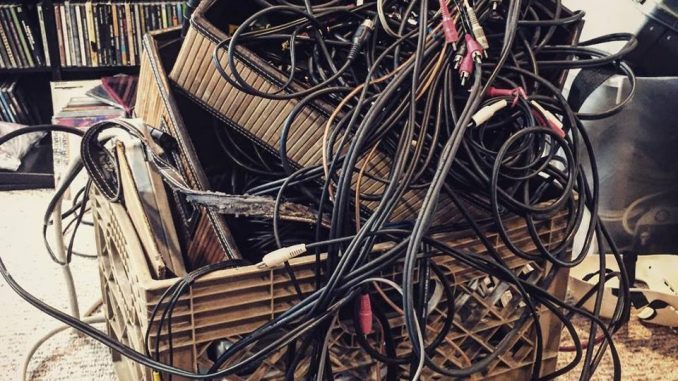 Well, there is a certain gap between our playlists in 2019 and we are really sorry about it. Then came the summer which blew us away from our headquarters but, the time is now for a brand new, merciless collection of utterly mindblowing songs. We hope for a little forgiveness for that unjustified playlist absence but here we present the mothership of playlists, turn it all damn loud and enjoy responsibly, come on!!!
On August 31, this duo from the city of Metz en France published one of the most imposing records of the year. We introduce you the stunning Hanging Gardens with their new Materia Prima 3.0. EP. Priceless Darkwave music, adorable French absinthe in 'Mysterium Tremendum'!!!
Post-punks Crooked Ghost from Asheville are ready to unveil their new Colors Bleed EP on September 20. The whole record is a brilliance that swings between the greyish blows of the genre and the dream punk gaze. The leading track is 'Sinew In Red'!!!
POTOCHKINE from France offered a masterful E.B.M. album last May, entitled as Mythes. I am a bit at a loss of words on this record, I am stunned and absolutelly enchanted by their skills and their electronic prospect. I chose 'La Fete de Narcisse' for you to start exploring their constellation!!!
Last week I reviewed here in NJ the new Modus LP by UK's electronic stalwarts Nature Of Wires. I closed the article by saying "Some people were born for this!". I totally insist on that and there is no way I would turn down their name from this playlist. Finest electro-pop music and a great future-pop album, remember First Light?!?!?!
At the end of August, Ontario's post-punk/ new wave dreamers CAPITOL published their new glory In Ceremony maxi single! Tell me, how many times have you seen this video happening in front of you at the bar/ club? You with your drink in hand and the girl in the corner grooving alone with her absolutely fave song?!?!?!
If somebody asked me where does this band come from, I would surely shout 'Ireland'! The truth is that the Philadelphia-based Celtic-tinged folk rock collective River Drivers is a four-piece whose unique passion-infused style of music draws from Celtic, Americana and Appalachian influences. Their new Big Oak Road LP is expected in early October but ahead of this, they are offering a taster of this high-energy blend of Celtic-Americana via the double A-side single 'Children's March (Mother Jones) / Going Once'. I just couldn't choose only one song for this playlist…!!! (pure some Irish Malt in your glass, you'll undersntand why)
New Zealand, Auckland. Madeline North signs her music as So Below. The new single which appeared a few hours ago is 'Clear', and clearly this is the most easy-going tune I have listened from her, so far. All synths and midis, programming and vocals by that very talented artist from Down Under. She plays a sort of a dark electronic pop music, always adding very interesting and touching lyrics. So Below, I like your stuff so much!!!
On July 26, Canada's indie pop/ dream pop, indietronic duo Ummagma published their new Compass album! A unique dreamy waltz album with ballroom-style orchestration laced with gossamer Sundays/Cocteau-ish vocals that I strongly suggest you should check it out. 'High Day' is only a small sample off the album and their skills!!!
Californian shoegaze/ noise rock gang of three, Fleeting Joys, published their new sonic wall Speeding Away to Someday LP on July 12. Everything Swervedriver-oriented ammo is in here, all fuzzes and raging drums with a bomber on bass is all included in this pretty tasteful and sweet collection of 9 dirty bullets! Taste the 'Evil Crop', please!!!
Our friends from the city of Kendal in the UK, Def Robot, have announced their forthcoming Sabbatical LP slated for release later in October. The leading track is 'Neon Lights' and I must honestly say that I shouted a brave YES in the air when I listened to it! British alternative rock with all  fuzzes and the expected Albion coolness included for a better world, and a nicer future in our neighborhood of reptiles, the EU. Get-a-beer-first-before-you-press-theplaybutton!!!
Sustains are from Moorpark in California and they play wonderful music! Their new stuff S Is For Sustains little record was released on July 13. For once again I could choose only one song to present it in here. But No! I just didn't want to choose only one song and let the other complain "why Mickey, am I not a good track too??" So, as I like both of them, I easily decided to embed the two of them. Did I mention that Sustains are from Moorpark in California and they play wonderful music!?!?!?
Andrew Golding (of The Wolfhounds) is the leading force behind London's rockers Dragon Welding. On July 5 the band published their new EP, These Are Dangerous Times and it includes an eclectic mix of acoustic guitars with analog synths, and the expected British troubadour singing style we adored in the past, (The style of Mr. Golding is in some measures similar to Mr. Sullivan's from N.M.A)!!!
Speaking about New Model Army, have you noticed the band's new album From Here LP? I think it is the number 2.019 record in their catalog and I madly hope they'll never ever stop doing this! What now, want me to write some words about the new stuff by N.M.A? Noooo, please…just turn it a bit louder!!!
Canadian indie rock duo Figure Walking published their new single 'Blue World Remix' on June 7. This exquisite remix single is a summertime anthem. Here, producer/engineer Richard Hartline and Philadelphia's critically acclaimed mood-rockers Tulipomania team up at the controls, bringing an already celebratory song to new levels of existential joy and transcendence. An outstandinf effort!!!
United Ghosts from Silverlake, California released their latest Saturn Days LP on August 2018. A couple of months ago though, they published an official video from it and look what they're up to; krautrock, nu-gaze, shoegaze, indie rock psychedelia, electro! Honestly, all seeds in this pretty nice album were sired by Primal Scream's Exterminator monument! The album rocks really hard and 'Ever Closer' is their new leading bullet!!!
This is Bendis from Istanbul who always signs as Bewitched As Dark. One woman band, a sheer darkwave/ industrial pixie who unveils her musings every couple of months with a proverbial coherence in her works. She is talented, she is a deeply underground artist, and the world must know about her musings. 'Apathetic' was released a few days ago!!!
Another deeply underground outfit is coming from Buenos Aires, Balvanera is their name and active since 2015 (I think). Their new record Suspence comes on September 19, armed with minimal synth-oriented E.B.M. music. A stunning duo with very notable records and collaborations in their quiver. 'Epidermis' will be included in the forthcoming record and I am uttely stuck with it!!!
Noise Journal Premiered the new album Street Light Interference on July 11, by London-based electronic pioneers Rude Audio. They have a history of putting on fantastic underground parties, releasing the occasional dubby Balearic opus, engineering for the disparate likes of Paul Weller, Lemon Jelly and Royal Blood and generally mooching about anywhere that doesn't have bouncers or operate a dress code. 'Rumble On Arab Street (Valtow Dub)' sounds like the best closing track of this playlist!!!
Actually this must be the closing track! Introducing the outstanding project from Sweden called ISON. Consisting of singer/ lyricist Heike Langhans (from Draconian, and LOR3L3I), Daniel Änghede (from Crippled Black Phoenix, and Hearts of Black Science), the duo creates ambient/ stellar music with flashes from post-rock and doom rock/ metal. Subliminal interstellar pressure that carries along precious messages, the band is a must-listen! Their latest Inner-Space LP was published on August 25, and 'Radiance' features Neige from Alcest! It is a 10-minute adventure and you must be patient until it unveils all delights and the character of ISON!!!
That's all folks, stay tuned for more music (and playlists too)!!!!!!
This piece was written and curated by Mike D.