Introducing basnia from Warsaw with their debut album, No Falling Stars And No Wishes!
The band is a gorgeous blend of post-punk, a bit of a cold-wave included within, dark pop in their intentions and all applied with and brushed by serious alternative-rock measures.
Bašnia Lipińska is the leading force of the band, a very skilled singer and songstress who is credited with all songwriting and whose name graces the outfit which doesn't sound like a solo project at all.
You see, everything in this album was arranged and performed by a proper band — not a troupe of hired hands and session musicians.
It published March 19 on Alchera Records, a label which houses some pretty edgy and significant names from the wider post-punk genre (Undertheskin, TRAITRS, God's Own Medicine, Fearing, Hidden By Ivy, etc).
No Falling Stars And No Wishes includes 10 adventurous tracks, 10 musical narrations of sheer-candor dark rock-music, all performed by a band of high quality and skills.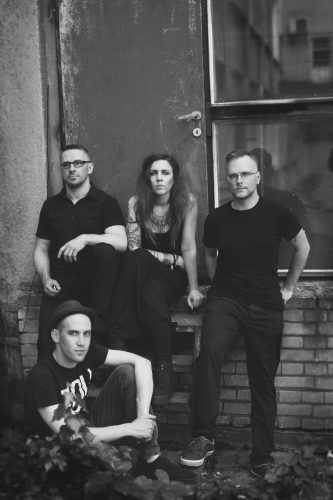 Bašnia Lipinska says, "We make music and lyrics which deal with social rejection, loneliness, intolerance, physical and psychological violence. [I may only add, the protest music of passion and with a purpose, a bit far from just-entertainment music] "…fire burns in the sky."
That was the first track I listened to from the album and I was really impressed by the band's very professional performance and approach.
One of the leading tracks is My Only Religion Is Love, a lovely indie-oriented alternative rock bullet which states "My skin is black, white, blue and green. Has any color, you know what I mean. The force is freedom, not control." 
Now it is clear, I think, that you caught some of the band's inspirations and their own musical roots: Melancholy associated with the 4AD glories, also inspired by ethereal "Cocteaus," some melodic dark rock, and absolutely keen on post-punk music (as anything after 1979's ignition will forever remain as "post-punk" with many bands like our  guests whο simply adore it and keep on refreshing it with the current generation's agonies, stress and compulsion).
Basnia plays the soundtrack of their lives as they perceive and apprehend it every day in Poland's. It's pretty positive music with truly angry and manifest lyrics that are sung with style, in a debut album which, in all, reflects seriousness.
Lipinska's fellow travelers, her gang, are: Adam Kaliszewski on electric guitar, Łukasz Zaorski-Sikora on bass guitar and Filip Onufry Jaremko on drums. Michał Michota as a guest playing trumpet. And here is the whole album for you!
Keep Up With baṣnia
Written by Mike D.