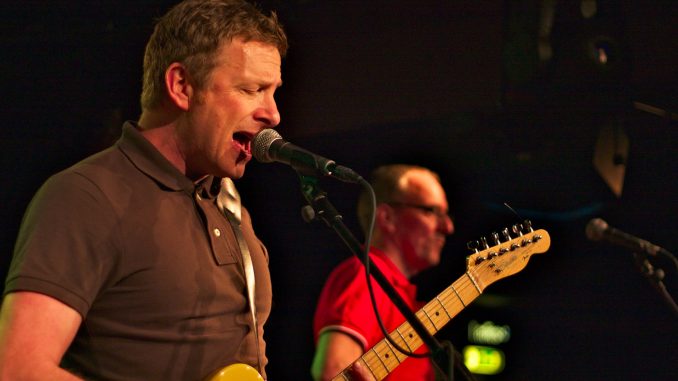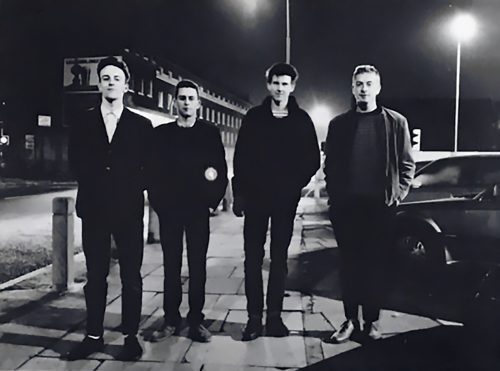 A Turntable Friend Records will be breathing new life into 'Boomy Tella', the third album from British band The Claim, originally released in 1988. You can beat the mad rush that's coming our way for Record Store Day by ordering this album on vinyl. It's also the first time this album will be offered on CD. This is a luxurious re-mastered release on gorgeous green vinyl.  With a small run of just 300 copies, this re-mastered version is based on the original 1/4 inch tapes. The green vinyl gatefold offers the original 10 tracks (with download code), while the 14-track CD comes as a 6-page gatefold package.
Buyers can enjoy liner notes from David Arnold (The Claim's guitarist), as well as the songs' lyrics and rare photos gathered from their own personal archives. The vinyl comes with the download of the 10 album tracks plus 4 bonus tracks, which are previously unreleased demo tracks from the late 80s: 'Business Boy', 'God Cliffe And Me', 'Fallen Hero' and 'Untitled'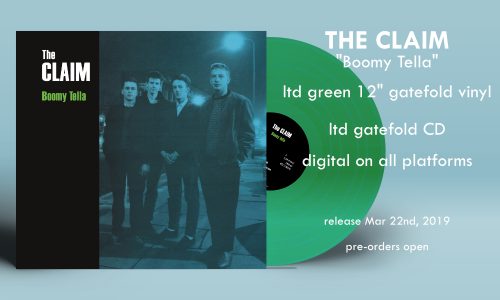 It's no secret that members of Blur were fans of The Claim, enough to borrow from their sound for their early material. This is not surprising at all, especially considering how catchy, fun and upbeat this music is. It's great to see the band still going strong 3 decades after their heyday. The Claim were one of the major players in the thriving 80s 'Medway Scene' in the UK, along with such bands as The Prisoners, Thee Milkshakes, The Dentists, Wipe Out and more. This mod-influenced pop also seriously influenced multiple groups.
The Claim's debut album 'Armstrong's Revenge and Eleven Other Short Stories' was released in 1985, following this up the next year with 'This Pencil Was Obviously Sharpened By a Left-Handed Indian Knife Thrower'. Their work received glowing reviews, including 8 out of 10 by Bob Stanley at the NME, as well as being played numerous times by John Peel. After signing to Kevin Pearce's Esurient Communications in 1988, they released 'Boomy Tella', followed by singles 'Wait and See', 'Sunday' and arguably their finest moment 'Picking Up The Bitter Little Pieces'. They then released a one-off single on the Caff label, run by Saint Etienne's Bob Stanley. By 1993, the band had split.
Guitarist David Arnold also played on early releases by The Jasmine Minks, the first band signed to Alan McGee's Creation Records. In 2009, Cherry Red Records paid tribute to The Claim's earlier recordings via their 'Black Path' compilation. This long-overdue compilation of the band's finest work introduced a new generation to their timeless music.
'Boomy Tella' can be ordered now on CD and vinyl via A Turntable Friend Records at http://aturntablefriendrecords.limitedrun.com/products/635028-the-claim-boomy-tella and digitally via Bandcamp at https://theclaim.bandcamp.com/album/boomy-tella. The Claim will be celebrating their album launch on March 23 at the 100 Club, along with The Jasmine Minks and DJ Vic Templar.
TRACK LIST
1) Not So Simple Sharon Says
2) Love Letter
3) Beneath The Reach
4) All About Hope
5) Las Regas El Resoto
6) Down By The Chimney
7) Mrs Shepherd
8) Sanity Starts At Home
9) On My Way
10) Christopher
11) Business Boy (Demo) (CD and download only)
12) God Cliffe and Me (Demo) (CD and download only)
13) Fallen Hero (Demo) (CD and download only)
14) Untitled (Demo) (CD and download only)
More on The Claim
Store | Bandcamp | Facebook | Twitter | Spotify | iTunes | Press contact
More on A Turntable Friend Records
Store | Facebook | Bandcamp | Soundcloud | Twitter | YouTube | Instagram