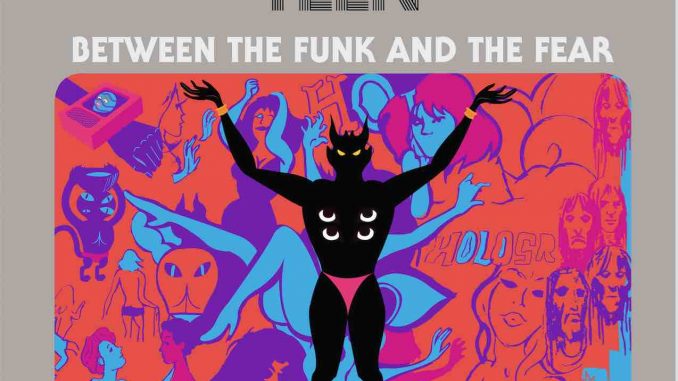 It can often be a real joy and a great pleasure for the ears when acknowledged musicians, having made significant strides in music, release the output of their new music adventures as a solo album or new music under a new moniker. Today I present you an album that is simply a marvel; an edgy piece of modern/vintage electronica by Hologram Teen, who digitally self-released her debut Between The Funk and The Fear on July 6. It is also available on vinyl and CDs via London label Polytechnic Youth. Hologram Teen is the solo project of Morgane Lhote, long-term keyboardist of the iconic space-age avantpop band Stereolab, who really shook the dedicated venues and the stages in the 90's with their astral pop ventures. She was in the band during their imperial phase between 1995 and 2001, when they released a series of career-defining albums like "Emperor Tomato Ketchup".  Later on, she worked with The Projects and played in Garden with members of Simian Mobile Disco before starting the Hologram Teen project. This cosmopolitan musician has lived in Paris, NYC, London, and is now based in LA. The album includes 10 songs + 1 prototype remixed by the Swedish Orange Crate Art. Let's go deeper now. What if I told you that this album is comprised of electronic music, based mostly on vintage synths, when she also mixes with some vintage creepy sonic libraries? What if I told you that I heard some still creepy elements emerging from Carpenter's 70's "crunches" and the Goblin band, which worked with Romero and Argento? It's true – and also I can tell you that all of these are mounted on a vessel of disco (horror-disco as she defines it). Now mix in a generous dose of krautrock too and there you have it. This is an edgy album – groovy like waves, and pretty much sophisticated in its styles and sounds without ignoring that her own album is made and built for dancing and socializing. One of the leading tracks is the super rad God(d) of Thunder vs. Sukia, just a small taste and a track which is like some sort of a single. Try it!
"With this first LP, I wanted to create the soundtrack to the trippiest horror movie ever, and combine the scary and the absurd, through a very tongue in cheek aesthetic both musically and visually. For this project, I decided to experiment with adding live instruments, such as bass, drums, and strings, instead of or in conjunction with electronic instruments on some tracks" says Morgane Lhote. Proof of her words is Magique Afrique, inspired by Congolese rhythms and streams of native music. Wow! This is also a krautrock oriented tune!
And the adventure goes on, I loved the Post-Apocalypticakes horror disco grooves, the Tracksuit Minotaur vintage styles (a very danceable tune), and the kraut-ish disco Lesbian Death Drums' colorful riffs and fills. Once again, she put me in an awesome quirky mood with Bleeker Street! Chase Me!, for which the official video was just released!
Hologram Teen has released a perfect album for the summer – it's funky, groovy and spooky. This is a danceable trippy social record filled with musings that are not only interesting, but bring some of the edgiest and most colorful musical pieces around. Now make it yours!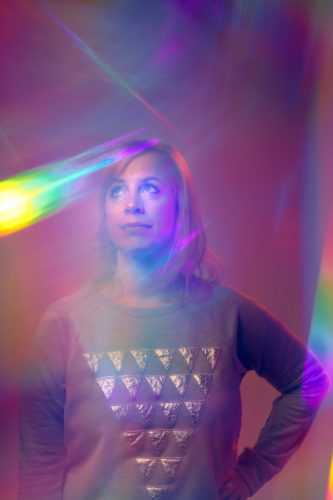 Keep Up With Hologram Teen
Written by Mike D.