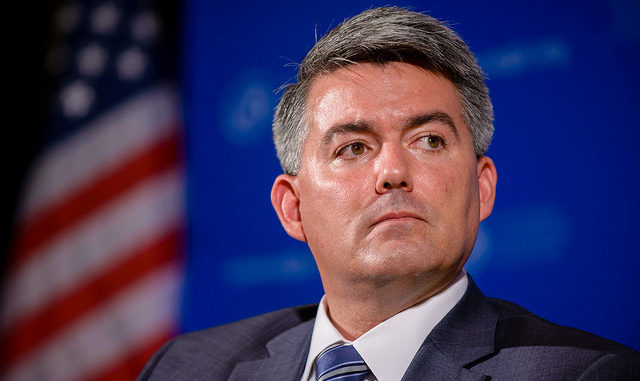 If there was any question in your mind as to the driving force behind Senator Cory Gardner's ideology and legislative actions, allow the New York Times to lay that matter to rest:
As more than 40 subdued Republican senators lunched on Chick-fil-A at a closed-door session last week, Senator Cory Gardner of Colorado painted a dire picture for his colleagues. Campaign fund-raising was drying up, he said, because of widespread disappointment among donors over the inability of the Republican Senate to repeal the Affordable Care Act or do much of anything else.
Not constituent pressure, not the health and safety of his state's residents. Nope. The real reason Gardner is so eager to get rid of something protecting the livelihood of hundreds of thousands of Coloradans appears to be…his donors.
Surprised?
Gardner, who's supported every repeal of the Affordable Care Act that's hit the Senate floor, has thus far stuck with a pretty straightforward message: Obamacare's not working. He repeats it at every "teletownhall" and in every Obamacare-related press release. Behind the scenes, though, it appears he's a little more comfortable revealing his real motivation.
While the Times report says that Gardner seemed to be focused more on future battles like taxes at his little panic party, he told his fellow congressmen that he's getting the message on healthcare loud and clear:
Mr. Gardner told his colleagues that a major Colorado contributor who played a role in his own campaign says party donors are reluctant to give any more money until congressional Republicans demonstrate results.
Of course, if Gardner was actually listening to his constituents, he'd be working across the aisle to strengthen the bill that a majority of Americans don't want taken away from them. He's been barraged with the people's actual opinion on call after call and event after event. We all may have just lucked out today when Senator John McCain found his senses and announced he won't support the latest repeal effort, but there's still a slim chance the bill could pass.
Gardner hasn't yet said publicly whether or not he'll support it.