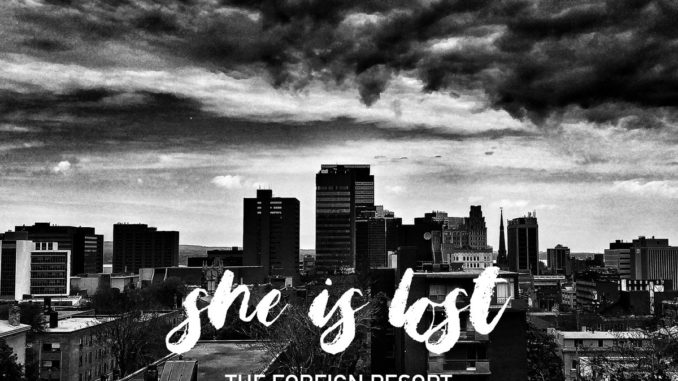 In this era of post-post-punk, nu-gaze, newer wave and the explosion of everything rock retro, I'm skeptical of any new track touted as for fans of Joy Division, The Cure, New Order, and the like that crosses our inbox. There's a lot of it out there and a lot of it is a disappointment at the push of play.
That's why The Foreign Resort's She Is Lost single is such a pleasant surprise. The Danish trio has been slipping under our radar since at least 2010 per a glance at their promo material and back catalog, and I' must admit we've been missing out.
She Is Lost is a glittery synth-driven fusion of post-punk and synth pop with sophisticated vocals reminiscent of Stellastarr's Shawn Christensen. Crystal clear production removes all the muddiness we often associate with acts inspired by Joy Division, but that 4/4 beat is right there with a chunky synth providing the foundation for floating Cure-esque guitars and a contagious hook.
This review lands right as The Foreign Resort is in the middle of a tour–they just wrapped up Canada, and are about to hit their homeland and other European spots throughout 2017. Check the dates below while you're listening to She Is Lost right here, then find them on Facebook, Twitter, and Bandcamp.
2017 European Tour Dates:
MAY 18 Aarhus, Denmark – Sway (with Dead Leaf Echo)
MAY 19 Odense, Denmark – Studenterhuset (with Dead Leaf Echo)
MAY 20 Copenhagen, Denmark – BB18 (with Dead Leaf Echo)
MAY 24 Leipzig, Germany – Bandhaus (with Dead Leaf Echo)
SEPT 26 Lübeck, Germany – Riders Cafe
SEPT 28 Sønderborg, Denmark – Black Spot
SEPT 29 Cologne, Germany – Blue Shell
SEPT 30 Prague, Czech Republic – TBC
NOV 3 Berlin, Germany – Bi Nuu (with She Past Away)
NOV 4 Lucerne, Switzerland – Sedel (with Rev Rev Rev)