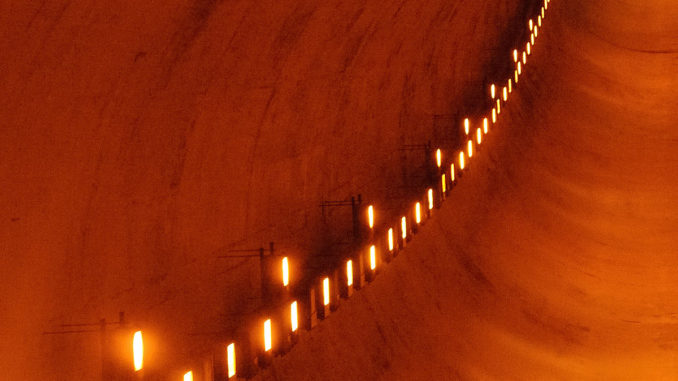 "Wild mood swings" is a phrase that may enter your mind when listening to Portland trio Vibrissae's debut album, Somewhere Away. Not because it sounds like The Cure's 1996 masterpiece–though, interestingly, the band cites The Cure as one of its influences. Rather, wild mood swings is an apt description of what's going on in the LP's musical narrative.
The band's promo material cites a "common ground in their shared love of shoegaze, electronic music, and modern rock, and especially any crossover fusions thereof," and, indeed, all of these sounds can be found throughout Somewhere Away, though few of the songs are truly a fusion thereof.
The album shines in its quieter moments, and shines brightly when those quiet moments burn slowly and intensely, smoldering into sonic emotions. Not Forever, for example, features delicate layers of quiet; and emotional vocals reminiscent of Beth Gibbons circa 1997. The simple guitar chord progression is quiet, the percussion is quiet, and even the phased-out synth pads that form over the quiet like a looming storm are more ominous than truly threatening. It all adds up to a gorgeous seven minutes of moving music that is neither shoegaze nor electronic. But the emotion and the melody are a quiet storm.
In fact, the album's best tracks are its longer ones. Along with the seven minute Not Forever, Somewhere Away, the eponymous final track, is a 10 minute composition that successfully fuses the sounds being experimented with in the eight songs prior.
From the riot grrl inspired first single, Need, to the Hooverphonic funk of Never Again and the gritty Ladytron-fused Incident Report, Vibrissae is onto something. Somewhere Away, which they close many of their shows with, is an epic culmination of the work they're doing, and a bright flash of future potential.
The entire LP is decidedly listenable. Dance, mope, nod your head, have a good cry. Enjoy the wild mood swings.
Find Vibrissae on Facebook and Bandcamp, then give their album a listen right here: