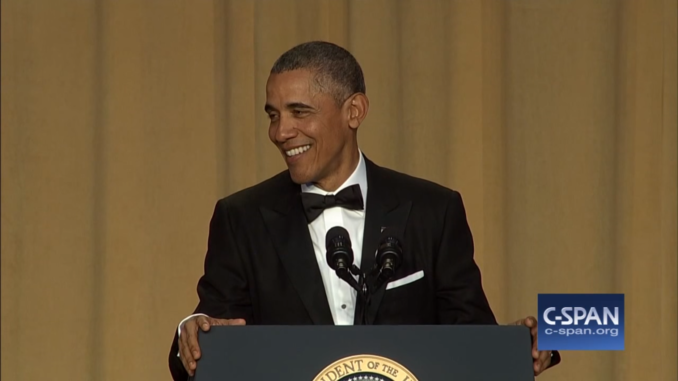 This article originally appeared at MariuanaPolitics. I also write for those guys.
Sign of the times: President Barack Obama made a joke about his marijuana use at last night's White House Correspondents' Dinner.
The glitzy annual hobnobby event featuring journalists, celebrities, and high-ranking politicians saw its expected share of Donald Trump jokes (even though the Republican presidential front-runner wasn't in the audience after Obama embarrassed him in 2011), and Trump's rivals on both sides of the aisle weren't spared some jabs: Republican Ted Cruz's recent "basketball ring" gaffe was on prominent display, and Goldman Sachs wisecracks were made.
But one of Obama's jokes that got the biggest laughs revolved around his rising poll numbers and past marijuana use: "And yet somehow, despite all this, despite the churn in my final year, my approval ratings keep going up. The last time I was this high I was trying to decide on my major."
While former "Choom Gang" member Obama isn't the only US president to have admitted to smoking cannabis, he is the only one who has stated matter-of-factly that, yes, he did do it, and no it's not a big deal. While then-candidate Bill Clinton notoriously and rather dubiously claimed that he "experimented with marijuana a time or two, and didn't like it [and] didn't inhale and…didn't try it again," and George W. Bush refused to answer questions surrounding his use because, "I don't want some little kid doing what I tried," Obama has said he "inhaled frequently," because, "that was the point."
Recent polls show that nearly half of Americans admit to trying cannabis, while more than half support its full legalization. And while the plant is technically illegal under federal law, categorized by the DEA as "Schedule I," meaning it supposedly "has no currently accepted medical use," there is a movement within the upper echelons of government to change that, and Pennsylvania just became the 24th state to legalize it for medical purposes. Four of those states, and the District of Columbia, allow any adult to purchase marijuana for any reason, and a slew of states will vote on some form of decriminalization this November. The tide is changing and the fact that a sitting president, even a lame-duck, can make a joke (and draw laughs!) at a nationally broadcast event about his past use is, indeed, a sign of the times.
Check the video: