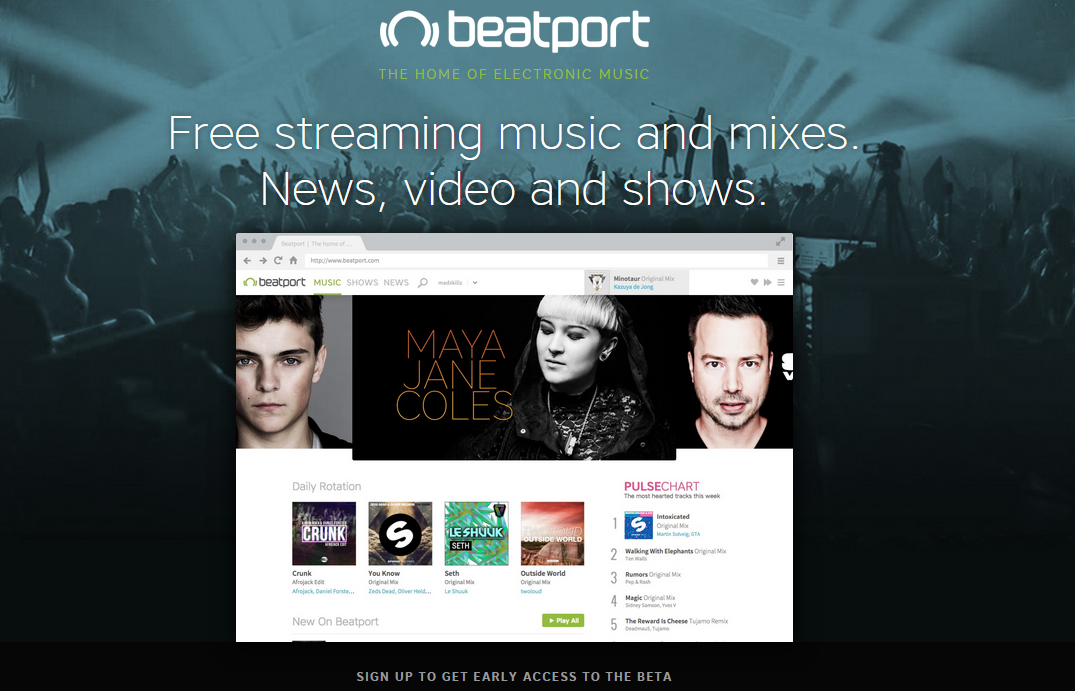 This article originally appeared at the now defunct blog over at TheHundred. You can read all of Alibi Pierce's electronic music news coverage right here, or at his TheHundred author page (while it's still up).
Back in December we told you about SFX's plans to revamp Beatport into more than simply a destination for DJs to purchase tracks. According to an SFX earnings call and Wall Street Journal report, the dance conglomerate planned to "relaunch" Beatport in order to "attract fans of the company's festivals instead" of only DJs and audiophiles. The "new Beatport" (you'll probably hear that a lot over the next few months–the "new" Beatport is simply "Beatport" while the old sales-focused Beatport is "Beatport Pro") would "serve as a community center for dance-music fans, showcasing event information, artist profiles and, potentially, live-streamed performances."
Most importantly, though, it would feature free streaming with no advertisements. There was no word as to catalog or label negotiations, but the assumption was that the streaming service would be pretty comprehensive, as nearly all of the tracks sold on the site are released on indie labels, and only about 10% controlled by the majors.
Well, the new Beatport is being rolled out in Beta (you can request an invite here), and the first review is in from TechCrunch. Mostly, they like it:
The whole Beatport site feels smooth and polished, embracing minimalism over the half-baked features found in some streaming competitors. It's remarkably usable for a v1 interface, and captures the slickness of the genres it carries.

Beatport's catalogue includes plenty you won't find on Spotify, including obscure tracks and remixes. This could make Beatport a bridge between the squeaky clean legal fare on Spotify's well-designed app, and the long-tail of legally gray remixes and mixsets on SoundCloud's clunky service.
They also praise the functionality that allows streaming listeners to "scoot over to buy a song" from the Pro side. No longer are Beatport customers limited to a two minute preview; it sounds like every track they sell will be available to stream in its entirety.
They do have a couple of complaints, though, with the biggest being the inability to search by genre:
Its web interface is focused around browsing and discovering music, rather than searching and playing what you already known. The home page highlights featured artists, chart-toppers, themed playlists, editors' favorites, and club classics. You can favorite tracks to collect them for later and display them on your profile…One major element that's lacking is the ability to browse by genre. You can find some genre playlists at the bottom of the home page, but there's no way to see all the songs or artist from a category like you can on Beatport Pro. That could make discovery messy for DJs who stick to a specific style.
All in all a good start for the overhaul, especially since it affects a resource so many use religiously. Stay tuned.