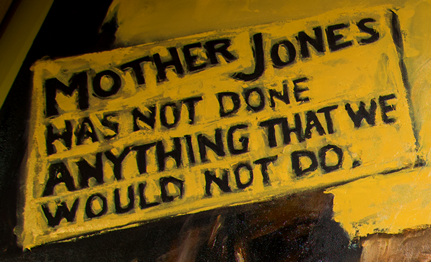 Context matters: One hundred years ago this past weekend, one of the most brutal and significant labor disputes in American history transpired right here in Colorado. Ludlow–long now a ghost town a few miles northwest of Trinidad–was once a hustling Rockefeller company town and mining site. The eleven thousand employees at the site worked dangerous jobs in squalid conditions for paltry wages. That's putting it mildly. When the workers organized under the wing of the United Mine Workers of America (UMWA)–against direct orders issued by Rockefeller's Colorado Fuel & Iron Company–things did not go well. The Union made several demands that the company apparently found unreasonable, including enforcing an 8 hour work day, a 10% pay increase, and recognition of the UMWA as a legitimate entity. Rockefeller rejected the demands and a strike was called. The result? Immediate evictions, with workers forced into tent cities subject to random and violent attacks by Rockefeller-funded thugs and National Guardsmen. The growing tension culminated in what we now know as the Ludlow Massacre: A violent attack by said thugs and federal guardsmen that resulted in the death of more than 20 people, including eleven children and at least two women.

And this past weekend, 100 years after the Ludlow Massacre–and some two hours north in Colorado Springs–tribute was paid to the lives lost, and recognition given to the progress made as a direct result of the tragedy.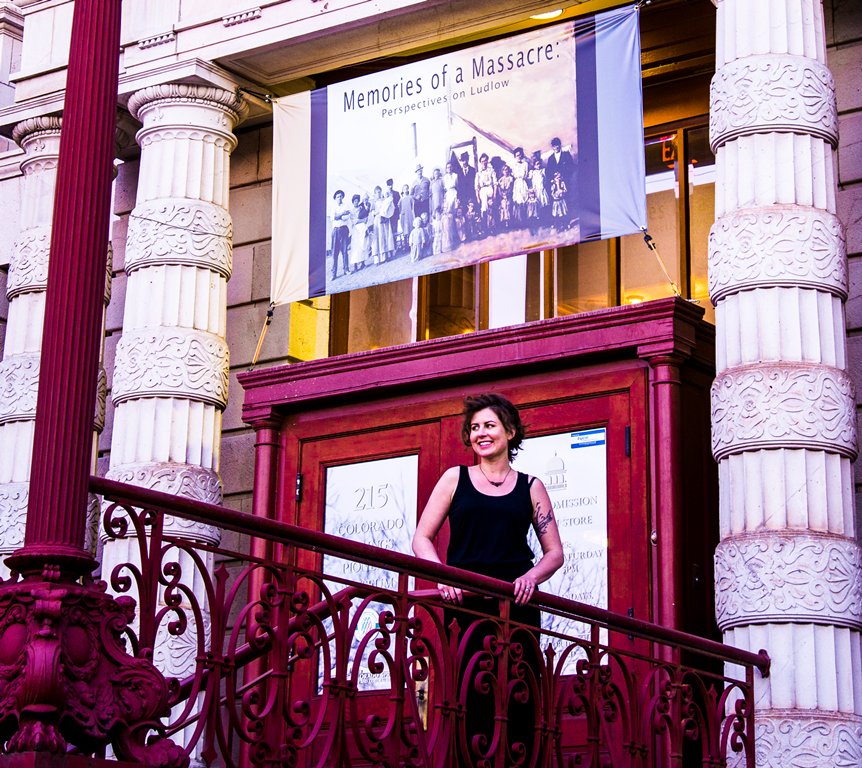 The Pioneer Museum, in collaboration with corporate sponsors, partnered with Colorado Springs artist Lindsay Hand to launch a year-long exhibit: Memories of a Massacre: Perspectives on Ludlow. Hand approached the museum about a year ago with an idea she had to create eleven Ludlow-themed paintings, one for each child lost in the massacre. The timing was perfect. The museum was in the early stages of planning this event and felt her work was the missing link. They gave her access to their archives where she was able to dig for inspirational photos and artifacts.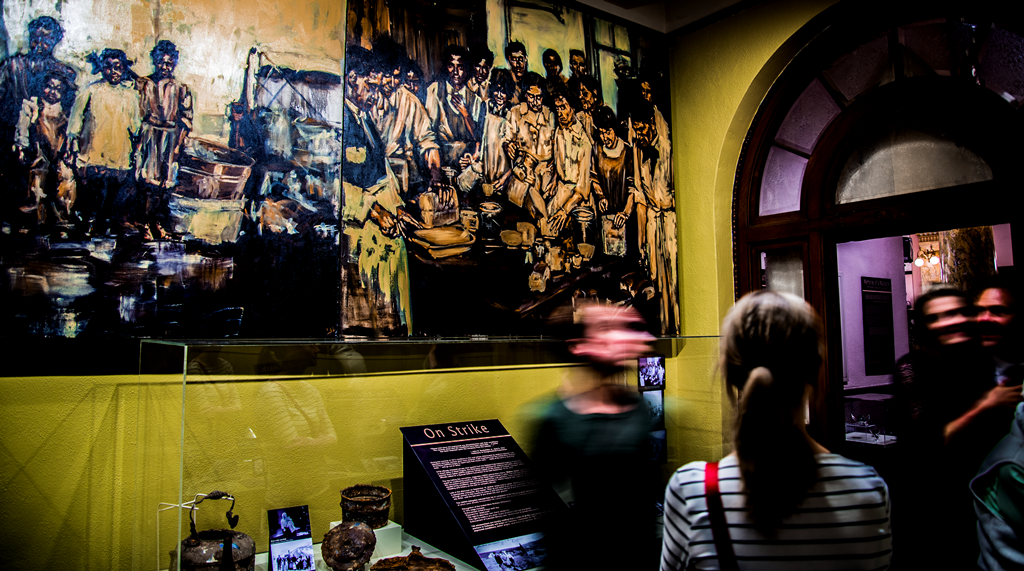 We were lucky enough to receive an invitation to the opening reception, which was well attended. Entertainment included some interpretive dance that I'm sure involved a ton of hard work and preparation. I just had a hard time understanding its relevance to the event. Local musician (by way of Mississippi) Joe Johnson provided the soundtrack but, inexplicably, the PA was very low and his sounds were drowned by ordinary conversation. The food, provided by Common Cause Catering, was excellent. The pours were generous. And the results of Hand's labor remarkable and dramatic.
In the write-up describing her very successful Kickstarter campaign, Hand detailed how she envisioned the display: "The large-scale paintings will literally wrap around the gallery providing a dense and dramatic backdrop to the archaeological artifacts on display." And that is exactly how it turned out. These were not small paintings–the largest was eleven feet wide–and consumed the small room in which they were displayed, providing a vivid visual landscape.
Hand has a way of extracting feeling from shadows, lucidity from saturation. Her oil on canvas paintings careen from wide concentrated brush strokes to sharp angles and fine detail. The piece Strikers Stand epitomizes this technique in its depiction of a large group of armed UMWA strikers. The men's bodies appear at first as silhouettes melting into a wash of proletarian uniformity, but a closer look reveals the pride and purpose displayed on these men's faces. The stern jaws and steely eyes. Their humanity.
The yellow and brown hues so dominant in these pieces act as a haunting sepia filter, providing both context and the atmosphere we associate with images from the Gilded Age. There is a carefully honed clarity within the blurred periphery of her work–an effect that could be seen as an allegory for the collective American amnesia when it comes to important historical events that have shaped each and every one of our privileged lives. The work demands contemplation, forcing acknowledgement via the artist's medium.
The strikers were ultimately unsuccessful, at least in the immediate sense. The UMWA's funds dwindled, hundreds were arrested, a majority of the workers were fired, and none of the demands met. It would take almost 25 years before passage of the Fair Labor Standards Act, a bill that provided many of the basic rights the Ludlow workers died for. But it was these courageous acts of rebellion in places like Ludlow, Coeur d'Alene, Chicago, and Lattimer, and the tireless work of progressive labor activists like Mother Jones that brought these issues to the national consciousness, eventually blessing us with the lives and work conditions we now take for granted.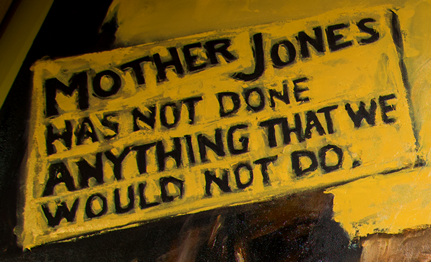 This is an important work, especially now, when Rockefeller-style hyperbole is all the rage on the right and workers' rights are eroding before our very eyes. The exhibit is undoubtedly worth your time if you're ever in Colorado. While all of the pieces are for sale, the exhibit will stay up for a year at the Colorado Springs Pioneer Museum. My understanding is that Hand is in talks with a Pueblo gallery for similar work, and fielding inquiries from around the country.
Lindsay Hand's work is frequently displayed at local galleries, especially the Modbo. Much of her art, including high definition standalone photos of all eleven Ludlow pieces can be found at her official website: lindsayhand.com
Memories of a Massacre: Perspectives on Ludlow will be exhibited through April 2015 at the Colorado Springs Pioneer Museum
215 S. Tejon St.
Colorado Springs, CO 80903
Phone: 719-385-5990
Fax: 719-385-5645
Email: cosmuseum@springsgov.com
Hours: Tues. – Sat. 10 am. – 5 pm.
FREE ADMISSION
-Alibi
All images by Fara Paige.
[embedyt]http://www.youtube.com/watch?v=2xfdwFqLSRo[/embedyt]