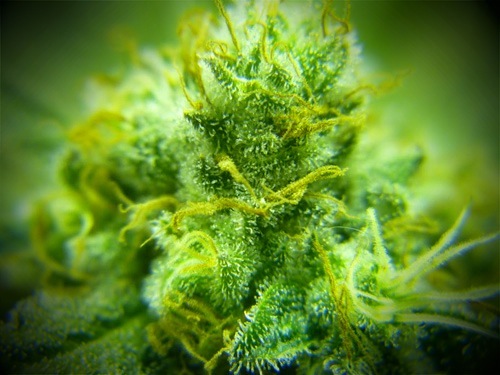 In our last Weed Roundup we gave you tips on where to go to find the news you needed to know about the implementation of recreational pot sales in Colorado. This go around, we have a bit of a broader scope with a newsier focus, as opposed to just pointing you in the right direction. As you would suspect, a lot has happened in Colorado in the 12 days since we last wrote and there's been a lot of great coverage and thought put out by the local sites and papers we previously highlighted, as well as some different sources from around the nation.
First and foremost, the Marijuana Bowl! Or Cannabowl, Weed Bowl, Bong Bowl, Reefer Bowl, Salad Bowl, Chronic Bowl, 420 Bowl, or whatever you want to call it. That's right: The first two states to legalize recreational marijuana sales are the two states sending their teams to the Super Bowl this year. Maybe there is a god. And if so, he's a total stoner.
On the local front, the Colorado Department of Transportation has had enough of drivers stealing mile marker 420 on Interstate 70 and have come up with a clever solution: Drop the 420 and replace it with mile marker 419.99. It may just work. Hard to tell, though, because I wouldn't be surprised if we hear about a lot of skiers being booted from the resorts this year; and if they're dumb enough to get caught smoking at Arapahoe Basin, they may just be ballsy enough to steal a sign that is obviously meant to be the "spice" of mile markers.
While Denver International Airport has taken a stricter stance against pot than it had in place when the non-medical stuff was still illegal, Colorado Springs Airport displayed mixed signals for about a week, then finally decided on a ban. But with a twist: "Amnesty boxes" in which you can dispose of any weed you may have forgotten you had on you or not realized you weren't allowed to travel with until seeing the prominent signs displayed at the airport. This, as you can imagine, has provided television hosts and other would-be satirists in the media plenty of fodder.
Westword reports that there are now thirty recreational shops up and operating in Denver. They provide a comprehensive list here, and also point out that "Outside of Denver, while some municipalities have banned retail shops and others are just beginning to license stores, dozens of pot shops have already opened." At this rate, we will easily be pushing 100 retail pot shops in Colorado by the end of the year. Incredible.
Regulations for farming hemp go into effect on March 1st. The rules were unveiled in November of last year, though hemp was technically already in limited production previously (you may have read about the first legal hemp crop planted in the US in 60 years). This move allows a larger group of folks to become involved and cash in on this probably lucrative crop that basically seems to be useful for everything.
Two short essays from opposite coasts discuss Colorado's legalization of pot: Its moral/political implications and whether or not it will kill off the black market dealer. If nothing else, I personally hope that it will encourage a courteous, positive, and reliable relationship between dealers and clients as dealers no longer have the luxury of being the only game in town. I've had pretty good experiences on the underground tip in Colorado and in general, but sometimes dealers are just dicks. And now you don't have to go back to them. Ever. Well, unless, you know…
Moving a little more national now: Vice writes a fun piece agreeing with me on dabbing. Too much work. Too many assholes. Also, but not mentioned: Tolerance killer.
Slate continues their highly recommended series, Altered State, in which (this week) they delve "Inside Colorado's Marijuana Economy" for a good look at the financial opportunities and realities in the retail pot world.
And the movement marches on, with the NFL openly discussing the prospect of allowing their players to use cannabis for medical purposes, three different states either on the verge of, or actually moving bills that would allow marijuana use for one reason or another, and our very own president saying (no hot-mic) that pot is no more dangerous than alcohol.
In the sensationalist arena, Drug Enforcement Administration Chief of Operations James L. Capra confided in the nation that marijuana legalization scares him. High Times reports that Pennsylvania Republican Jim Gerlach has submitted a bill that would "allow congress to sue the president if he fails to enforce federal laws." Because even though Obama has issued fewer executive orders than just about every other president in US history, they still think he's a dictator.
And in conclusion, we watch CNN's Nancy Grace, who has apparently read "every shred of research and scientific data out there" contradict herself repeatedly courtesy of some dude on Youtube.
-Alibi Pierce
[embedyt]https://www.youtube.com/watch?v=KUU1AOQNbko[/embedyt]